As a trucker's wife, Vicki Simons understands truckers wives (truckers' wives) and what they go through.
Whether she's co-driven a truck, ridden as a passenger with her husband on the road, or stayed at home while he's been trucking — many a trucker's wife has suffered from either boredom or a desire to fill her time productively or both.
Depending on the woman, "filling time productively" may mean earning money (or more money).
On this page, we're going to discuss ways for you and other truckers wives to earn money to multiply your household savings.
(Some of the information on this page will also help increase truckers income. You'll be able to tell the difference.)
All of the income opportunities listed on this page have been ones that
either we have personally used to make and save more money
or we have used to help others earn money.
Why Pursue This? The Reality of Retirement Needs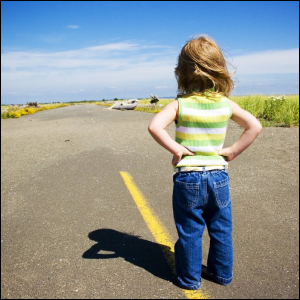 Regarding income, on March 5, 2013, Time published an article that opened this way:
"Data released by the Commerce Department last week showed that personal income fell 3.6% in January, the biggest decline in 20 years."
Regarding debt, master statistic compiler Michael Snyder wrote that our biggest economic problem in America is too much debt, even household debt.
blacklistednews.com/Too_Much_Debt%3A_Our_Biggest_Economic_Problem_/20224/0/0/0/Y/M/ (no longer online)
Are you experiencing either or both of these?
Many truckers and truckers wives are.
Assuming that you look forward to the day that your trucker husband retires from trucking:
Will you have enough money saved up to provide monthly income?
Have you thought about how much you'll need for a full comfortable retirement (without having to go back to work)?
Have you thought about how much money you would need to fight the effects of inflation?
This doesn't affect just truckers wives, but did you know that women generally outlive men?
Let's do some reverse calculations to see:
how much money you would need to have in the bank,
earning interest at what percentage rate,
to earn a certain amount of money per month.
For ease of comparison, in each of these scenarios, the interest rate row that has been highlighted in each image is the one with $300,000 in the bank.
---
Earning $250 per month.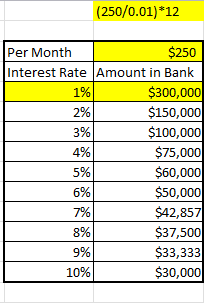 ---
Earning $500 per month.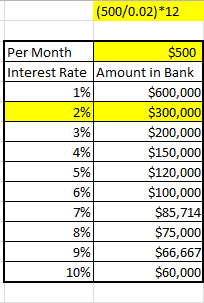 ---
Earning $1000 per month.

---
Earning $2000 per month.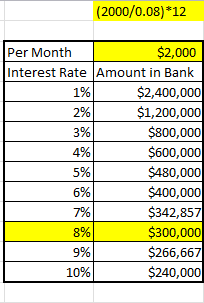 ---
Earning $5000 per month.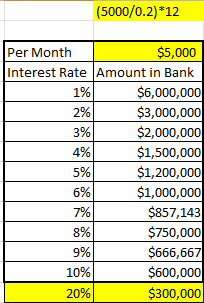 ---
Do you see the trend?
Increasing amounts of money generated based on the same seed capital require higher rates of interest to obtain.
And that's a problem.
When have you ever seen banks offering anything over 2% interest — or even much over 1% interest?
Do you see where this is leading?
Do you have that kind of cash in the bank?
Based on your and your trucker husband's current employment situation, do you think you could ever have it?
Getting Specific
As we have stated before, according to an April 2012 article in Journal of Commerce, entitled "Truckers' Lagging Earning Power", author William B. Cassidy (Senior Editor) wrote:
… The average annual pay for the nation's 1.51 million tractor-trailer drivers increased 1 percent last year to $39,830, the BLS data show. That's right, $39,830.
joc.com/truckers%E2%80%99-lagging-earning-power_20120409/
OK, truckers wives, let's look at some hypothetical saving numbers based on this average annual income:
$39,830 * 5% = $1,991.50, which you'll see below.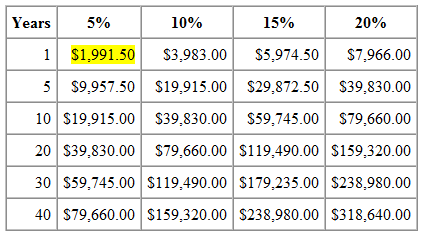 Even though having any savings is good, how far can you go on savings like these?
For the sake of example, let's say that an average retired trucker in America needs $3,000 per month every month in retirement.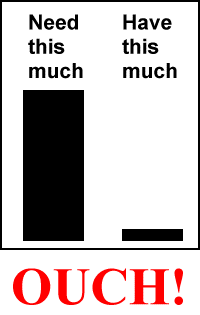 Even at the highest savings rate (20%) shown in the table above and after working for 40 years,
$318,640 / $3,000/month = 106 months (less than 9 years)
Truckers wives, if your trucker retires (or is forced to retire) at age 62, he will run out of money (based on our calculations and not including any interest that could be earned) before he reaches 72.
What is he going to do?
What are you going to do?
Do you need more?
(We think the answer is very obvious.)
If Truckers Wives Need Inspiration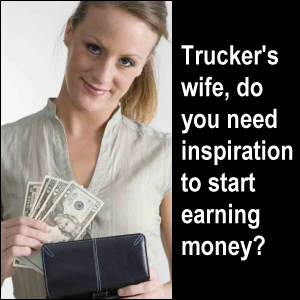 We were amazed by the true story (link) of a 14-year-old girl who:
started a business of selling items on Craigslist,
carefully saved her earnings,
used the money to buy a distressed house with her mother, and
now she's earning rent money every month.
Fiverr.com describes itself as "The world's largest marketplace for small services, starting at $5."
On their Financial Freedom page, they state:"… almost 60 percent of Fiverr members have earned at least $100, and 27 percent have earned more than $500, according to the Road to Job Independence report the company released recently."
On their February 25, 2013, blog, they wrote, "This Seller Bought a House with His Fiverr Money!"(1)
Your Options
Your options as truckers wives for making money to supplement your household savings boil down to:
working for someone else or
working for yourself.
You can either:
work somewhere away from home or
work from/at home.
The "perfect job" for you will depend on your own personal criteria.
Regardless, in order for you to make money at something, you have to find someone who is willing to pay you for it.
In other words:
Find a need and fill it.
Consider, truckers wives, what you're good at or knowledgeable about — and the resources you already have.
See if there's a market for any or all of them.
You can make the most money in a field where there is little supply but high demand.
You Need (At Least a Little) Money to Earn Money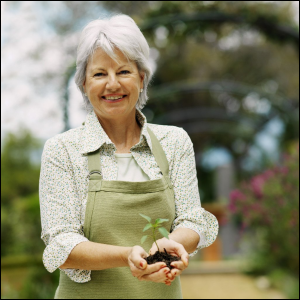 Consider your earning potential.
Would you rather have linear or leveraged income?
The potential for higher income comes from leveraged income opportunities, but you need to consider all aspects before you jump in.
Below, we are going to list some options, categorized by income type.
If you desire to start your own business or earn money from or at home, you will need to have at least a little seed money to begin.
Linear: Help Your Trucker Save Money on Food
We believe that a professional truck driver's home support team is "the essential key to saving money."
With the right equipment, truckers wives can help their trucker husbands save money on food on the road by following Vicki's example of canning food or setting up meal plans so he doesn't have to eat out in restaurants.
When you cook your own food, you know what is in it.
Linear: Earn Money from Your Home
After we had our dream come true, Vicki prepared to list our guest bedroom on a website that matches people who have space to rent with people looking to rent space.
She found pieces of furniture on Craigslist that were the styles we wanted at the prices we were willing to pay.
Some things by necessity (like pillows) we bought new at Wal-Mart.
By the time our second guest had stayed with us, we had more than made back our investment.
In fact, in 2012, we earned over $950 just from renting out our guest bedroom.
Truckers wives who maintain their own homes may be able to do the same.
Interactive tool estimates potential monthly host earnings.
Somewhat Linear: Earning Money Online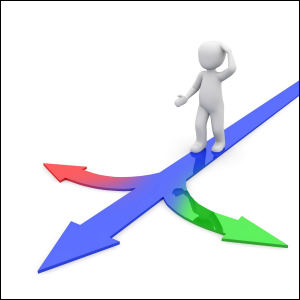 There are a number of ways for truckers wives to earn money online:
Develop your own website with content on a profitable area of your expertise.
Learn more. Or take a video tour.
Accept advertising on your website/blog/audios/podcast/videos.
Sell your own products.
Sell your own services.
Sell other people's products.
Sell other people's services.
Need Assistance?
If you'd like to learn more about the income opportunity that we have been in since 2012 — and through which we're earning money every month — please see our Second Income for Truckers page.
---

Money saving tip: Learn the pros and cons associated with each type of business opportunity you may be considering.
Truckers wives may be stay-at-home moms who would love to be work-from-home moms with flexible hours that they set themselves.
One thing that is very important from a legal perspective is "succession" or being able to bequeath a family business to your heirs. Look for this information in the legal agreement of every business for which you are considering becoming an independent associate or independent distributor — especially if it is a network marketing or multi-level marketing (MLM) type business.
If you plan to pour your heart and soul into a business for years to come, you should carefully consider if you want for that to evaporate upon your death or incapacitation.
Also, carefully consider what kind of a business you plan to set up.
For legal reasons — primarily liability — we do not recommend that you set up shop as a sole proprietor.
We personally looked at all the business types and decided to set up a Limited Liability Company (LLC) in our home state.
We were able to file the paperwork ourselves (saving the cost of attorneys' fees) and it was pretty inexpensive.
Vicki said that if she had known how easy it was to set up an LLC, she would have done it years before. You may wish to consult with an attorney.
If you set up a business that calls for an operating agreement, make sure that you customize the wording to match your personal philosophy.
You may also wish to word the agreement such that you leave the door open for potential future business endeavors.
If you plan to work on a freelance basis, make sure that all of the details regarding your work are written down.
Do not rely on word-of-mouth.
Some sample contracts are available online.
While you should not under-capitalize your business, neither do we recommend that you take on debt to make it work.
Save up money to invest in the tools and make your business pay for both expenses and growth.
Set a budget and don't forget to take all of the tax deductions you can.
Do not be starry-eyed regarding generating income, but rather remain well grounded.
Some businesses require that their associates meet or grow sales quotas over time in order to maintain their memberships and commissions.
We urge you to be cautious about signing up to represent them because life happens.
You never know when disaster or tragedy may strike.
Don't become a slave of your business.
Remember that your trucker husband is more important than your business (or at least should be) and to take care of yourself physically and spiritually.
We encourage both truckers and truckers wives to investigate second income opportunities.
---
Return from Truckers Wives Can Supplement Income, Multiply Household Savings to our Budgeting page or our Truck Drivers Money Saving Tips home page.
---
Reference
1. blog.fiverr.com/2013/02/25/seller-bought-house-fiverr-money/ (no longer online)