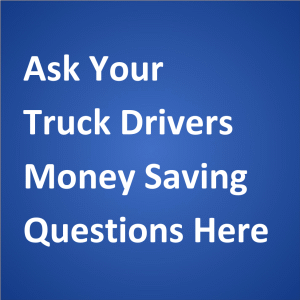 By: SUZANNE,
CANADA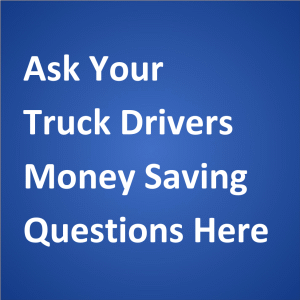 WHICH TV WOULD YOU RECOMMEND FOR USE IN A SEMI
—–
Response fro Vicki:
Hello, Suzanne,
Thanks for asking a question on our website.
Different professional truck drivers may have different experiences depending upon the configurations of their trucks and the cabinetry in them. Mike and I have only ever driven (on a professional basis) trucks that were owned by the trucking companies for whom we worked. (That is, we were company drivers, not owner-operators.) Therefore, we were not at liberty to make many changes to the cabinets in our trucks.
We personally chose to use the only cabinet where a TV could have been stored in our trucks for items to let us prepare meals. That cabinet was on the passenger side of the truck, which would easily enable a driver to be able to watch TV if he/she was sitting or lying on the bed with his/her head toward the driver side of the truck. That cabinet in our trucks always had a 12-volt outlet that could be used to power just such an appliance. As I recall in at least one of our trucks, there was a strap that could have been used to hold a TV in place.
While I cannot recommend a specific make or model of TV to use in a truck, a driver who is inclined to have one will want to make sure that it can fit in the cabinet with ease. Naturally, one cannot use the TV's antenna for improved reception when it is inside a cabinet.
I have never seen any television sets advertised as being able to better withstand the rigors and vibrations of the road than other sets. Perhaps our readers who value entertainment more than we do will be able to comment on this. Furthermore, there are professional drivers who have satellite television set-ups on their trucks.
When you get a TV in your truck, please feel free to submit a product review about it.
Mike and I wish you safe travels and lots of money saving opportunities on the road.
Best regards,
Vicki Simons
https://truck-drivers-money-saving-tips.com/


—– Comment —–
TV by SUZANNE
Date: Mar 03, 2015
HI IT IS ME AGAIN. I AM DOING THE RESEARCH FOR MY HUSBAND AND I WELCOME ANY SUGGESSTIONS. HE ALREADY HAS AN INVERTER IN THE TRUCK SO WOULD HE BE ABLE TO USE A DIGITAL SMALL TV FROM THE HOUSE? THANKS, SUZANNE