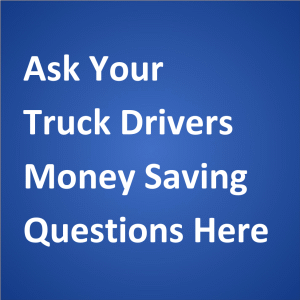 By: Scotty Simson,
Mobile, AL., USA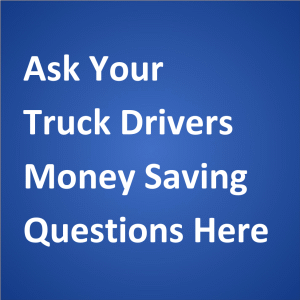 The first thing I noticed was a banner for Prime, INC. If you knew anything about that company, you would not have posted it. Prime has been the reason so many truckers are homeless in the first place. Prime is but one of many blood sucking big trucking companies that should be forced to close due to illegal business practices. They suck the life and money out of thousands of drivers trying to make in in the trucking industry. I fell for their make it big speeches and leased on with them. Now I'm homeless. I lost everything. All of my savings went into tat company and they kept saying "hand in there and you'll make it". I made it allright. Broke, and homeless and owing the IRS more than I could possible pay in what years I have left. Now all I hve is a laptop, a back pack, and a sleeping bag. Now the DOT says I can't have a CDL if I don't have a physical address. Today is christmas. For me, christmas sucks more than anything. Because of my misfortune to sign on with Prime, I can not get another driving position unless it's with some little shady company that doesn't use USIS (DAC). I can't afford to rent an appartment without a job. No appartment, no CDL and no job. How the **** can someone like me catch a break?
—–
Response from Vicki:
Hello, Scotty,
Thank you for your feedback. If you noticed an ad on our website, it was delivered through our account with Google AdSense and was not hand-picked by us. Since Prime Inc. is a trucking company and since we write content that helps truck drivers save money, there was most likely a match. You may or may not know that we do not recommend that drivers drive for any specific company.
Furthermore, we have been quite outspoken (or is that "out-written"?) about drivers asking questions of recruiters and not being exploited by the unscrupulous practices of some in the trucking industry.
Mike and I are saddened to think that any trucker has been exploited by a trucking company and we have several times recommended through our site that potential drivers or current drivers looking to make a change read what is written on trucking forums so that they know from those currently working for specific companies if their claims are true.
We have never been in a situation as financially dire as the one you describe although we have ourselves been homeless twice by choice. Even though you do not have a home (physical address), you must be living somewhere. Although we cannot advise you along these lines, I will share with you what we did when we were homeless the first time.
We put everything except our car and what we had in the truck in storage, had a mailing address in our home town, parked our car at the trucking company's terminal and used the address of the motel we stayed in when we came home as the physical address on our CDLs. Since we were teaming at the time, we only came in to stay at the motel once a month or so (except at Christmas time, when our stay was longer).
You said that you leased on with Prime Inc. By way of background, Mike's and my experience has only ever been as company drivers, so all we know about leasing on with a trucking company is what we have read. However, you may be aware that in July 2010, Land Line Magazine published an article entitled "Lease or Fleece." There is a paragraph in the article with the heading "Designed to fail" and they say why these programs are geared that way.
www.landlinemag.com/Magazine/2010/July/Features/Lease-or-fleece.aspx (no longer online)
It is an admirable thing to want to become an owner-operator. But one needs to understand the risk involved. Perhaps you were aware of the risk and decided to take it anyway. You admitted, "I fell for their make it big speeches." Please take a giant step back to understand your own motivation, the goals you set and how you will realistically reach them.
Would you consider being a company driver for a while to get your financial feet back under you?
Since you have included your email address with your submission, I am going to send you an email with the contact information for a firm that connects drivers with proven trucking companies that have been screened. We have a good relationship with the folks whose information we are going to send you and I ask you to connect with them and then follow up with me to let me know how it goes for you.
As dire as your situation now seems, you have taken the first step toward improving your situation by speaking out and asking for help. We trust that we will be part of the chain of catching the break you need. Please stay in touch.
When you get back on the road, we wish you safe travels and lots of money saving opportunities.
Best regards,
Vicki Simons
https://truck-drivers-money-saving-tips.com/


—– Comment —–
Related question by Anonymous
Date: Dec. 31, 2011
Note: Because this comment had two distinct sections, it has been split, the relevant part here and the other part on another page.
—–
Hello Vicki,
I have to once again say that you and your site seem GENUINELY helpful.
While it makes sense to ask trucking companies questions in an attempt to learn about that company to protect oneself from being ripped off, I am thinking that a good con artist can answer any question positively for the purpose of luring they prey.
So I am thinking that what a prospective driver really need to ask for is the employment or owner operator contract and read that and have it reviewed by a lawyer of a trucking associations like OOIDA.
Since I am now getting into trucking and am currently in communication with potential employers, I would appreciate your comments on my thoughts of this matter.
…
Happy New Year to Everyone.
Regards,
Josh
—–
Response from Vicki:
Hello, Josh,
Happy New Year to you. Thank you for your comment. As you requested, I am giving feedback.
Yes, we agree that con artists can make people think things that are not true. That is why in addition to providing the list of questions to ask recruiters, we have referred folks to trucking forums so that drivers can learn from current and former drivers what it's really like to work for certain trucking companies. We don't want for any driver to be exploited.
It is always wise to have contracts reviewed by competent legal counsel before signing, especially when it is of the scale as large as leasing a vehicle that is tied directly to employment (as a lease-operator does). Scotty is on the back side of such an agreement. My response was designed to help him go on from where he now finds himself.
When someone is knocked down, it is wise to take a step back and find out if something he/she did precipitated a certain outcome. Lease-operators need to know what they're getting into before they do. Sites and resources which specialize in helping owner-operators are far better qualified to help guide these folks than we can. However, we provide personal budgeting info and say that a business budget should be separate.
I will answer the other part of your original comment separately.
Thanks again.
Best regards,
Vicki Simons
https://truck-drivers-money-saving-tips.com/


—– Comment —–
Wrong by Mitchell
Date: Nov 1, 2012
My husband has driven for Prime Inc for 8 years as a lease operator. He grossed $266,708.00 last year after expenses we probably brought home $120,000.00 We have a beautiful 4 bedroom home, 2 new vehicles and vacation at least 3-4 times a year. My husband ALWAYS drives no faster than 58mph and only stops when necessary. He manages his time, fuel and expenses. HE TREATS IT LIKE A BUSINESS. If you were not successful, perhaps it was at your fault, not Primes. We have many driver friends that have the same success story. My husband has never been late, had a service failure or accident. He was contractor of the month and nominated many other times. Don't blame others for your failures.


—– Comment —–
learn some common math by Anonymous
Date: May 13, 2013
there is no way you made that kind of money wih time off for 3 or 4 vacations a year with any trucking company and especially with prime. what a joke