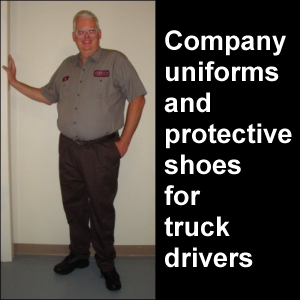 One of the employee benefits that some professional truck drivers get is company uniforms and laundering service.
When Mike first started his local truck driving job, he was provided not only with company shirts (with his name and the name of his trucking company on them), but pants and shoes as well.
The savings that a driver would derive from having company uniforms comes in two parts:
the cost of the clothes themselves and
the laundering process.
The Uniform Pieces
In the photo here, Mike posed for the camera while wearing his trucking company uniform and shoes.
(See our Update.)
Up until having uniform pants, Mike had been wearing jeans (usually blue jeans) on the job.
Of course, denim is a heavy, bulky material. Depending on the washing machine used, we could wash anywhere from 3 to 6 pairs of jeans at a time (or even more in an oversized laundromat washer). The drying took the longest since the material is thick.
Both the company uniform shirt and the pants were a blend of 65% polyester, 35% cotton.
The uniform shirt bears his name on the left panel and the company's name on the right panel.
When this page was first written, the company paid to have his uniforms laundered.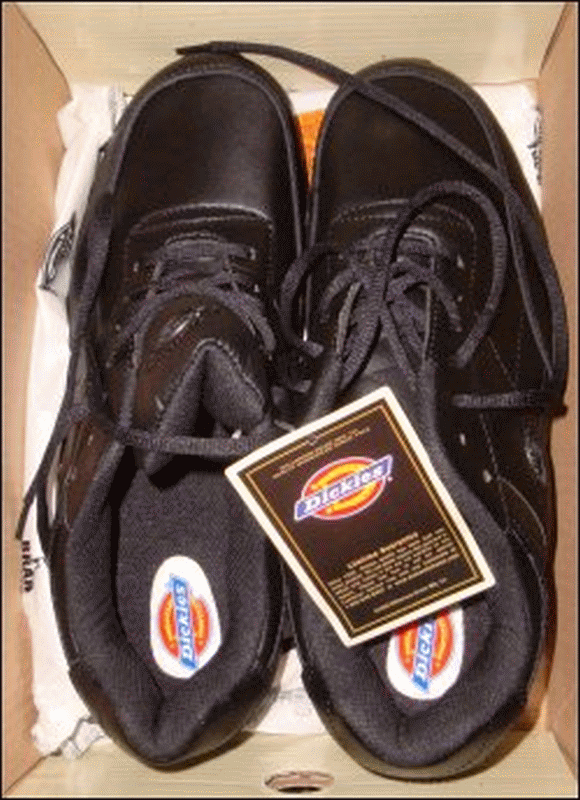 The photo here shows the new shoes that were issued to Mike by his trucking company.
The non-slip soles serve him very well in his work.
A similar pair of slip resistant shoes costs about $50.00.
Cost of Company Uniforms
As of the time this article was written, a comparable uniform shirt cost about $20 and a comparable uniform pair of pants cost about $28.
Mike was issued 11 shirts and 11 pairs of pants. At the comparable costs listed above, the employee benefit of his having company uniforms is: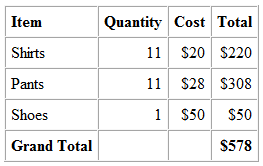 Alternatives to Company Uniforms
We have been blessed to find non-company work shirts on sale at a thrift store for as little as $1 apiece.
While that same thrift store sells every garment for $1 apiece, Mike doesn't waste his time looking for pants there because he requires a size that can be difficult to find even in retail stores.
In the past, he has purchased Wrangler relaxed fit jeans at Wal-Mart for under $20 a pair. Other stores (even Amazon.com) sell them for more.
For 11 shirts at $1 each ($11) and 11 pairs of jeans at $17 each ($187), that would be $198 (plus tax, if applicable).
This assumes, of course, that one needs to have this many garments between laundry sessions.
On the road, Mike was generally able to wear an outside shirt and pair of jeans for a couple of days between truck stop showers.
This reduced the amount of laundry being done. So, figuring just 6 changes of clothes, the monetary outlay would be just $99 for us.
Of course, when a trucker works a local job, he or she is able to shower every day.
Laundry costs
The costs of laundering work shirts and work pants will vary depending on where the processing takes place.
If you as a professional driver have a home support team who washes and dries clothes at home, your costs could be as low as the cost of water plus detergent if one already has the hand washing tools, a clothes line and clothes pins.
In most cases, however, the cost will need to include the maintenance cost of the washer and dryer and the cost of electricity to run the machines.
If a driver uses commercial machines at a laundromat, the cost to do laundry automatically goes up.
On the other hand, it is possible for an OTR trucker to do his or her own laundry in-truck, using a five-gallon bucket and an apparatus like the one shown here linked from Amazon.com, with whom we have an affiliate relationship.
The tricks are to have:
enough water for both washing and rinsing;
laundry detergent and desired additives on hand;
a place to dump wash and rinse water:
enough strength to wring clothes of excess water; and
a place to hang the clothes to dry.
Assuming that six pairs of jeans can be washed at a time, let's look at some potential weekly laundry costs: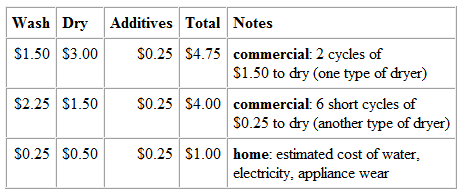 Of course, these costs have to be multiplied by 52 weeks a year, for as long as you wear these clothes.
Calculating the Yearly Savings
Using the 6-garment figure for company shirts and pants (and hard usage that requires replacing both pants and shirts every year), let's calculate the savings we could realize on the road each year (you will want to substitute your own costs):
6 shirts * $1/shirt = $6
6 pants * $17/pant = $102
52 weeks * ($4.75/week * 2 loads) = $494
Total = $6 + $102 + $494 = $602 per year
Multiply the yearly cost by every year you're in trucking and using company uniforms to calculate the extent of this benefit.
Update
During the time that Mike wore these uniforms, Vicki recalls only a few times that they ever needed a dab of repair.
Contrast this with providing his own work pants, which occasionally need to be patched.
In 2012, Mike's trucking company decided to do away with full company uniforms and its laundering service.
Instead, they issued the drivers 5 company-branded t-shirts each, which they were responsible to launder.
We were grateful for the time that his company paid for laundry service, especially when we were still having to go to a laundromat to wash and dry clothes.
By the time the original uniforms and laundry service were done away with, we had already moved into our dream come true and had become able to save a lot of money on processing laundry.
---

Money saving tip: Not only can company uniforms save you the cost of buying outer work clothes, but company paid laundering services can save you the cost of washing and drying the uniforms every week.
Drivers who work local truck driving jobs may be more prone to getting a full set of uniforms, although some trucking companies allow drivers to purchase custom logo shirts with the company's logo on them.
When Mike worked for Epes Transport, they originally had a program that allowed drivers to obtain 4 company shirts per some time period we can't recall. (When the economy took a downward turn, they eliminated that program.)
Ask your company if they provide company shirts and pants — and whether or not you have to pay extra for them.
We personally think that even if a driver cannot obtain laundering services, he/she will look so much more professional wearing a uniform than non-uniform clothing.
We think that it also presents a better, more professional company image. Branding can be important.
---
Return from Company Uniforms and Laundering Service Saves You Money to our Employee Benefits page or our Truck Drivers Money Saving Tips home page.
---