Do you enjoy good Chinese food but find it difficult to locate in truck stop restaurants?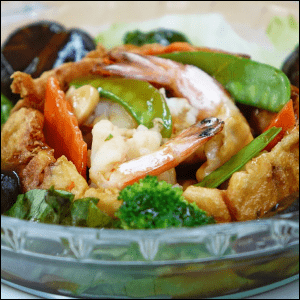 Have you ever tried to prepare it in your truck but found that it didn't turn out as you'd hoped?
We understand because we
enjoy a variety of Asian food dishes;
have fixed them in our trucks; and
have at times been disappointed with the results.
(Note: Mike now has a local truck driving job.)
So, we're presenting some ideas on this page to help you. The key is advanced planning.
Chinese Food Ingredients
Depending on what Chinese food you like to eat — including but not limited to poultry, seafood, beef, pork or vegetables — you will have to consider how you are going to store your ingredients until you are ready to prepare your meal.
Personally, we have never had much success in transporting seafood products unless they are canned (such as canned tuna). We never felt comfortable taking fresh or frozen fish with us because it would have had to be stored in our ice chest. If you have a compact refrigerator (especially one with a freezer compartment), you may feel differently. And that's OK.
Some vegetables may need to be prepared as quickly as possible so as not to lose their freshness before cooking.
If you plan to fix any dishes with eggs, you'll need to determine how you will transport them.
Special Appliance?
While Chinese restaurants are used to using large woks to prepare their dishes, you need to be mindful of two things:
storage space and
heat source.
How much room do you have in your truck for storing the appliances?
Do you have an inverter or APU from which to get sufficient electrical power to use an electric wok? The appliance shown would have worked in Mike's last regional truck because we had a 1500 watt battery-connected inverter installed.
We also like the Presto brand because of the quality of their merchandise, especially the hot pot we use.
We used our hot pot when preparing these dishes but we could have also used our electric skillet.
Also, for your convenience, we are posting the link to an electric wok from Amazon.com, with whom we have an affiliate relationship.
Types of Chinese Food
---
Equipment we used:
Cutting board (which we use as a cooking surface);
Can opener;
Spatula; and
Bowls and utensils.
The cost of canned Chicken Chow Mein with rice and noodles (at the time this page was first written):
Chicken Chow Mein bi-pack
$2.50
Rice
$0.50 (estimated)
Margarine and salt (for rice)
$0.10 (estimated)
Chow mein noodles
$0.20 (estimated)
Total cost of meal
$3.30
Total cost per serving
$1.65
Your costs may be different.
Update
We have only ever been to one truck stop restaurant that served freshly made Chinese food (a stir fry), but at the time, it was not served every night and was a bit pricey. This was the Petro at Bordentown, NJ.
---

Money saving tip: Mike says that if you want a good, hot, hearty meal that is good for you — with a minimum of preparation and clean-up time — you'd be hard pressed to beat Chinese food. (Using fresh ingredients is best.)
Furthermore, using canned ingredients this dish is very fast to prepare, especially when you use instant rice. From start to finish, we can have this dish fixed and ready to eat in about 15 minutes.
Mike also says that with a La Choy bi-pack, we can fix enough to fill us both without being miserable. In the past when we have added other ingredients, we have had leftovers. (Note: the leftover never taste as good the second time around, at least to us.)
Please note that in stores that we frequent, the extra can of Chop Suey vegetables costs almost as much as the entire bi-pack of sauce and vegetables. We don't think that this is worth the extra cost, so we usually don't buy it.
Compare the cost of this meal to one you'd buy in a restaurant. We have had this dish for both lunch and dinner. Typically, a lunch meal at a restaurant will cost less than a dinner meal.
---
Return from Enjoy Chinese Food Right in the Comfort of Your Truck to our Food and Recipes page or our Truck Drivers Money Saving Tips home page.
---