Professional drivers can be delayed and detained at the docks of shippers and receivers, waiting for their trucks to be loaded or unloaded.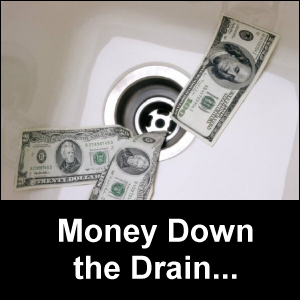 If you, like most truckers, are paid by the mile, every hour your truck is parked at a dock is an hour you're not driving.
And if you're not driving, you're losing money, just like watching it go down the drain.
Because your time is valuable, we have written this page to share with you our story about waiting time pay and provide some money saving tips to help you.
Our Story
In 2009, Mike was assigned a load through his company that — not including driving time — required him to spend more than a full day between the shipper's and receiver's docks.
He was delayed not due to any problem from his company but a mix-up on the part of those placing the order.
That didn't make it any easier to bear, but at least we knew.
The Shipper
Mike arrived at the shipper before the set appointment time.
We are well aware of the fact that some shippers and receivers have policies such that if drivers do not show up by their appointment time, they will load or unload the trucks at their own leisure and "work them in."

Instead of setting fixed appointment times, some shippers and receivers set "open window" appointment times (such as between 08:00 – 15:00, a 7-hour time frame). This gives the driver greater flexibility in planning his or her trip.

We realize that occasionally drivers may be delayed for reasons beyond their control, such as due to a traffic accident, extremely bad weather or truck difficulties.

However, we feel that appointment policies are, in general, a good idea. We also feel that it is the responsibility of the driver to notify his or her company as soon as possible whenever there is a delay.

Not letting one's trucking company know about potential delays can result in a "service failure" or other disciplinary action.

Drivers cannot afford slip-ups like this.

As one of the trucking companies for which Mike used to drive often said, "Service is all we have to sell."
At the shipper, Mike met another driver from his company.
When the driver pulled his truck out of the dock, we noticed that his trailer was loaded only about half-way back.
That seemed strange, but it was just a preview of what was to come…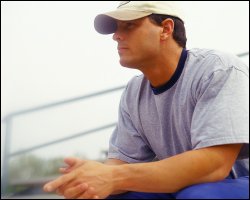 We were at the shipper's location for six hours.
The way Mike's company used to work it, when a driver was on time for his or her appointment, the first four hours of waiting time was "on the driver."
However, some years back, the company reduced the number of hours that on-time drivers had to sit without getting paid to two hours. (It's still not right, but at least the unpaid waiting time was reduced.)
All of the shippers and receivers that the company does business with are well aware of the carrier's policy. So, in this case, Mike should have been entitled to four hours of wait time pay (or detention pay) at that time.
Mike wants you to know that whenever he arrives at a shipper or receiver who is doing a live load or unload, he will inquire as to how long the process will take.

In those cases when the company states that it will take "a while," Mike explicitly informs them that the first two hours of waiting is on him, but that he will get paid the company's rate per hour for every hour thereafter.

When Mike drove regionally, he was a stickler for using his Qualcomm Mobile Communications Terminal (MCT) to document such actions as:

– arrived at shipper;

– loaded call;

– arrived at receiver; and

– empty call.

By keeping his times documented on QualComm, he could easily put the times on the bills so that he could claim any and all waiting time pay that was due him.

The way Mike worked it, the clock on wait time pay "stopped" when either he signed the bills at the shipper or the receiver signed the bills on their end.

Note: Receivers may have a trailer empty long before the bills have been returned to the driver. If a driver is delayed or detained by having to wait on the bills, this time should be eligible for wait time pay, too.

Drivers should never dawdle when a shipper or receiver has completed tasks associated with a load.

Mike makes it a goal to respond within two minutes to calls by the shipper or receiver to come inside.
Due to federal Hours of Service regulations and the long time it took the shipper to load his trailer, Mike was not able to commit to delivering the load by the original delivery time in the load assignment, which had been 10 a.m.
Mike's driver manager was able to amend the delivery time to 1 p.m.
The Receiver
Mike arrived at the receiver about 12:30 p.m. (being early by about half an hour).
However, when he checked in at the receiver, they wrote on the bills that the delivery appointment was the next day at 11:30 a.m., 23 hours later!
Mike contacted his driver manager, who in turn got in touch with someone in his company's customer service department.
We're not sure what action the other driver from Mike's company had taken with his driver manager, but Mike kept the lines of communication wide open with his own.
Mike's trailer was finally empty at 15:49 the next day, about 4¼ hours after the receiver's stated delivery time.
Mike's total wait time was 26 hours, 23 minutes from the time we arrived at the receiver until the time the trailer was empty.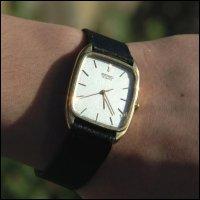 By our records, since the first two hours were on us, Mike should have been entitled to about 24.5 hours' worth of wait time pay.
However, Mike actually received layover pay and 3 hours' of wait time pay on the receiver's end.
For reasons we don't quite understand, even though he was at the shipper's location for 6 hours, Mike got 6 hours' of wait time pay on the shipper's side (even though he was entitled to only 4).
So, we attribute 2 of those hours to the receiver's side.
Conclusion
Were we shafted by 19.5 (24.5 – 5) hours' worth of wait time pay? Probably. But at least Mike got some compensation for his time.
Remember the other driver from Mike's company?
He didn't make it out of the receiver's location until midnight of the day we left.
If he got the same kind of layover-wait time compensation that was given to Mike, his average per-hour wait time pay was even lower than ours.
Be that as it may, Mike diplomatically suggested to his driver manager that their company look for ways to exit the business when dealing with these specific companies.
Mike informed Vicki and his driver manager that he has never been to one of these so-called logistics companies but what he didn't get some kind of wait time pay for being delayed and detained.
(It's odd because when we think of "logistics" companies, we generally think "efficient" and "fast." Perhaps we are wrong….)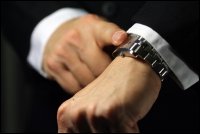 Mike has also told Vicki that should he ever have the opportunity to accept a pre-plan to pick up a load from or deliver a load to either of these two companies (the shipper and the receiver), he will probably refuse the load. It is just not worth the down-time.
From a business perspective, Vicki thinks it would be wise for every company to seriously review their wait time pay records to find out not only how much time their equipment is being held "hostage" but also how much money is being spent on diesel to idle the trucks.
Because the company refused (at least at that time) to install APUs in their trucks, and because it was still rather warm out when Mike took this run, there were only two fairly short periods of time when we went walking that his truck did not idle.
Being delayed in the docks can turn out to be costly in numerous respects.
Wait Time Pay Policies
During the time that we were waiting on this load, Mike was able to talk with other drivers.
He learned that different trucking companies have different policies regarding detention or waiting time pay.
He heard the horror story of a driver from a company that pays no waiting time pay, who got delayed and detained at that receiver for five days!
Friends, that is inexcusable.
We are very interested to know how owner-operators and independents handle being delayed and detained at shippers and receivers.
Do you bill the shipper and receiver for your time or do you do something different? Let us know through the form on our Employee Benefits page.
---

Money saving tip: While professional drivers who are delayed and detained at the docks should be paid for waiting time, they aren't always.
Assuming you work for a company that pays for waiting time, here are some tips to help you get all of the money you're entitled to:
Always arrive at your destination before or at the agreed upon appointment time.
If you are delayed in meeting an appointment time, contact your company. If you are an independent, notify the shipper or receiver.
Use your satellite communication device to document your arrival and change of status (being loaded or emptied).
Write down the documented times on your bills before you process them.
Maintain healthy communication with those in your chain of command, especially your driver manager, about any and all delays.
If necessary, go up the chain of command if you are not being listened to and diplomatically make your case with regard to compensation of your time. (Don't burn bridges.)
Work to strike the balance between your comfort in the truck and keeping idling time to a minimum.
For future reference, keep a list of shippers and receivers who cause excessively long wait times. Avoid them, if possible, in the future.
---
Return from Pay Truckers Delayed or Detained at the Docks for Waiting Time to our Employee Benefits page or our Truck Drivers Money Saving Tips home page.
---