Part of our 2009 Thanksgiving dinner — which we cooked completely in-truck — was sweet potato casserole.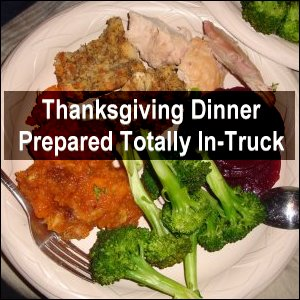 You will see its rich, orangey goodness on the left side of this plate along with turkey, bread dressing, broccoli and cranberry sauce.
There are many different recipes for making this dish.
Our recipe does not involve exact amounts, but is done "by taste."
You may read more about our 2009 Thanksgiving dinner and the detail we've documented about cooking turkey in the truck that Mike drove regionally for one trucking company at that time.
Start With Raw Sweet Potatoes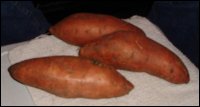 We began with three raw medium-sized sweet potatoes.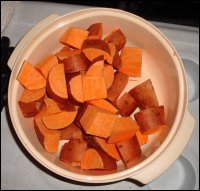 Mike cleaned the sweet potatoes and cut them up into fairly good sized chunks in preparation for boiling.
Cooking Sweet Potatoes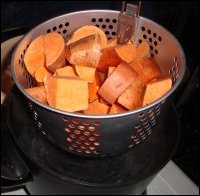 The diced vegetables were put in the fryer/steamer basket, which is shown resting on the edge of our Presto Kitchen Kettle hot pot just before being put down into boiling water.
We powered this appliance with our battery-connected inverter.
After the sweet potatoes had been boiling for a while, Mike tested their doneness with a fork, being careful not to get burned by the steam.
He said that for the size of chunks he prepared, the total boiling time was about 20 minutes after the water started to boil again.
Peeling Cooked Sweet Potatoes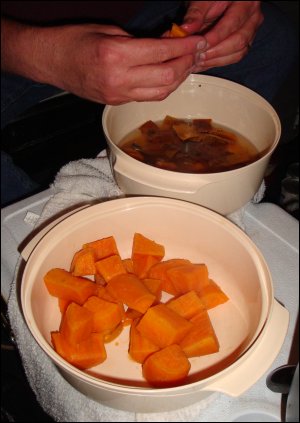 Mike drained the cooked sweet potatoes into a bowl and then added room temperature water to cool them enough to peel them.
For faster cooling, some people add ice or very cold water.
There is no need to "skin" sweet potatoes prior to boiling since the skins slip off easily afterwards.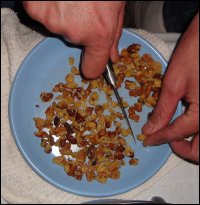 Additional Ingredients for Sweet Potato Casserole
Mike cut up walnuts before adding them to his preparation of sweet potato casserole.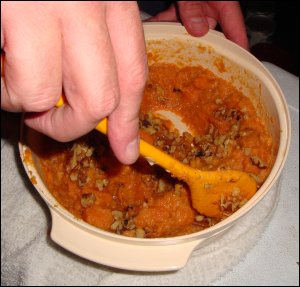 Mike mashed up
the cooked sweet potato flesh with margarine,
cut up walnut pieces and
brown sugar.
Health note: Now we use only butter, not margarine.
If the mixture was not sweet enough to his taste, he added more brown sugar.
Other variations for making sweet potato casserole include adding canned crushed pineapple, which
adds sweetness and
reduces the need for brown sugar.
Thanksgiving Dinner With Sweet Potato Casserole
Thanksgiving dinner is served!
Both plates show a serving of
turkey,
bread dressing,
sweet potato casserole and
steamed broccoli.
The plate in the foreground also shows jellied cranberry sauce.
You can see the edge of the bowl with whole berry cranberry sauce on the right.
At the top of the photo, you can see the pan containing the remainder of the bread dressing.
While the raw sweet potatoes, brown sugar and walnuts do not need to be refrigerated or kept in an ice chest or refrigerator, the margarine (or butter) does.
Also, once the sweet potato casserole has been prepared, leftovers need to be kept cold until eaten.
Equipment We Used
Hot pot (with fryer/steamer basket);
A solid surface on which to cook and prepare the dish;
Bowls and plate; and
Cooking and eating utensils.
Cost of This Dish
| | | |
| --- | --- | --- |
| Ingredient | Total cost | Cost per meal for 2 people |
| Sweet potatoes (three medium, 2.17 pounds, 2 meals' worth) | $0.54 | $0.27 |
| Margarine (estimated) | N/A | $0.10 |
| Brown sugar (estimated) | N/A | $0.25 |
| Walnuts (estimated) | N/A | $0.25 |
| Total | — | $0.87 |
Health Benefits of Sweet Potatoes
We first became aware of the health benefits of sweet potatoes from this book from Amazon.com, with which we have an affiliate relationship.
Sweet potatoes — which are often confused with "yams" — have numerous health benefits, including being antioxidant rich and nutritionally powerful.(1)
Wikipedia states, "In 1992, the Center for Science in the Public Interest compared the nutritional value of sweet potatoes to other vegetables. Considering fibre content, complex carbohydrates, protein, vitamins A and C, iron, and calcium, the sweet potato ranked highest in nutritional value. According to these criteria, sweet potatoes earned 184 points, 100 points over the next on the list, the common potato.(NCSPC)"(2)
FoodReference.com lists other info of interest, including this: "Among root vegetables, sweet potatoes offer the lowest glycemic index rating. That's because the sweet potato digests slowly, causing a gradual rise in blood sugar so you feel satisfied longer."
Available Forms
Sweet potatoes are most commonly available in raw, frozen and canned forms. They can also be found in dehydrated and freeze dried forms.
Other Cooking Methods
Sweet potatoes may also be baked in an oven or cooked in a microwave oven.
NutritionData.com lists the Sweet potato, cooked, baked in skin, without salt.
You may find other sweet potato casserole recipes online here.
Update for 2010
We were able to find sweet potatoes on sale at a Wal-Mart in South Carolina two days before Thanksgiving for $0.28/pound.
For drivers in countries where vegetables are weighed by the kilogram, since 1 pound = 0.45359237 kilograms, that's about $0.62/kilogram.)
That's a pretty good buy.
---

Money saving tip: Sweet potatoes in and of themselves are nutritional powerhouses, much more so than regular white potatoes.
They are also fairly inexpensive, especially when they are "in season" in November and December.
We bought ours for about 25 cents per pound in advance of the Thanksgiving season.
If you can, compare the prices of sweet potatoes in the stores to get the lowest price per pound.
Vicki once purchased sweet potatoes in bulk at a good price at a state farmers market.
The only drawback was that the box contained 40 pounds of this vegetable.
This can be a bit too much for two people to eat from occasionally unless the vegetables are first processed into another form, like dehydrating, freezing or canning.
We have never prepared sweet potato casserole, then frozen it and re-thawed it later for eating.
Based on our experience with keeping sweet potato casserole leftovers cold, liquid tends to pool up on top.
We've always just stirred it back in.
We leave it up to the imagination of your home support team to process the vegetables as your family likes them.
Mike notes that sweet potatoes should be stored in a cool, dry environment, and not kept indefinitely under the bunk in your truck.
If they are kept in non-ideal conditions, they can either rot or decompose rapidly.
Of course, as tasty and nutritious as they are, sweet potatoes should be eaten in a timely manner.
---
Return from We Made Sweet Potato Casserole in a Truck for Thanksgiving to our Food and Recipes page or our Truck Drivers Money Saving Tips home page.
---
References
1. whfoods.com/genpage.php?tname=foodspice&dbid=64 (no longer online)
2. http://en.wikipedia.org/wiki/Sweet_potato