A professional truck driver informed us that his company had double booked loads on him for the second time in the last 2-3 weeks.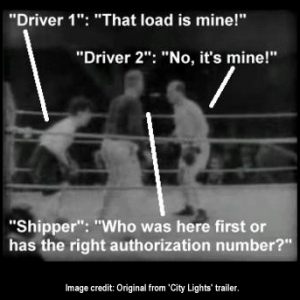 This means that he was assigned to pick up a load at a shipper where the load either had been — or was going to be — picked up by another driver.
The issue of "first come first served" should apply only to loading and unloading, not who was dispatched to pick up a unique load.
Not only does doublebooking loads waste one driver's time (and earning power), it hurts the trucking company's operational costs and utilization.
Furthermore, it hurts the trucking company's reputation with:
the shipper; and
the driver.
Turnover in the trucking industry is bad enough already.
A trucking company doesn't need to push its drivers out the door with sloppy load assignments or dispatches.
A careful evaluation of the computer program that is being used to assign loads needs to be undertaken to make sure that double booking loads never happens again.
Truckers who are tired of being jerked around by trucking companies who specialize in irregular routes may want to consider looking for truck driving jobs that have dedicated loads and routes.
Meanwhile, if the bumped out driver isn't issued a replacement load right away, he should keep track of the time that he spends waiting on a new load assignment and ask to be compensated for it.
He may get turned down, but he most likely won't get anything if he doesn't ask for it.
Note: This article — which was originally written and published on June 5, 2015, by Vicki Simons — was updated slightly in 2018.
---
Return from Double Booked Loads to our Truck Driving Jobs page or our Truck Drivers Money Saving Tips home page.
---