When Mike Simons worked for Schneider, he was required to buy The Enforcer kingpin lock to use on any trailer that he dropped.
This is a different brand of king pin lock from the types that one can generally find for sale at a truck stop, such as the steel and aluminum models shown here.
Of course, the purpose of using a king pin lock on a trailer is to prevent another tractor from connecting to it.
It is one form of security against trailer theft and cargo theft, but by no means the only one.
Acquisition
Depending on the trucking company for which Mike worked, there were occasionally items that drivers used in connection with their rigs that were issued to a truck or trailer.
For example, a PrePass/E-ZPass transponder unit that was mounted in the windshield of a tractor stayed with the tractor.
Such was not the case with Mike's Enforcer kingpin lock; he bought that personally.
So, after he left Schneider, he took this device with him to use when he drove for his next regional truck driving company.
This came in particularly handy on those weekends when he came home and dropped his trailer at a local truck stop and he needed to bobtail home.
A similar model of a kingpin lock is sold on Amazon.com, with whom we have an affiliate relationship.
Iowa80.com sells The Enforcer as well, but at a much higher price.
Policies on Dropping Trailers
Dropping and leaving an unsecured trailer — especially if it is loaded — anywhere can be a major violation of trucking company policy.
If an unsecured trailer is stolen, the trucker who was hauling it can (and probably will) be held responsible; he can even be fired.
It's just not worth losing your job (and possibly your entire professional truck driving career) when you can buy a kingpin lock for about $50 or less.
Review your company's policy regarding dropping trailers in places other than company terminals and customer locations (both shippers and receivers).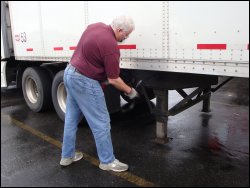 In this photo, Mike Simons is lowering the landing gear on a trailer that he is preparing to drop in a truck stop parking lot.
Some truck stops forbid drivers from dropping trailers.
The policy may even be that dropped trailers are subject to being towed.
If no notice is posted, we recommend that you ask before doing so.
King Pin Lock Storage in Truck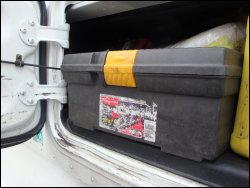 Mike stored his kingpin lock inside his tool box, which he stored in the side box of his tractor.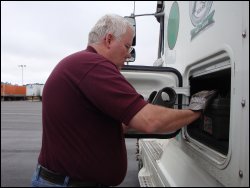 While wearing work gloves to protect his hands, Mike pulled The Enforcer out of the tool box from his truck's side box.
Installing a King Pin Lock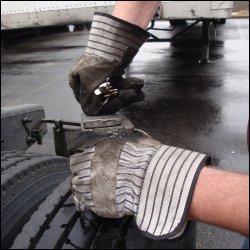 Mike kept the key to the king pin lock on his key ring.
Opening and closing the lock was as easy as inserting and twisting the key in the keyhole.
This photo shows The Enforcer kingpin lock with key inserted in the lock — and in an unlocked position — sitting on top of a truck tire.
It is ready to be installed on the trailer's king pin.
The device is larger, thicker and more intimidating than smaller king pin locks.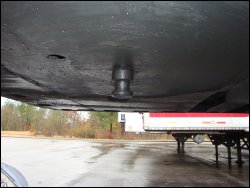 This is a side view of the underside of a trailer and its kingpin after the tractor had been pulled out.
Notice the fifth wheel grease all over the underside of the trailer and on the king pin itself.
After having had to clean grease off the device in the past, Mike didn't want his kingpin lock to get greasy again.
So he devised a means to keep his lock grease free.
Here's one good use for all those plastic grocery sacks that seem to accumulate: place it over the king pin before putting the lock in place.
That way, the bag gets greasy, not the lock.
When the lock is later removed, the bag can be thrown away.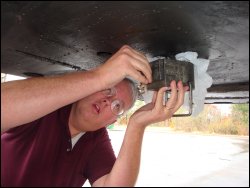 After mounting the unit over the kingpin, Mike inserts the key into the kingpin lock to lock it in place.
Notice that Mike is keeping his head and clothing a distance from the grease.
Were he to get grease on his clothes, he'd use a hand cleaner to assist with cleaning.
Testing the King Pin Lock Installation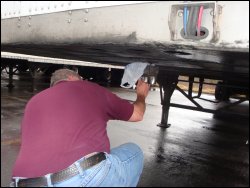 After it was in place and locked, Mike then gave the lock a tug to make sure that it really was secure.
No stolen trailers!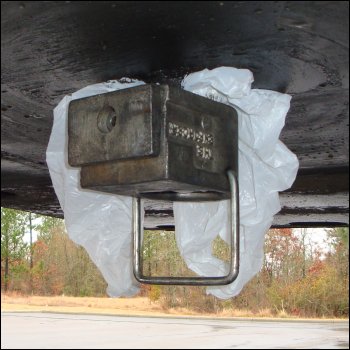 This photo shows The Enforcer kingpin lock in place over a plastic grocery bag on a trailer kingpin.
The bag keeps the fifth wheel platform grease from getting on the lock.
Highlighted Features of The Enforcer Kingpin Lock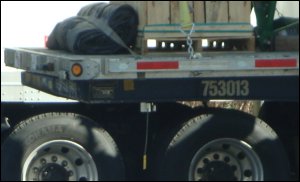 The Enforcer kingpin lock does not have a tag like the one shown installed on a flatbed trailer here.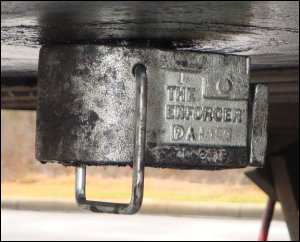 The device can also be installed in either direction.
Two photos above, the "handle" is farther away from the trailer than it is in the photo at left.
You can see the grease on this unit in this photo, which is why Mike decided to start installing it over a plastic bag.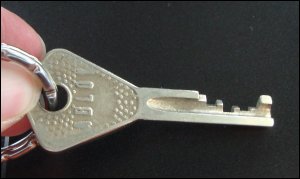 Instead of a flat key, The Enforcer has a curved key.
We do not know how easy it would be to duplicate such a key.
We do not know if devices are individually keyed.
The curved lock and key make picking the device very difficult.
The Proof
Does The Enforcer king pin lock work?
Mike never had a trailer stolen as long as this unit was installed on a trailer king pin.
Which was the case:
there were no thieves in our area,
no one tried to pull the unit off or
no one tried to pick the lock?
We do not know.
Of course, in connection with using this device, Mike was always careful regarding where he dropped his trailer.
Conclusion
Professional truck driver Mike Simons recommends using The Enforcer king pin lock on dropped trailers in unsecured locations to help prevent trailer theft and cargo theft.
The usage of this product is more relevant to regional and long haul truckers than for truckers with local truck driving jobs because local drivers generally drop their trailers only at a company's terminal, a shipper's or receiver's location, or at a repair facility.
We have used the terms "king pin lock" and "kingpin lock" interchangeably on this page.
They refer to the same thing.
---
Return from Reviews of The Enforcer Kingpin Lock by Truckers to our Product Reviews page or our Truck Drivers Money Saving Tips home page.
---