If there was ever a group who occasionally needs energizing help, it is professional truck drivers who work long hours to move about 70% of the freight in the USA (and a significant percentage in other places worldwide).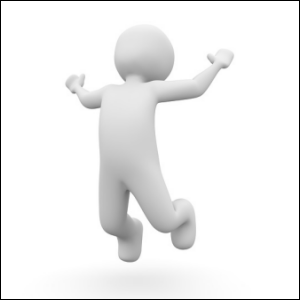 Truckers can work extraordinarily long hours.
Some drive irregular routes and have unpredictable work schedules (other than having to comply with the Hours of Service regulation).
Others may have to travel overnight, that is, during times directly opposite when their circadian rhythms tell them it is time to sleep.
Sometimes, a boost of energy can help truckers accomplish all that they need to accomplish in the course of a day or driving shift.
While there are energy drinks on the market, some of them are nothing more than chemical cocktails with high amounts of caffeine that can leave consumers jittery or worse.
Are there natural substances with energizing capability that don't have the negative effects of caffeine?
Absolutely!
We are not qualified to render medical advice; however, we urge truckers to seek — whenever possible — natural alternatives to prescription medications (which almost always have side effects).

Furthermore, we recommend using pure therapeutic grade essential oils for energizing capability. In fact, one of the essential oils on this page is a favorite of Mike's, specifically for its energizing effect.
Below, we have listed (in alphabetical order) essential oils and supplements used for energizing. Each person's needs and biochemistry may be different from someone else's.
Also, the list below is one of several lists that we have grouped under "trucker health" in the Health and Wellness section on our site. The other lists are:
---
Because of their unique Seed to Seal® process and the success we have personally experienced in using them, we unapologetically recommend pure therapeutic grade essential oils from Young Living for energizing.

Just like you find affiliate-specific links to Amazon.com products on this site, each product listed below is linked to that product's page on an affiliate-specific website that we utilize for educational and ordering purposes.

Whether you need help just one time or over an extended period of time, thank you for allowing us to be of service to you.

Need help deciding which product or products to use?
Request an Essential Oil Personal Consultation.
---
"Need More Energy" Post Excerpt from Young Living's Blog
"Obviously, the first step to increasing energy is a healthy diet, exercise, and adequate rest. For me, that covers about 90 percent of my time. So how do I make up the difference? Gary's recommendation is NingXia Nitro™. NingXia Nitro is an all-natural way to increase cognitive alertness, enhance mental fitness, and support overall performance.* Its benefits are derived from a wide range of powerful cognitive enhancers, including:
Proprietary Nitro oil blend—Black pepper, nutmeg, vanilla, chocolate, yerba mate, spearmint, and peppermint essential oils and wolfberry seed oil
Proprietary Nitro energy blend—Bioenergy Ribose®, green tea extract, Korean ginseng extract, mulberry leaf extract
B vitamins—B12 (methylcobalamin), B3 (niacinamide), B6 (pyridoxine HCI)
Choline
"Gary Young synergistically combined immediate and long-term energy-supporting ingredients into a product that speeds up recovery and increases overall energy reserves. NingXia Nitro is a simple and convenient way to become more focused, support mental acuity, and enhance physical performance.*
Excerpted from (June 27, 2013)(1)
---
Essential Oils and Oil-Infused Products for Energizing
You can balance your energy levels naturally and effectively by adding
Peppermint essential oil and NingXia Nitro™ to your daily routine.
---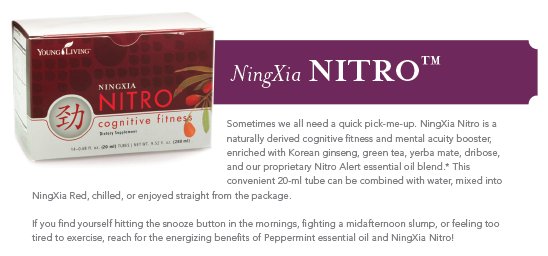 Images of Young Living products courtesy of https://static.youngliving.com/en-US/PDFS/gs-boost-energy.pdf
---
Energy and Stamina
Are you looking for a natural boost to get through your hectic daily schedule? Conquer your goals with Young Living's whole food-based, essential oil-infused formulas.
Super B™
MultiGreens™
NingXia Red®
NingXia Nitro®
En-R-Gee™ essential oil blend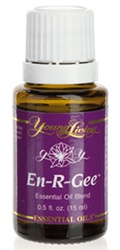 En-R-Gee Essential Oil
En-R-Gee™ revitalizes with a blend of stimulating oils that have been used traditionally to help restore mental alertness.

Uplifting and strengthening as the name suggests, it boosts energy.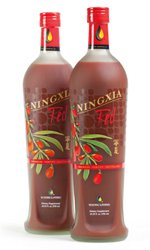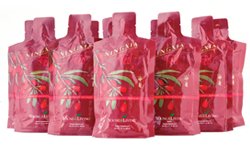 NingXia Red
NingXia Red® combines the extraordinary wolfberry superfruit with pure Orange, Yuzu, Lemon, and Tangerine essential oils, along with blueberry, aronia, cherry, pomegranate, and plum juices to deliver a whole-body nutrient infusion.

This powerful formula includes wolfberry, which is touted for its health-supporting benefits, while ongoing research continues to reveal exciting new properties on this ingredient.

Enjoy NingXia Red daily to energize, fortify, and revitalize the body and support overall health and wellness, from head to toe.

Note: Ningxia Red is available in bottles and 2-ounce singles, both shown at left.
KEY BENEFITS:
Sustain energy with the combination of select wolfberries and other superfruits. Contains powerful ingredients which are involved in many antioxidant processes and may help prevent against oxidative stress.
Balanced ingredients make NingXia Red a whole-body nutrient infusion for health and wellness support
Delivers citrus essential oils containing d-limonene, a powerful component in citrus oils.
Halal and Kosher certified in 750ml bottles (Halal Certified in 60 ml sachets)
Powerful formula includes wolfberry which is touted for its health benefits
Sources:
https://www.youngliving.com/us/en/product/ningxia-red
https://www.youngliving.com/us/en/product/ningxia-red-2-oz-singles
NingXia Nitro™
NingXia Nitro™ combines 100% pure, therapeutic-grade essential oils with naturally powerful ingredients to clear the mind and enhance mental fitness, while also providing a boost of energy and daily pick-me-up when needed.*

Each box contains 14 single-serve tubes (20 ml each).
Source: https://www.youngliving.com/us/en/product/ningxia-nitro
---
---
Essential oils may be used for many reasons other than helping with energizing. Always follow directions on how to use them.
* These statements have not been evaluated by the Food and Drug Administration. Young Living Products are not intended to diagnose, treat, cure, or prevent any disease.
---
Return from Energizing Truckers and Professional Truck Drivers to our Health and Wellness page or our Truck Drivers Money Saving Tips home page.
---
References:
1. www.youngliving.com/blog/need-more-energy/ (no longer online)