With a little advance planning, you can cook a ham and cheese omelette in your truck.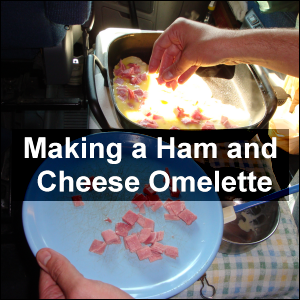 While we usually think of this dish as fitting for breakfast, you can enjoy it any time.
On this page, we detail the ingredients and equipment we used in preparing this dish (for two) — plus other items to fill out our meal — and even calculate the cost so you can compare it against the cost of a restaurant-prepared meal.
While we have enjoyed this dish many times, the info on this page details our preparation of a ham and cheese omelette in Mike's truck on Tuesday, August 25, 2009.
Ingredients
We used the following ingredients:
Three (3) large eggs;
About two (2) tablespoons of milk;
Four (4) slices of cooked ham sandwich meat;
Shredded cheddar cheese;
Two (2) slices of whole wheat bread;
Butter and preserves; and
Non-stick spray.
Equipment
The equipment we used included:
Inverter with attached surge protector;
Electric skillet (1500 watts) and cord;
Mixing bowl;
Whisk;
Cutting knife;
Silicon spatula or bowl scraper;
Two (2) pancake turners or flippers;
Two (2) plates;
Eating utensils;
Dish towel (as non-skid surface for cutting meat); and
Cleaning supplies.
Preparation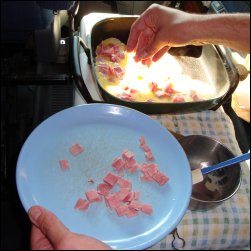 Mike plugged the electrical cord into the skillet and surge protector and then adjusted the temperature setting to 325°F.
He sprayed the skillet with non-stick spray.
While the skillet heated, he cracked three eggs into the mixing bowl, added a little milk, and thoroughly blended them with the whisk.
He cut the ham luncheon meat into the size chunks of his choosing and buttered one side of the slices of bread.
Cooking
He poured the egg mixture for the ham and cheese omelette into the heated electric skillet and then sprinkled the ham chunks on top.
Then, he sprinkled the shredded cheddar cheese on top.
(Note: the saltiness of the ham and cheese were such that Mike added no salt to the dish before, during or after cooking.)
He let the egg mixture cook until it was ready to be flipped such that it was doubled over on itself.
At that point, he placed the two slices of bread, butter side down, in the spot vacated by the flipped egg mixture.
He turned the egg mixture and bread slices as needed until they were cooked as he likes them.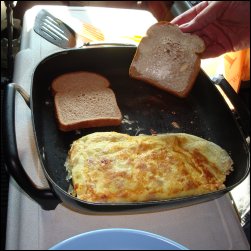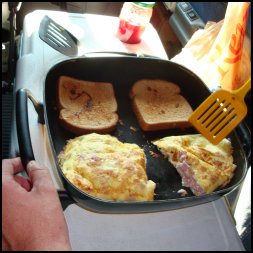 Serving
Mike split the ham and cheese omelette in two parts (the sizes of which were suitable for him and Vicki). He spread the preserves on the bread and served up breakfast as shown.
Please note that due to the difference in the size of the plates and the positioning of the bread on the smaller plate, the size of the portions of ham and cheese omelette appear about the same but they are not.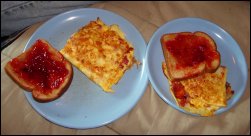 If you are endeavoring to eat smaller meals so as to lose weight, one psychological tool you can use is to fill a smaller plate or bowl.
Cost
We estimated the cost of this ham and cheese omelette breakfast for two as follows:
Please note that your costs may be different.
Assumptions
We used an ice chest to keep perishable foods cold.
While Mike used the ice chest as the surface upon which to prepare this dish, you may choose to use something else. The heating element on the electric skillet that we use is not close enough to the surface of the ice chest to melt it.
The cost of the equipment and cleaning supplies is not included in calculating the cost of this meal.
We discard our lukewarm used dish water in our portable toilet, the cost of which is also not included in calculating the cost of this meal.
At the time we prepared this meal, we packed eggs into a quart-size canning jar lined with paper towels. With skillful packing, we were able to fit 6 large eggs into a single quart jar. (Note: We have experimented with other ways to transport eggs in our trucks over the years.)
The word "omelette" can also be spelled "omelet".
While this dish can be cooked in an omelette pan, such as a stainless steel fry pan, a heating source such as an electric single burner is also required. We use an electric skillet out of convenience because it combines the cooking surface with the heating source.
Clean Up
It is necessary to properly clean all equipment that has contained raw or cooked eggs, including a ham and cheese omelette.
Proper clean up requires the use of soap and water. After the electric skillet has cooled, it can be used as a "mini-sink" in which to wash all of the dishes.
(Separately, we address other aspects of creating a "small kitchen" in your truck.)
Our preferred dish washing detergent is Dawn (the blue variety).
After washing, be sure to rinse all surfaces thoroughly.
---

Money saving tip: You can save a lot of money by preparing your own meals with your own ingredients.
Once you have invested in the equipment needed to make meals, you can use them over and over again to make the same and different dishes. With practice, the time it takes to prepare meals and clean up afterwards can be cut to a minimum.
When comparing the cost of this meal, you would do well to include the cost of your time.
When contrasting a restaurant-prepared meal versus one you cook yourself consider the following:
Restaurant-prepared meal
Park your truck near a restaurant;
Walk to the restaurant;
Be seated;
Have your order taken;
Have your order cooked;
Have your order served;
Eat your meal;
Have your check delivered;
Pay your bill and leave a tip;
Walk back to your truck; and
Leave the parking area.
Meal you prepared yourself
Set-up your equipment;
Prepare your food;
Cook your food;
Eat your food; and
Clean up afterwards.
As an added bonus, consider putting the difference between what you would have spent on a restaurant-prepared meal (and tip) and the meal you prepared yourself into a savings fund of your choice. Every time you save money this way, add the difference to the fund and watch it grow!
---
Return from Cooking a Ham and Cheese Omelette in Your Tractor Trailer to our Food and Recipes page or our Truck Drivers Money Saving Tips home page.
---