We had never heard of a folding elliptical trainer prior to receiving an inquiry through a comment posted to an article on our site.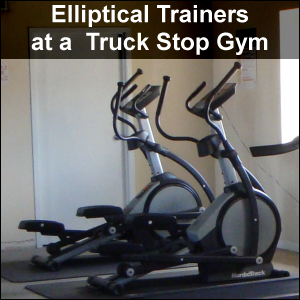 We were intrigued.
Why would truckers even be looking at using this type of exercise equipment?
First, the use of such a device in a truck could theoretically encourage truck drivers to regularly do trucker exercises or a trucker workout.
Second, according to some, exercising on an elliptical trainer provides a superior workout compared to doing other types of exercises.
Two of the major points are:
The smooth stride causes less joint impact than running (or even walking); and
Units with arm bars allow the upper body to get a workout at the same time as the lower body.
Shown here are two units in a gym area at the Greater Chicago I-55 Auto Truck Stop (or Plaza) in June 2010.
These units are not designed to be folded on a regular basis.
Would it be possible for motivated professional truck drivers to carry a folding version of this equipment with them to do physical exercises in their trucks?
Let's back up and first address taking exercise equipment in general on the road in a commercial motor vehicle.
Before You Carry Exercise Equipment in Your Truck
Answer these questions:
How much space do you have in your truck to store the equipment and where is it?
How easy is it to set up and use the equipment?
How long does it take to assemble or set up the equipment prior to use?
Does set up need to be done just once or every time you use the equipment?
Will the equipment in its folded or stored position hinder your sight or your ability to do your job in any way?
Prior to setting up the equipment, will you need to uninstall or move anything in your truck (such as the passenger seat)?
If you uninstall something from your truck, what will you do with it:

store it at home,
store it in self storage,
return it to your trucking company or
some other option?

If you will need to uninstall something from your truck what tools will you need (such as a specialty Torx screwdriver or bit)?
What other tools and equipment will you need to set up your exercise equipment?
The biggest floor space in most Class 8 commercial motor vehicles in the USA is the rectangle:

front to back between the gear shift and lower bunk and
side to side between the seats and cabinets.

How much space do you have in your truck to set up and use the equipment?

How difficult would it be to move the equipment from one truck to another?
How much does the exercise equipment weigh and what impact will this have on your truck's payload?
If the equipment you plan to use is designed to support your body, what is its weight limit?
Will having this equipment in your truck make you feel cramped or limit your options regarding taking other items on the road (such as an ice chest or portable toilet)?
What regular maintenance or repairs will your equipment require?
Will you be able to do the maintenance or repair work on your equipment yourself or will that work need to be done by the manufacturer or some other authorized dealer?
If you have to have your repair work done outside your truck, how easy will it be get your equipment to a repair shop?
How much will maintenance or repair work cost?
Will you save money over having a trucker gym membership?
How often do you travel to truck stops with trucker gyms?
Have you developed a regular program of exercise such that you'll be sure to use your exercise equipment regularly?
What product reviews has the exercise equipment received?
Does your trucking company have any prohibitions against carrying equipment like this?
Before You Buy Any Elliptical Trainer for Exercise
Compare folding elliptical trainers for features, strength, construction and price.
There are great differences between them.
Exercise equipment like the following is sold on Amazon.com, with whom we have an affiliate relationship.
Additional Considerations
Are there other types of exercises you can do in your truck that would provide the same benefits as using a folding elliptical trainer?
Does the folding elliptical trainer you're considering allow you to program workouts, set time limits or monitor your heart rate?
If you choose to rest your arms for a while, does the folding elliptical trainer you're considering have a stationary place to put your hands?
What is the difference between a true folding elliptical trainer and a "glider"?
Before You Carry a Folding Elliptical Trainer in Your Truck
Answer these questions:
Besides the "resting" footprint of a folding elliptical trainer, how much additional space does the unit require to "cycle" or "rotate" through a revolution?
Aside from using floor space, could you set up and use a folding elliptical trainer on your lower truck bunk after raising your mattress on its side and leaning it against the back wall (and raising the upper bunk if you have one)?
Will using a folding elliptical trainer in any way compromise your workout (such as by limiting or eliminating "incline" or "resistance" settings)?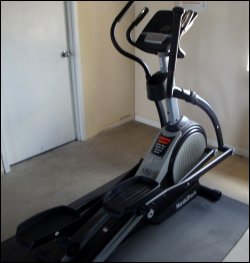 The photo here is a close-up view of an elliptical trainer taken at the Greater Chicago I-55 Auto Truck Stop (or Plaza) in June 2010.
With the right pedal in the forward position, you can see that part of the equipment extends farther forward than its base.
Although this is not a folding model, the principle holds of checking for additional room for a unit to cycle or rotate.
---

Money saving tip: We recommend that before you invest in any exercise equipment for use in your truck — especially an expensive folding elliptical trainer — that you develop a program of physical exercise first.
Many pieces of exercise equipment have been purchased by people who had good intentions about "starting" an exercise program, but they ended up collecting dust while being stored in a corner, closet, spare room or garage.
If you buy equipment but don't use it, you will have wasted your money.
You should consult a physician before starting any exercise program, especially if you have a goal to lose a significant amount of weight. While consulting a physician can be costly, see if you can combine the visit during which you plan to address your exercise plan with some other visit (perhaps your DOT physical).
Start small when you begin an exercise program. If you over-do your first workout and get sore, you may become de-motivated to continue. Remember that just as your truck needs to start out in a low gear, so you need to start any exercise program slowly. Rome wasn't built in a day.
Consider the "return on investment" of buying and using any exercise equipment. One example of this is if you use it and are able to stay strong and healthy, you can reduce the amount of time you can't drive due to being sick.
While you are using exercise equipment, remember to address other aspects of healthy living in your life such as your diet, the amount and quality of your sleep, quitting smoking, etc.
---
Return from On a Folding Elliptical Trainer for Truck Drivers to our Health and Wellness page or our Truck Drivers Money Saving Tips home page.
---