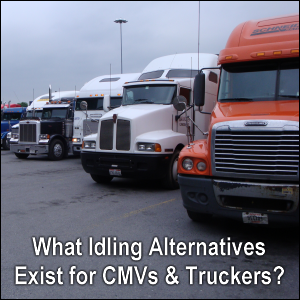 Assuming that drivers need climate control and electrification, what idling alternatives are there?
We are aware of these:
don't idle and do without both climate control and electrification (no matter the temperature, humidity, smells, noise, insects, etc. even if window screens are used);
connect to shore power such as CabAire or IdleAir if it is available (but pay for it, possibly out of your own pocket);
plug into external electrification (that is, run a power cord from the truck to an electrical receptacle outside the truck — although this may not provide climate control);
install and use a diesel-powered auxiliary power unit (APU);
rely on a battery-powered climate control device (until the charge on the batteries run down — although this may not provide electrification);
install a generator (assuming you have the room to mount one on your truck and that it will provide
the functionality you need); or
go outside the truck (such as the driver's lounge at a truck stop, one of your trucking company's terminals or get a hotel/motel room).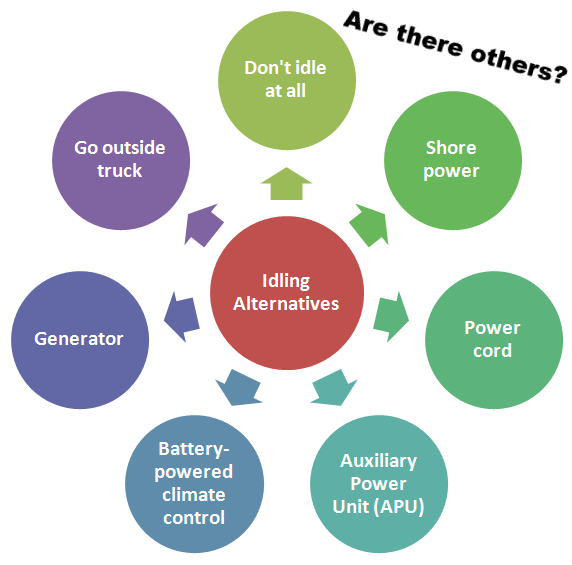 We plan to discuss APUs as idling alternatives separately, including aspects such as the payback, weight-related issues, maintenance, repair, portability and tax deductibility.
Assumptions
Assume for a brief moment that a driver wanted
climate control and electrification (the creature comforts of setting up his or her "home sweet home") and
a way to help his/her trucking company save money once idling costs are calculated,
but his/her company is not willing to foot the bill to pay for an APU even when summer heat makes a hot truck.
Besides providing our empowerment idea, we have envisioned this proposition.
Trucker-Focused Media
As a courtesy, we are providing links to a number of articles on the subject from Land Line Magazine:
Shore power (June 2002)(1)
If you want to eliminate idling, all you have to do is "plug in"
Stop Your Engines (December 2005/January 2006)(2)
A buyers' guide to idling solutions
Idling reduction options (August/September 2006)(3)
List of manufacturers
Gen sets & APUs (February 2004)(4)
List of manufacturers
The ABCs of APUs (August/September 2006)(5)
Parameters and Specifications
More miles (February 2006)(6)
Getting the best fuel mileage possible takes a lot of knowledge and discipline
New Day, New Way (August/September 2007)(7)
Idling-reduction solutions
List of manufacturers
A winner in the war on idling(8)
Idle Free
American Idle (August/September 2008)(9)
Solutions: Products provide creature comforts
Products and manufacturers
---

Money saving tip: From a health-preserving standpoint, we do not recommend that OTR drivers suffer in a hot truck.
Instead, we recommend that you explore viable, low cost idling alternatives.
Because you may seldom be parked at a truck stop that has systems like Idle Air, a truck-mounted system like an auxiliary power unit (APU) that is not dependent on the charge on a set of batteries works best.
---

Return from Idling Alternatives for Truck Climate Control, Electrification to our Truck Operations page or our Truck Drivers Money Saving Tips home page.
---
Reference:
1.  landlinemag.com/Magazine/2002/June/Features/shore-power.aspx (no longer online)
2.  landlinemag.com/Magazine/2005/DecJan/BottomLine/mttstopyourengines.aspx (no longer online)
3.  landlinemag.com/Magazine/2006/AugSep/BottomLine/idling-reduction.aspx (no longer online)
4.  landlinemag.com/Magazine/2004/Feb/BottomLine/generators-apus.aspx (no longer online)
5.  landlinemag.com/Magazine/2006/AugSep/BottomLine/ABC-APU.aspx (no longer online)
6.  landlinemag.com/Magazine/2006/Feb/BottomLine/more-miles.aspx (no longer online)
7.  landlinemag.com/Magazine/2007/AugSep/BottomLine/solutions.aspx (no longer online)
8.  landlinemag.com/Magazine/2003/Oct/Features/member-profile.aspx (no longer online)
9.  landlinemag.com/Magazine/2008/AugSep/Cover/solutions.aspx (no longer online)