Any time you crave something cool to eat, "Mean Pea Salad" might just fill the bill.
It does for us.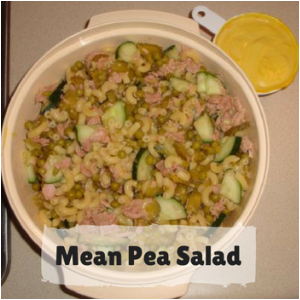 We can't take the credit for the recipe, however, as Vicki's friend Dawn once made it at her house before she and Mike met.
This is the recipe as best as Vicki remembers it, complete with an unforgettable tanginess.
Ingredients
1-1/2 cups uncooked elbow macaroni
2 cans tuna (about 5 ounces each, preferably packed in water), drained
1 can green peas (about 14-15 ounces), drained
1/2 cucumber (about a cup), chopped
1 cup chopped dill pickle (we use hamburger chips)
slightly more than 1/3 cup mayonnaise
slightly more than 1/3 cup prepared mustard
The amounts of cucumber and pickle listed may not be exact, but they should be about the same amount.
These two ingredients provide the "crunch" in this salad.
Frozen peas prepared as directed and cooled can be used instead of canned peas.
Note: In the photo at the top of this page, the mustard and mayonnaise have already been mixed together.
If you use only mustard, you'll have one tangy salad!
Directions
Boil the macaroni until it is just done (not too soft).
While the pasta is cooking, cut the cucumber and pickle.
Drain the liquid from the cans of tuna and peas.
Measure out the mayonnaise and prepared mustard so that there is half of each to make up 3/4 cup.
Drain the pasta and let it cool as much as possible.
Mix everything together.
Enjoy!
This preparation is more than enough for two people to eat at a single meal. It might be sufficient for four portions.
You will want to be sure that leftovers are kept cold, such as in a compact refrigerator or ice chest and that you eat your mean pea salad in a timely manner.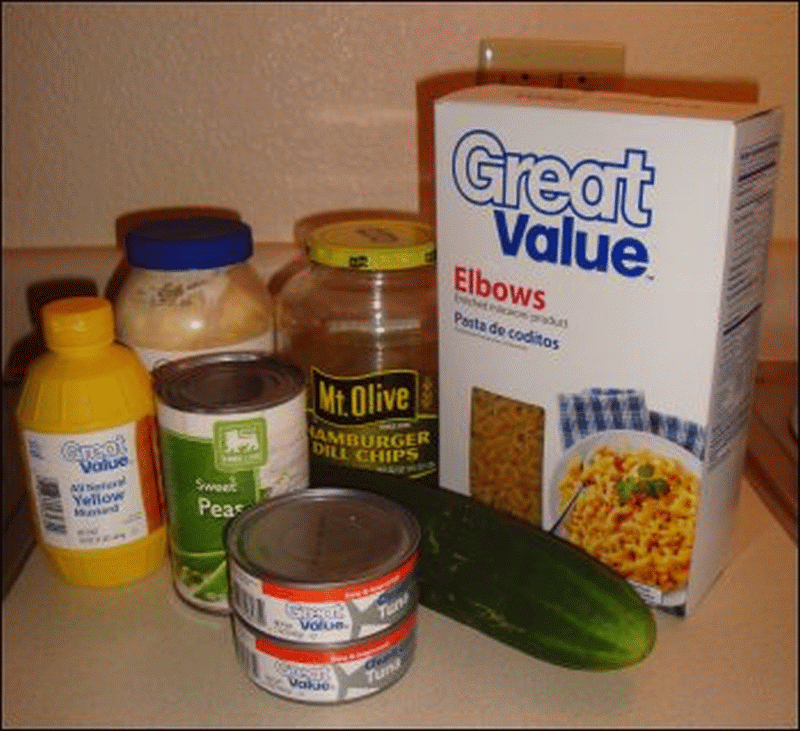 Shown are ingredients for mean pea salad, a cool pasta salad with tuna, peas, pickles and cucumber.
To save money, we used store brand ingredients of everything except
– the cucumber (which is fresh produce) and
– pickles (because we like the flavor of the name brand).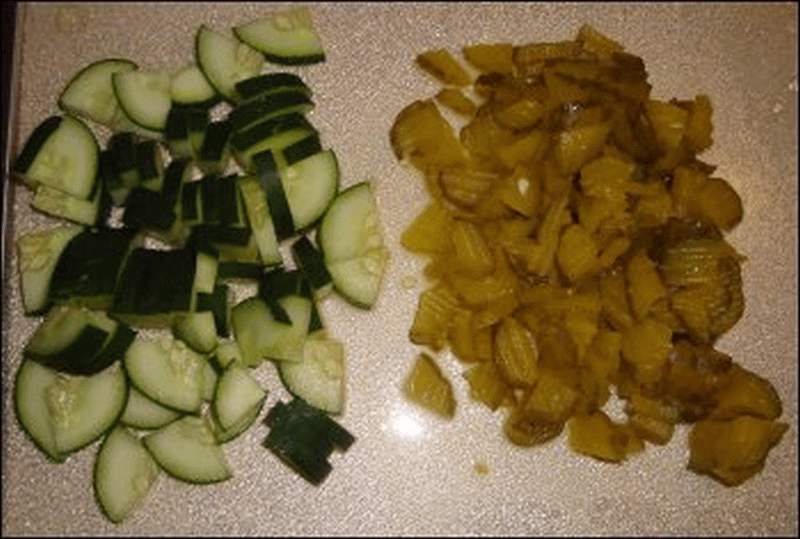 Vicki cut up half a cucumber and about an equal amount of dill pickle to provide the crunch in mean pea salad.
The pickle also gives flavor.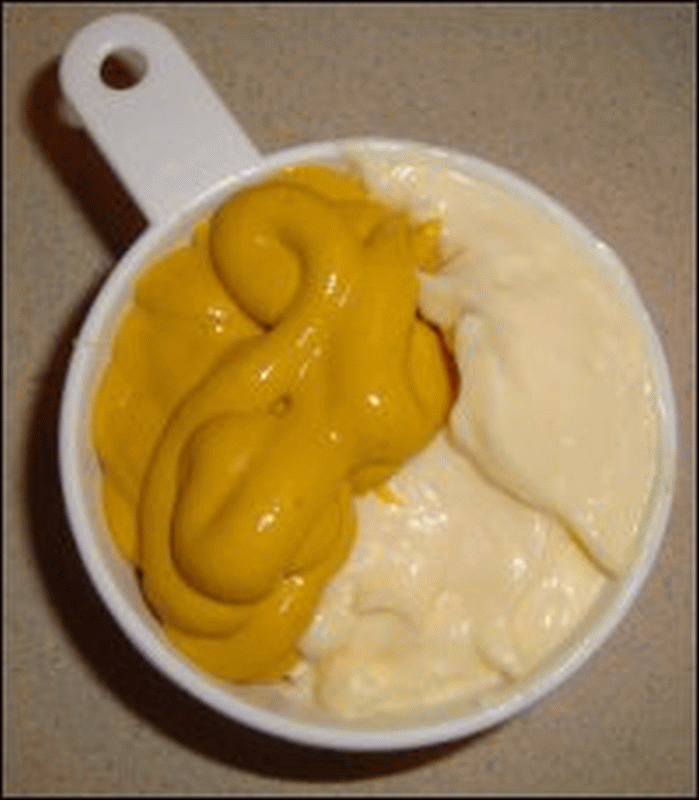 A 3/4 cup measuring cup holds about half each of mayonnaise and prepared mustard.
The mustard also provides some "zip" to the taste of the final dish.
Before being added to the rest of the ingredients, Vicki mixes these two condiments together.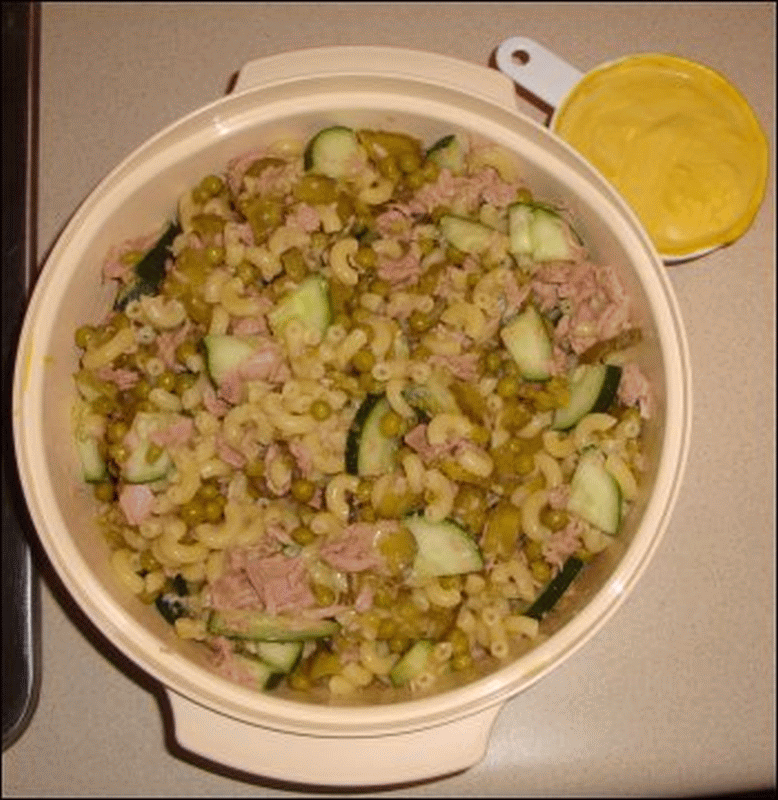 On the left are all of the non-condiment ingredients for mean pea salad mixed together:
– cooked pasta (cooled),
– drained tuna,
– drained canned peas,
– cut up cucumber and
– cut up pickle.
You can see the cup with the blended mayo and mustard on the right, ready to be mixed in.
Equipment
Hot pot for boiling pasta with fryer/steamer basket for draining
Cutting board for use as a counter top
Large bowl for mixing
Large spoon for mixing
Spatula with flexible end to scrape condiments out of cup
Medium bowls for serving
Utensils for removing tuna from cans and eating
Cost of this Meal
| | |
| --- | --- |
| Tuna (2 cans) | $1.20 |
| Pasta (estimated) | $0.35 |
| Cucumber (half) | $0.50 |
| Pickle (about a cup) (estimated) | $0.60 |
| Mayonnaise (estimated) | $0.10 |
| Mustard (estimated) | $0.15 |
| Total | $2.90 |
| Per serving (2) | $1.45 |
| Per serving (4) | $0.725 |
Note that costs will vary based on location and availability of items.
Prices were current as of the time this page was first published.
To round out the meal, you may wish to eat crackers or a slice of bread.
---

Money saving tip: Store brand products are usually less expensive than name brand products but not always.
Some stores display the per unit price (like per ounce) on the shelves so that you don't have to do the comparison
yourself.
However, if you need to do the math, it's not hard.
For example, compare a 9 ounce ($0.99) and 16 ounce ($1.32) container of anything:
$0.99/9 ounces = $0.11 per ounce
$0.11/ounce * 16 ounces = $1.76
Since the 16 ounce container costs $1.32 and the calculated price at the 9-ounce cost is $1.76, the bigger container is a better per-ounce buy.
Of course, you don't want to buy based on price alone, but also based on
the storage space you have in your truck and
how likely you are to eat foods that use the product in the larger container.
If it is a specialty item that you're likely to use only once a month or less, the smaller container might work better for you.
Watch for sales on canned meats or see if you can substitute a different variety.
Instead of canned tuna, canned chicken will work, but you can easily substitute baked or broiled chicken left
over from another meal.
You can save even more money by having your home support team grow produce, or buying it at a farmer's market.
Also, watch for seasonal sales.
---
Return from Mean Pea Salad: Cool Pasta with Tuna, Peas, Pickle and Cucumber to our Food and Recipes page or our Truck Drivers Money Saving Tips home page.
---