When operating systems for mobile devices aren't compatible with Smartphone apps, what should truckers do?
Surprising Message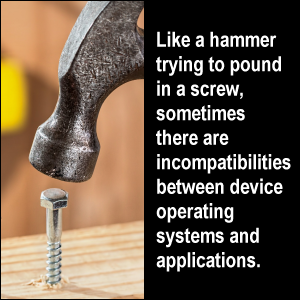 In mid-2015, Vicki attended an online training about using Periscope and attempted to download the app on her Smartphone. Since it is a Samsung device, naturally, it has a Samsung operating system.
However, upon attempting to install the Periscope app, she received a surprising message that read:
"Your device isn't compatible with this version."
What?!
She looked online to see if there was an answer regarding this problem.
Update Operating Systems for Mobile Device?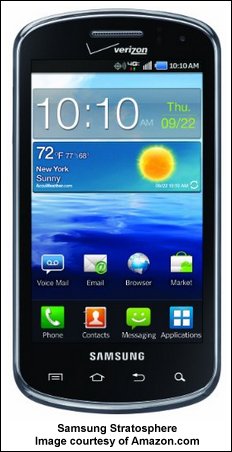 Resources online suggested that users with this problem update their Smartphone operating systems via a series of steps that were easy enough to follow:
Menu >
Settings >
About phone >
System updates
Check for system updates
However, when Vicki checked for a system update, her phone said, "Your system is currently up to date."
Thinking that the problem may be just with the Periscope Smartphone app, she attempted to install a couple of other apps.
She received the same lack-of-compatibility message from her Samsung operating system regarding Trello and Wunderlist, the latter of which was named as one of "8 Apps Every Small Business Should Be Using"!
Discontinued? Another Problem?
Vicki found a list of mobile operating system discontinued software platforms, none of which applied to her phone.(1)
So she and her husband Mike went to their local Verizon Wireless store to ask what was wrong.
The Verizon representative with whom they spoke said Samsung had chosen not to update the operating system on that device!
Vicki replied that this was basically a case of "forced obsolescence", meaning that they were going to be forced to get new cell phones whether or not they wanted to!
Operating Systems for Mobile Devices Are Eventually Replaced
Many years ago, a computer technician installed a hard drive in our at-that-time only computer. It had 545 MB of memory and he said that we would never run out of memory.
Go ahead and laugh!
We now have programs on our computer that take up more space than that.
It just goes to show you that in the world of technology, things change.
We didn't expect to use our current Smartphones forever, but we never expected for the hardware to outlast the "ability" of the operating system to perform.
And we certainly didn't expect the manufacturer to stop updating the operating system.
However, in hindsight, we realized that just as
Microsoft ended support for Windows XP(2) and
online services for Quicken products are discontinued after a certain period of time(3),
so it might be reasonable for cell phone manufacturers not to keep updating the operating systems for mobile devices beyond a certain number of years.
If you're having problems installing Smartphone apps on your phone, it may be time to upgrade.
---
Return from Operating Systems for Mobile Devices and Smartphone Apps to our Telephone Services page or our Truck Drivers Money Saving Tips home page.
---
References:
https://en.wikipedia.org/wiki/Mobile_operating_system
http://windows.microsoft.com/en-US/windows/end-support-help
quicken.intuit.com/support/help/shopping-and-buying/quicken-discontinuation-policy/GEN82218.html (no longer online)