This is the TDMST Weekly Round-Up of news affecting professional truck drivers, written by Vicki Simons for the week ending December 15, 2018.
We welcome your comments, thoughts and feedback on the items of your choice below.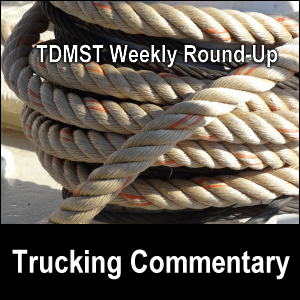 1. Regarding recalls:
According to a December 10, 2018, article, "Navistar is recalling nearly 21,000 trucks equipped with certain Eaton automated manual transmissions."
A related article states that this recall is "for a clutch component defect that could increase the risk of a crash".
2. Regarding technology:
While we have a list of trucker apps on our site, a December 7, 2018, article is the first time that I recall ever reading about a "smartphone scanning app" that "automatically transcribes data from documents captured by drivers".
If you use the Vector app for your document scanning, would you please write a service review to let us know if and how it is saving you time and/or money?
3. Regarding trucker training standards:
"After Canadian transportation authorities announced strict minimum training standards for truck drivers, many are wondering if American authorities should ask the same of their entry-level truck drivers", stated a December 3, 2018, article.
4. Regarding driving while taking drugs:
Previously, I wrote "Drugged Driving or 'Driving While Medicated' Can Be a Big Problem".
So, is it a good idea to let a man who suffers from narcolepsy have an exemption to drive semi trucks?
According to this December 1, 2018, article, currently, the FMCSA forbids CMV operation by those described in the regulation.
I am concerned that even though the man who has requested the exemption explained that:
– "he is currently being treated… with medication" for his condition; and
– "he has not suffered from a narcoleptic attack in twenty years";
that there could be a medical episode anyway that could endanger the man himself and possibly others.
And although the situations are not equal, it was reported that the "truck driver who lost his life [this past July] after crashing off of the Chesapeake Bay Bridge Tunnel… was driving with numerous types of drugs and alcohol in his system".
5. Regarding chain laws:
The Washington State Department of Transportation (WSDOT) … [is] teaming up with state troopers to increase chain enforcement on I-90 through Snoqualmie Pass this winter", according to a December 11, 2018, article.
The fine for ignoring the "chain up requirement" is up to $500.
6. Regarding truck shows:
Registration is open for the 2019 Mid-America Trucking Show, to be held from March 28-30 in Louisville, Kentucky.(a)
The second North American Commercial Vehicle Show has been set for October 28-31, 2019, in Atlanta, Georgia.
7. Regarding safe operating speed:
A two-truck wreck occurred on I-5 in Tacoma, Washington, on December 11 when the driver of one semi was going "too fast for conditions" while attempting to pass another truck on a curve when the pavement was wet.
As the State Trooper stated, it is necessary to drive based upon the conditions that exist, not according to the posted speed limit.
When roads become wet or icy, driving conditions may become treacherous.
And speaking of a safe operating speed, the video embedded in this article showed a trucker who was going way too fast as he approached a roundabout and ended up crashing into a Christmas display and fountain.
He was cited for "careless/prohibited driving".
8. Regarding legal wording in contracts:
One article gave reasons why a transportation attorney said, "Avoid agreeing to cargo claims offsetting like the plague".
9. Regarding DIY engine work:
If you're the kind of trucker who likes to tinker with the engine on his/her truck, consider the potential problems concerning emissions technology, steep fines and increased enforcement" that may be waiting for you.
10. Regarding truck parking:
Some small towns have become truck un-friendly.
Even though one trucker told members of the Murfreesboro, North Carolina, City Council "that he has parked his truck on the street in front of his home for the past five years without any complaints", the council approved the parking ban.
Truckers can expect to pay $50 per day for violating the ban.
The trucker who spoke up may lose his job because of the parking ban.
11. Regarding road closures:
According to a December 8, 2018, article, "the Alabama Department of Transportation (ALDOT) will be shutting down I-59/20 in the downtown Birmingham area for an estimated 14 months" starting in January 2019.
If you drive in or through that area, watch for detours.
12. Regarding load securement and low clearances:
"For the third time in just a few weeks", a truck driver lost a "large industrial spool" off the back of his truck in Houston, Texas, stated a December 7, 2018, article.
Measure the height of your load and never take a load where it won't fit.
13. Regarding trucker pay:
Land Line Magazine described how we got to the "driver pay problem".
tandemthoughts.landlinemag.com/advocacy/the-driver-pay-problem-how-we-got-here/ (no longer online)
14. Regarding tolls:
Check out the Tandem Thoughts article addressing whether or not they are good for truckers.(b)
15. Regarding payload and fuel economy:
One article addressed Volvo Trucks' packages to "maximize payloads and fuel economy in weight".
16. Regarding distracted driving:
There are at least 10 ways to minimize distracted driving.
The statistics cited indicate that on a daily basis, distracted driving is responsible for:
– about 9 people dying; and
– another 1,000 injuries occurring.
Be safe. Don't let anything distract you when you're driving.
17. Regarding autonomous vehicles and ethics:
This is the first article (commentary) I've ever read that addresses the "ethics" of autonomous vehicles.
18. Regarding ELDs:
A December 10, 2018, article about getting the most from your ELDs stated, "ELD data can be put to use in a number of ways beyond hours-of-service compliance, from dispatch to maintenance to safety."
If you have an ELD in your truck and you've been pleasantly surprised regarding how ELDs can actually help you either earn or save more money, please write a product review.
19. Regarding personal conveyance:
One article said that there are "6 Things You Should Know About Personal Conveyance".
20. Regarding trucking business tax deductions:
Check out the December 10, 2018, article: "IRS Rules Complicate New Pass-Through Tax Deduction".
My husband Mike and I wish you — and all professional truck drivers — safe travels and lots of money saving opportunities on the road.
---
---
Return from TDMST Weekly Round-Up: 2018.12.15 to our TDMST Weekly Round-Up Trucking Commentary or our Truck Drivers Money Saving Tips home page.
---
Reference:
a. www.landlinemag.com/Story.aspx?StoryID=73406 (no longer online)
b. tandemthoughts.landlinemag.com/commentary/tolls-are-good-for-truckers/ (no longer online)