This is the TDMST Weekly Round-Up of news affecting professional truck drivers, written by Vicki Simons for the week ending May 27, 2017.
We welcome your comments, thoughts and feedback on the items of your choice below.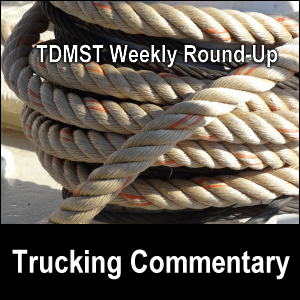 1. A truck driver overturned the big rig he was driving in the Salem, IL, area, because he said "he didn't see the curve due to darkness and the heavy rain", according to a May 20, 2017, article.(a)
Whenever there is precipitation of any kind, slow down.
If there is precipitation and darkness, one needs to slow down even more.
Prevent these kinds of accidents!
2. A May 25, 2017, article listed a number of problems that a trucker had prior to crashing into "a bridge over Interstate 80 in Wyoming". Among the problems cited were:
"driving more than the federal commercial driving limit of 11 hours";
"driving under the influence" (potentially the controlled substance he was in possession of); and
falling asleep and veering off the road.
His "careless driving" led to "significant damage" being done to the bridge.
If you're going to operate a commercial motor vehicle,
don't drive more than you're allowed to by law,
don't do it under the influence of alcohol or drugs, and
if you're tired, park your rig safely and legally to get sleep.
3. A truck driver has been charged in the deaths of two people. Among the problems cited in the May 24, 2017, article were:
"[impeding] traffic by driving a 1993 Freightliner flatbed tractor trailer west across four lanes"; and
having "unsecured concrete barriers [which] fell from the truck onto [the] car".
Drivers hauling flatbed loads need always to secure their loads.
And all truckers need to make sure that they can safely cross all lanes of traffic before making turns or crossing intersections.
4. A May 23, 2017, article states that the "truck-toll program" in Rhode Island continues to come under criticism. Critics indicated that the toll will "produce less revenue than expected and that better alternatives are available."
House Minority Leader Patricia Morgan stated in a news conference that:
tolling is "the most inefficient way to collect revenue"; and
only "17 cents on a dollar" gets where it needs to go.
Were the alternatives to raising revenue explored before the truck-toll program goes into full swing?
If — after the "14 toll gantries" are built — the program produces revenue as poorly as critics claim, who will be stuck with the bill?
5. If you want to know why there is such a push to get self-driving or autonomous trucks on the road, look no farther than this May 23, 2017, article:
"A recent report by the U.S. Energy Information Administration says autonomous vehicles will transform the trucking industry before self-driving vehicles move into the consumer market, largely because there are bigger financial incentives to save on labor and other costs such as fuel."
There, it's out. The powers that be want to save money, at least in part, on labor.
However, someone will still have to be in charge of the freight movement, even if at a distance. Be watching for news about this.
6. A May 24, 2017, article listed the 10 least expensive and 10 most expensive cities to live in within the USA.
I found it most interesting that 8 of the 10 most expensive cities were in California and 9 of the most expensive cities were in the western USA.
How does this information affect how truckers are paid in those areas? Hmm…
7. A letter to the editor — written by a truck driver and published on May 22, 2017 — had the most concise reason for folks driving well around big trucks during holidays that I've read for a while:
"Instead of viewing trucks as something getting in your way this holiday weekend, I hope you'll view us as keeping your lives supplied and moving."
While the advice of the trucker is sound, please take extra precautions when driving around holidays. Some motorists will not be fully focused on driving and need to be given plenty of space.
A May 23, 2017, article stated, "According to AAA, Memorial Day weekend 2017 travel will be the highest since 2005."(b)
8. A May 22, 2017, article opened this way: "A Northwest Indiana father has filed a lawsuit against an Indiana ambulance provider and an Illinois trucking company accusing them of negligence and recklessness in a May 16 crash that left one person dead and several others injured."
While we certainly empathize with the families of all those hurt or killed in truck crashes, this article points out the necessity of making sure that you have sufficient insurance — and the right kind(c) — before you drive professionally.
Also, it is a good idea to consider having a type of trucker legal service in place before you need it, just in case.
9. The New York Times ran a very long article on May 22, 2017, the subtitle of which included this sentence:
"Truck driving, once a road to the middle class, is now low-paying, grinding, unhealthy work."
Farther down, the article states, "…trucking, which was once among the best-paying such jobs, has become low-wage, grinding, unhealthy work."
Do you agree or disagree with this — and why?
10. A May 25, 2017, article raises this question:
Why did it take an Executive Order in order for trucking regulations that
are "outdated, unnecessary or ineffective," and
"impose costs that exceed benefits"
to come under scrutiny at an FMCSA committee meeting?
11. "CargoNet has issued its annual reminder that cargo theft activity often increases around Memorial Day weekend and is once again offering common sense tips to avoid becoming a victim", according to a May 25, 2017, article.
"SensiGuard [formerly FreightWatch International] says it has recorded theft levels up to 50 percent higher during holiday weekends than non-holiday weekends," according to a related May 24, 2017, article.
Review and heed your company's procedures about securing your truck and load during time off.
12. Brian Buckham, general manager of product marketing at Goodyear, was quoted as saying, "Weight savings remains the primary benefit of using wide-base truck tires. … Wide-base tires mounted on aluminum rims can reduce a truck's GVWR by up to 1,100 pounds."
If you could increase your payload by 1,100 pounds and experience no negative effects of going to wide-base — or super single — tires, how much extra money could you theoretically earn?
13. A May 23, 2017, article opened, "A 2018 fiscal year budget plan released Monday by the Trump Administration proposes slashing the Department of Transportation's budget by nearly $17 billion annually by 2022, as well as allowing more tolls on U.S.
Interstates and boosting efforts to draw private investors to fund highways."
Another article on this topic can be read here.
How do you feel about this proposal, truckers?
14. Will rates dramatically increase prior to the December 2017 deadline to comply with the "electronic logging device mandate"?
Analysts who had originally predicted they would, now think their predictions are wrong (according to a May 25, 2017, article).
"We agree that full implementation and enforcement of ELDs should require more drivers and more trucks to move the same amount of freight, all else equal," the analysts said.
Do you agree or disagree — and why?
15. Two helpful articles to help you prepare for the upcoming CVSA Roadcheck are here and here.
My husband Mike and I wish you — and all professional truck drivers — safe travels and lots of money saving opportunities on the road.
---
---
Return from TDMST Weekly Round-Up: 2017.05.27 to our TDMST Weekly Round-Up Trucking Commentary or our Truck Drivers Money Saving Tips home page.
---
Reference
a. www.wjbdradio.com/local-news/2017/05/20/truck-driver-loses-control-flips-truck-on-side-on-east-main-street-in-salem- (no longer online)
b. www.landlinemag.com/Story.aspx?StoryID=33418#.WSffWtwpDIU (no longer online)
c. www.landlinemag.com/Story.aspx?StoryID=33435#.WSfeo9wpDIV (no longer online)