This is the TDMST Weekly Round-Up of news affecting professional truck drivers, written by Vicki Simons for the week ending April 13, 2019.
We welcome your comments, thoughts and feedback on the items of your choice below.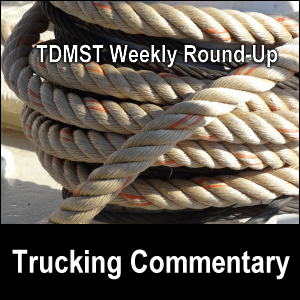 1. Regarding the April 12 shut down:
As I wrote in a 2011 article about a planned one-hour trucker protest, there are at least 10 reasons why shutting down and parking your truck can be costly.
In my opinion, it would take a massive percentage of truckers parking their trucks for at least 3 solid days for the USA to feel any effects from a shut down.
And even then, trucking companies, shippers and receivers would have just cause for saying, "This is why we need driverless trucks. Self-driving trucks don't protest!"
Be that as it may, there are a number of articles and polls about the April 12 shut down, including here, here and here.
James Lamb, who is president of the Small Business in Transportation Coalition (SBTC), warned "consumers to 'err on the side of caution and prepare for a possible supply chain emergency' because 'anything less would be irresponsible.'"
2. Regarding truck tolls:
We read in an April 8, 2019, article that the Owner-Operator Independent Drivers Association (OOIDA) is appealing the dismissal of a lawsuit "challenging the Pennsylvania Turnpike's 'excessive toll increase' and what the group sees as a misappropriation of toll revenue."
More about this appeal is written here.
This is at least the second lawsuit about tolls dismissed by a federal judge in recent days.
Meanwhile, because of problems with SunPass, "Florida Gov. Ron DeSantis announced that the suspension of fees and penalties for toll customers will be extended until June."(a)
3. Regarding a "DMV printer glitch":
Thousands of truckers have been impacted by the California Department of Motor Vehicles, supposedly due to "a broken printer and a software problem".
According to an April 9, 2019, article, there was "a six-week backlog of Motor Carrier Permits (MCP)" as a result of the "glitch".
California Assemblyman Jim Patterson finally jumped in the fray on behalf of "hundreds of thousands of commercial trucks operating in our state" because the permit is required to operate legally and truckers who "don't have it risk being penalized".
This issue was also covered here and here.
I want to hear from any California trucker who
filed paperwork on time and correctly,
didn't receive their MCP because of the glitch, and
was penalized because of it any way.
I want to know how you were penalized.
Thanks.
4. Regarding fuel taxes:
According to an April 9, 2019, article, the state of Ohio is enacting a 19-cent tax increase in the per-gallon cost of diesel in July.
Ouch!
5. Regarding hauling recreational cannabis:
You may want to read about new hauling markets and delivering cannabis.
6. Regarding trucker retirement planning:
According to an April 5, 2019, article, "A poll of Overdrive readers, most of whom are owner-operators, shows that more than one in five report having nothing saved for retirement."
In case you think that Social Security will be your retirement plan, please refer to a February 26, 2019, article which stated:
The average monthly Social Security income got a 2.8% boost for 2019 due to a cost of living adjustment. The boost raised the average monthly Social Security payment for retired workers to $1,461 in 2019 from $1,422 in 2018.
How does a monthly income of $1,461 compare to what you're earning now?
And if you have to pay any taxes on that income, you net even less.
Previously, I wrote about:
All of those reasons and others are why we strongly recommend that truckers consider starting to earn a second income from the cabs of their trucks.
7. Regarding higher speed limits:
A number of states have increased their maximum speed limits, which raises the question, "Do Higher Speed Limits Increase Traffic-Related Deaths?"
The article stated, "A new study by the Insurance Institute for Highway Safety (IIHS) concluded rising speed limits over the past 25 years have cost nearly 37,000 lives, including more than 1,900 in 2017 alone."
Read the article to learn:
how the fatality rate increases with a 5 mph increase in the maximum speed limit; and
how many states have maximum speed limits of 70, 80 and 85 mile per hour maximum speed limits.
You may also read another article about "Speeding Deaths [Increasing] with Higher Limits".
8. Regarding "preventable or not" rulings:
Do you like to watch the videos and learn the outcomes regarding whether or not truck crashes were preventable?
Over the last few weeks, my husband Mike and I have disagreed with at least two of the rulings.
We believe:
this one was not preventable (ruled preventable); and
this one was preventable (ruled not preventable).
And interestingly,
the logic that they used on the second one should have applied to the first one; and
the trucker in the second scenario should have better secured his load!
9. Regarding being prepared to stop for slowed or stopped traffic:
A woman tried to do a kindness by stopping to allow a turtle to cross the road, but a semi truck driver crashed into her SUV and ended up later dying of his injuries.
While our condolences go to his family, this is a stark reminder that truckers need to always be ready to stop for slowed or stopped traffic.
10. Regarding bad spring weather:
Even though the calendar says it is officially spring, an April 11, 2019, article stated, "A major winter weather storm has pummeled several midwestern states, causing hundreds of crashes and road closures."
Interstates in Nebraska and South Dakota were reported as being shut down by the blizzard.
And tens of thousands of customers were reported as being without power due to the storm.
Meanwhile, an "emergency declaration [has] been extended for 16 states" due to flooding.
Shutdowns like these are reminders for truckers with sleeper berths on their trucks to consider making advance preparations, including having these in-truck:
11. Regarding impaired driving enforcement blitz:
"Studies show a 12% increase in traffic fatalities after 4:20 p.m. on April 20, according to the Scientific American", stated an April 10, 2019, article.
That is the impetus behind six states teaming up for an "'impaired driving' enforcement blitz" on April 20.
12. Regarding trucker issues:
These two articles are worth reading:
13. Regarding OOIDA helps:
OOIDA is warning truckers to "Beware of predatory UCR fee collection schemes"(b)
We read, "OOIDA is conducting an anonymous survey of its company driver members to highlight priorities important to all drivers in the industry."(c)
14. Regarding a heart-jerking congestion-related ad campaign:
In considering the well-done video made by the American Trucking Associations (ATA) about the "human toll" of traffic congestion, there's one glaring and obvious omission:
the impact of congestion on truckers and the movement of freight!
15. Regarding all that lovely Highway Trust Fund money:
Have you been reading the articles about the 47,000 bridges that are structurally deficient in our country — or other problems associated with our nation's highway system?
In what has to be one of the most eye-opening sections of an article I've read in a long time, check this out:
That tax increase [described above this paragraph in the article] is highly unlikely, but if by some miracle it were enacted, most of it would not go toward interstate reconstruction. That's because there are now over 100 separate federal programs that get funding from the Highway Trust Fund, including sidewalks, bikeways and mass transit. Every one of those constituents would lobby hard for a share of the revenues from any federal fuel tax increase. Also, much of any increase would be needed to offset the projected decline in fuel tax revenues over the next 20 years due to increased vehicle fuel economy and the growth of electric vehicles.
In response to this, I wrote the following in a truckers' Facebook group on April 11:
"I think everyone in this group would agree that 'sidewalks, bikeways and mass transit' are not "highways" and therefore should not be recipients of Highway Trust Fund money in any amount."
I also stated, "as long as Highway Trust Fund money (and other toll money) is not going strictly for roads, I do not support toll-financed Interstate replacement."
16. Regarding a retiring trucker with 6 million accident-free miles:
An April 5, 2019, article reported that Jimmy Howard is retiring from UPS with 43 years of service and 6 million accident-free.
Jimmy's record service was also reported here.
Congratulations, Jimmy! And thanks for being such a great role model.
My husband Mike and I wish you — and all professional truck drivers — safe travels and lots of money saving opportunities on the road.
---
---
Return from TDMST Weekly Round-Up: 2019.04.13 to our TDMST Weekly Round-Up Trucking Commentary or our Truck Drivers Money Saving Tips home page.
---
Reference:
a. www.landlinemag.com/Story.aspx?StoryID=74011 (no longer online)
b. www.landlinemag.com/Story.aspx?StoryID=74039 (no longer online)
c. www.landlinemag.com/Story.aspx?StoryID=74054 (no longer online)