This is the TDMST Weekly Round-Up of news affecting professional truck drivers, written by Vicki Simons for the week ending June 3, 2017.
We welcome your comments, thoughts and feedback on the items of your choice below.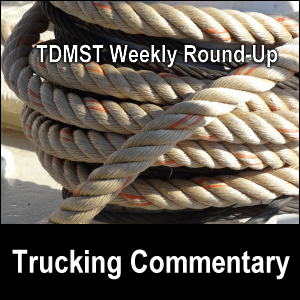 1. A truck driver is "in danger of being arrested" for driving an "unregistered" truck, according to a June 1, 2017, article.(1)
His employer said that he would take care of it. But even 3 months after having left that job, the trucker (not his former employer) "received a letter explaining the $399 ticket was delinquent and a warrant may be issued for his arrest."
It is the trucker's responsibility to do two things before driving a truck (during a pre-trip inspection):
make sure that the tractor and trailer are mechanically safe and legal to drive; and
make sure that all of the documents (registrations) are "up-to-date and in order, and in compliance with the law."
Do not allow your employer's negligence put your CDL at risk. Do the check before you haul the equipment.
2. While we encourage truckers to start earning a second income on the side, we recommend earning that money legally.
Unfortunately, one trucker tried to sell merchandise — branded food products — that didn't belong to him. Fortunately, he got caught and was terminated.
When anyone suggests making money by such a scheme, run — do not walk — in the other direction. These schemes always backfire.
3. A May 30, 2017, article points out the dangers of truckers picking up hitchhikers: in this case, the trucker was killed.
At least one trucking company I know of had (and may still have) a passenger authorization policy in place for their company drivers.
If you're an owner-operator, you may want to check on that.
There is a fine line between wanting to be kindhearted to those in need and discerning ill-intent. Be on your guard for your truck, your load, and your life!
4. Another historic bridge has been harmed by a trucker, according to a May 30, 2017, article.
This time, the trucker "will likely be charged … [for the] $650 in damage" that was done.
The article does not state why the trucker struck the bridge — particularly since it is "listed on the National Register of Historic Places" — but I strongly suspect that the trucker was using a car-specific (not a CMV-specific) GPS unit.
If you are driving a Commercial Motor Vehicle and want to use a GPS unit:
always, always, always use a Commercial Motor Vehicle — or Motor Carrier — version; and
always double-check your trucker atlas for truck routes and low clearances.
5. It wasn't the crash that killed the dump truck driver, it was "being crushed by [the] construction debris that slid forward from the bed of his truck" that killed him, according to a May 30, 2017, article.
This article is a good reminder for all truckers who carry loads that can shift in transit, to make sure that they are secure.
6. A May 30, 2017, article opens with this:
"Truckers shouldn't be afraid of Uber, or Uber-style technology, because the entire aim is to make it easier for shippers and carriers to connect, at the expense of today's middle man."
trucker.com/blog/uber-type-tech-why-truckers-need-it (no longer online)
Owner-operators, do you know what percentage of the pay rate for your load is paid to "middle men"?
How would driving for Uber — or getting your loads through a top-rated load board — improve your profitability?
7. According to a May 26, 2017, article, the truck that was being driven at the time of a crash that killed four people "had previously been cited for mechanical defects."
The truck driver "has been convicted of gross vehicular manslaughter."
This is another reminder to do thorough pre-trip inspections to make sure that your truck is safe, legal and compliant to drive before driving it.
Any time your truck has had mechanical problems, always check to make sure that the problems have been corrected.
If you do not know how to make sure that the problems have been corrected, ask the mechanic who worked on your truck.
Lives are on the line every time you drive your truck.
8. The May 25, 2017, article doesn't specifically say why an eastbound truck "crossed through the median and struck a semi-truck traveling westbound" at about 6 a.m. in the morning.
I suspect that at that pre-dawn hour, the eastbound driver fell asleep at the wheel or swerved to avoid an animal in the road.
The accident resulted in one trucker's death and the hospitalization of the other. I empathize with the family of the trucker who died.
9. FleetOwner.com reported on May 31, 2017, that a "Joint study predicts a 50% to 70% cut in truck driving jobs in the U.S. and Europe due to self-driving technology by 2030."
That's 4.4 million truck driving jobs that could be cut.
This is all the more reason why professional truck drivers need to seriously consider preparing to transition out of the industry by putting in place now a second income stream.
10. Beware of the potential for being rear-ended in stupid weigh station set-ups like the one in Olathe, Kansas.
A June 1, 2017, article says that a semi was clipped by a four-wheeler.
According to one trucker commenting about that weigh station: "It's always backed up and it's dangerous."
It is possible that turning on your 4-way flashers will help others notice that you've slowed down your rig in such a situation. Another preventative measure may be to legally route around such a scale.
11. Are you ready for the Commercial Vehicle Safety Alliance's (CVSA's) annual International Roadcheck inspection — where the emphasis is going to be on cargo securement — to be held from June 6-8 across North America?
A June 2, 2017, article states, "Violations related to cargo securement include failure to prevent shifting/loss of cargo, failure to secure truck equipment, damaged tie-downs, insufficient tie-downs and loose tie-downs."
There is also a link to a flyer with tips.
Save yourself the time and expense of violations by always being ready for an inspection.
12. A June 1, 2017, article says that two Walmart stores are testing having "company associates… deliver online orders to customers' homes" because "90% of the U.S. population lives within 10 miles of a store, making it easy to match an associate's commute with a delivery order."
fleetowner.com/fleet-management/walmart-using-associates-make-home-deliveries (no longer online)
Naturally, this will allow the associates to earn extra income.
Do you think this trend will continue?
13. "Starting in 2018, Texas will increase the weight limits for trucks hauling intermodal containers, allowing loads up to 100,000 pounds to travel within a 30-mile radius of their point of entry on the Gulf of Mexico," states a June 1, 2017, article.
Since the "permits will cost carriers $6,000 a year", I'd like to know from Texas truckers hauling intermodal containers in that area: How long you figure it will take you to make a return on your investment?
14. Owner-operators, please contribute your input to the American Transportation Research Institute (ATRI) to help them compile their annual update to its "Operational Costs of Trucking report."
To learn what kinds of information are sought, read this May 31, 2017, article.
My husband Mike and I wish you — and all professional truck drivers — safe travels and lots of money saving opportunities on the road.
---
---

Return from TDMST Weekly Round-Up: 2017.06.03 to our TDMST Weekly Round-Up Trucking Commentary or our Truck Drivers Money Saving Tips home page.
---
Reference
1. www.krgv.com/story/35570976/mercedes-truck-driver-in-jeopardy-due-to-unpaid-ticket (no longer online)