This is the TDMST Weekly Round-Up of news affecting professional truck drivers, written by Vicki Simons for the week ending September 2, 2017.
We welcome your comments, thoughts and feedback on the items of your choice below.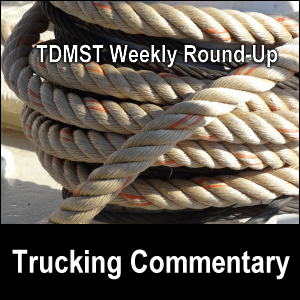 1. The opening paragraph of an August 21, 2017, article reads:
Flat tires and weak rubber bands may very soon become a thing of the past as researchers from the Harvard John A. Paulson School of Engineering and Applied Sciences (SEAS) recently developed a new tough, self-healing rubber.
I eagerly await this technology being available for the commercial trucking industry.
2. It is illegal to bypass an open weigh station. And recently on I-44 in Missouri, a patrol was waiting to make sure that commercial motor vehicles pull in.
Beware of having a weigh station bypass unit that isn't registered.
Also, don't be so concerned about "making more money pulling more load" that you pass by when you should pull in to a weigh station.
3. "The British Columbia government is eliminating the tolls on the Port Mann and Golden Ears bridges" in the Vancouver area starting Sept. 1, according to an August 28, 2017, article.(a)
"Government estimates state the average commuter should save about $1,500 a year and commercial drivers should see a savings of about $4,500 annually."
That will help!
4. According to an August 28, 2017, article, "Pilot Flying J is giving away a combined 100 million myRewards points to celebrate National Truck Driver Appreciation Week, Sept. 10-16."
Check out the giveaway dates and limits.
5. It's too bad that the author of the August 30, 2017, article about "'Pay to Reserve' Parking" didn't mention
– how much he paid to reserve his truck parking space,
– whether or not he intends to write this fee off on his taxes, and
– how much time he saved by parking in the reserved space.
He only estimated that a trucker may "drive around a truck stop for 30 minutes looking for a space at the end of his/her clock."
Have you used a "reserved truck parking" service? What was your experience?
Please write a service review to share the pros and cons!
6. "Dock411 helps drivers know what to expect when they deliver loads, providing information such as dock locations, yard entrances, restroom accessibility, wireless availability and availability of unloading equipment," according to an August 25, 2017, article.
We were contacted by someone at Dock411 and this sounds like an improvement of ideas that I've suggested on Truck-Drivers-Money-Saving-Tips.com over the years.
If you use Dock411, please write a service review to let us know how you like it!
7. Hurricane Harvey was a Category 4 storm that hit the Houston, Texas, and Louisiana area of the Gulf of Mexico very hard.
– Houston is "the fourth largest city in the U.S."
– Mark Montague of DAT Solutions stated that "Houston is one of the country's most prominent freight hubs, … ranking as one of the top inbound and outbound freight hubs, particularly for van and reefer segments."
– One article stated that as much as 50 inches of rain were predicted to fall during the storm, "the highest ever recorded from one storm in Texas".
– That amount of rain is Houston's "average annual rainfall", according to the National Oceanic and Atmospheric Administration.(b)
– One article predicted that the flooding was going to be "catastrophic and life-threatening".(c)
– The Port of Houston was closed for a period of time.
– Texas DOT reported "nearly 350 road locations" impacted by high water, which at the time included "I-10, I-45, I-610, I-69 and numerous U.S. and state highways."
– Updated road closures can be seen here.
An August 28, 2017, article provided more detail:
– It could be a month or more before there is relief from "flooded and damaged roads, downed powerlines and other wreckage";
– FTR Transportation International speculated that "long-term trucking contract prices" could be elevated as a result of Harvey;
– The storm "could 'strongly affect' more than 10 percent of all U.S. trucking" in the first week and 7 percent in the week following;
– One industry hit hard is the "production of diesel fuel and other petroleum products" because "Texas is home to about 30 percent of U.S. oil refining capacity";
– Since "Houston… is a major intermodal shipping site", trucking and rail shipments may feel a "persistent impact"; and
– There are 4 principal ways that severe weather impacts trucking.
Photos of the destruction were attached to these tweets:
– NWS tweeted this: "This event is unprecedented & all impacts are unknown & beyond anything experienced. Follow orders from officials to ensure safety. #Harvey"
https://twitter.com/NWS/status/901832717070983169/photo/1
– Photo of depth of water
https://twitter.com/VABVOX/status/902129137627930624/photo/1
– Shocking before and after photos
https://twitter.com/GMA/status/902125053042724864/photo/1
"Harvey is already one of the most devastating single storms in U.S. history," stated an August 29, 2017, article. Furthermore, "fuel prices are rising across the country" because "eight Texas refineries [were] shut down with as much as 2.7 million barrels per day of oil processing potential, according to the Oil Price Information Service";
One trucker was rescued from a flood caused by Harvey, in a place "a truck driver died in similar flooding last year."(d)
As of this writing, the remnants of Harvey are still being felt in the U.S. interior.
Be careful driving on flooded roads. Know when to stop and park in a safe location.
My husband Mike and I wish you — and all professional truck drivers — safe travels and lots of money saving opportunities on the road.
---
---
Return from TDMST Weekly Round-Up: 2017.09.02 to our TDMST Weekly Round-Up Trucking Commentary or our Truck Drivers Money Saving Tips home page.
---
Reference:
a. www.landlinemag.com/Story.aspx?StoryID=34007#.WacmAWtDvIV (no longer online)
b. www.landlinemag.com/Story.aspx?StoryID=34003#.Wacl7GtDvIV (no longer online)
c. www.landlinemag.com/Story.aspx?StoryID=33996#.WacmBGtDvIV (no longer online)
d. www.businessinsider.com/hurricane-harvey-video-houston-truck-driver-rescue-2017-8 (no longer online)