This is the TDMST Weekly Round-Up of news affecting professional truck drivers, written by Vicki Simons for the week ending October 21, 2017.
We welcome your comments, thoughts and feedback on the items of your choice below.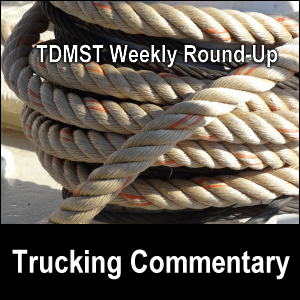 1. This week, Truck-Drivers-Money-Saving-Tips.com made the move to a secure site (from "http" to "https").
If you find any glitches, please contact us.
Thanks.
2. Midwest Carrier R&M Trucking stated in an October 2017 article that ELDs save time versus paper logs and that the system has "made it easier for everyone from drivers to dispatchers to operations".
In an October 12, 2017, article, we read that Rich Voreis, CEO of Marquette Transportation Finance, "believes ELD compliance may decrease cash flow and increase expenses for some motor carriers, while others may leverage this technology 'opportunity' to pick up new business."
fleetowner.com/blog/gazing-truckings-crystal-ball-insights (no longer online)
A question has arisen in my mind based on this quote from a October 5, 2017, post about ELDs:
"As far as hearing from the every day, independent, owner-operator guy, I think this was a rare opportunity for [the DOT]."(a)
Why is it that the DOT has authority over folks with whom they rarely communicate?
3. An October 14, 2017, article provides some enlightenment about ELDS:
– One driver said, "The electronic log also records when his truck's ignition is turned on, when it's moving, and when the engine is turned off."
– The driver said that his onboard computer makes things "a lot simpler" because "There's no way you can get any violations, because it pretty much tells you everything. When you're running paper logs, you can mess up."
– Speaking of earlier years in his trucking career, "A lot of companies will force you to run illegal if you're running paper logs… and if a driver gets caught doing that, 'it's on you' because the company will simply deny it."
So, ELDs aren't just about the truckers doing something illegal, but also about truckers no longer feeling pressured by their trucking companies to do something in violation of the Hours of Service regulation!
4. According to an October 11, 2017, article, "The first solar-powered transport refrigeration unit on a city delivery truck has been successfully tested over five months in California's San Joachin Valley…"
The unit, called "Rayfrigeration" (a hybrid between solar "rays" and "refrigeration"), an "1,800-watt eNow solar system provided more than enough energy to maintain proper temperature throughout a typical day of opening and closing the doors while the refrigerated truck delivered fresh dairy products in California's summer heat."
"In addition to eliminating emissions, the Rayfrigeration unit is projected to reduce operations costs by up to 90%…. The savings are achieved through eliminating diesel fuel and maintenance costs, and an increased battery life thanks to consistent charge maintenance by eNow solar."
My husband Mike and I saw something similar to this at the North American Commercial Vehicle Show last month.
5. An October 11, 2017, article opened this way: "The California Department of Motor Vehicles (DMV) on Wednesday released a revised version of proposed regulations that establishes a path for testing and public use of driverless — that is, completely unmanned — vehicles. The release of these regulations marks the start of a 15-day public comment period, which ends October 25, 2017."
6. According to an October 11, 2017, article, an exhaust gas recirculation system (or EGR) "makes engines more susceptible to severe fouling", including "poor engine performance, sluggish acceleration or reduced fuel economy".
fleetowner.com/blog/egr-systems-can-run-cleaner-premium-diesel
Perhaps I'm behind the times, but I had never heard of "premium diesel" before reading this article.
7. An October 7, 2017, article says that before the end of the year, the state of Oregon will be increasing the truck speed limit "on portions of several interstate highways" from 55 mph to 60 mph.
fleetowner.com/collision-prevention/oregon-votes-raise-truck-speeds (no longer online)
Don't let this increase cause you to be involved in an accident, especially since there will still be some split speed limits in place between trucks and non-truck vehicles.
8. Do you drive a Peterbilt, Kenworth or International tractor? Pay attention to a recall on the steer axle.
9. An October 12, 2017, article stated, "Toyota's long-awaited hydrogen fuel cell electric truck is finally hitting the road, almost six months after the company first unveiled the clean and quiet Class 8 drayage truck."
Farther down in the article, we read:
"Fuel cell vehicles are powered by electric motors but don't need bulky, heavy battery packs to store the energy. Instead, they make their own power by pulling electrons from compressed hydrogen in a process that takes place in a fairly compact fuel cell stack. There's no combustion and no tailpipe emissions, although the present process for producing fuel quality compressed hydrogen is not emissions-free."
10. The author of an October 10, 2017, article about "automated trucking" stated, "At the very least, truck drivers could be downgraded to co-pilots, once automation hits the industry."
Speaking of co-pilots, an October 13, 2017, article was accompanied by a photo of an autonomous tractor that looks to me like an airplane cockpit.
Even so, an October 17, 2017, article stated, "Indeed finds that truck drivers are the most sought after talent at small businesses."
11. According to an October 18, 2017, article, the "driver of a semi truck was a eating a taco Wednesday afternoon when he lost control and spilled a load of bark along Blewett Pass" in Washington state.
Separately, according to an October 16, 2017, article stated, "A log truck driver told police he choked on a doughnut and nearly passed out late last week, which caused him to crash".
For reference purposes, we previously addressed eating while driving.
12. According to an October 18, 2017, article, a Canadian truck driver "was sentenced to one year in jail [and has been 'barred from operating a motor vehicle in New York State'] for leaving the scene after his truck hit and killed a man walking on Broadway in June."(b)
The man whom he hit "was walking in the lane of traffic in dark clothes".
The trucker was drowsy, "may have briefly dozed off" while driving and "realized he had struck something". After checking his truck and finding a cracked bumper, he was "afraid of what may have happened… [and] drove away."
This situation may have had a different outcome had the trucker stayed at the scene of the accident until law enforcement arrived.
13. According to an October 17, 2017 article, "A UPS truck driver was killed early Tuesday [while he was] in the process of connecting the truck to a double-box trailer when he stepped out of the truck cab to apply the air brakes to the second trailer. … Because the emergency brakes were not applied, the truck started to roll…. The man tried to stop the truck, but it rolled over the victim and killed him, police said."
Our condolences go to the family.
Remember to apply your brakes before getting out of your tractor.
14. I knew something sounded "off" about this trucker's story. It turns out he was lying.
On October 16, 2017, we learned from prosecutors that James Bradley Jr., the "driver of a truck packed with immigrants, 10 of whom died due to sweltering Texas heat in July, pleaded guilty on Monday to human smuggling charges and could face up to life in prison".
Furthermore, the FMCSA placed the trucking company for whom Bradley drove "out-of-service" for having a "safety rating [that] was so unsatisfactory that it was unfit to remain in business", according to an October 12, 2017, article.
15. An October 14, 2017, article stated that a "Florida truck driver has been sentenced to life in prison for a crash that killed two women while he was high on meth."
Interestingly, the trucker's defense argued that the meth "wasn't the cause of the deadly crash." Yeah, right.
Don't take illegal drugs. And especially don't take illegal drugs and drive any kind of a vehicle, commercial or non-commercial.
My husband Mike and I wish you — and all professional truck drivers — safe travels and lots of money saving opportunities on the road.
---
---
Return from TDMST Weekly Round-Up: 2017.10.21 to our TDMST Weekly Round-Up Trucking Commentary or our Truck Drivers Money Saving Tips home page.
---
Reference:
a. tandemthoughts.landlinemag.com/trucking-regulation/eld-mandate-uniting-truckers-protests-coasts/ (no longer online)
b. buffalonews.com/2017/10/18/truck-driver-fatal-hit-run-gets-year-jail-plus-familys-forgiveness/ (no longer available without subscription)