This is the TDMST Weekly Round-Up of news affecting professional truck drivers, written by Vicki Simons for the week ending October 14, 2017.
We welcome your comments, thoughts and feedback on the items of your choice below.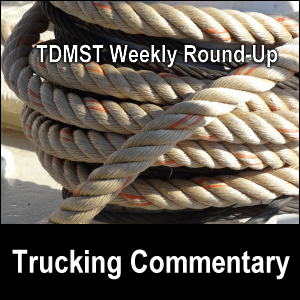 1. The annual "Operation Safe Driver Week, [which is] aimed at combating unsafe driving behaviors by truckers and passenger car drivers" — according to an October 5, 2017 article — "is scheduled for the week of Oct. 15-21."
On October 9, 2017, FleetOwner.com published "Eight tips: Don't get pegged during CVSA's safe driving enforcement week".
As a heads-up about what to especially look for, Land Line Magazine published on July 26, 2017, a list of "The top five warnings and citations issued to CMV drivers" last year during Safe Driver Week.(a)
2. This October 3, 2017, article points out the need for truckers to be treated with respect in terms of not only being paid for their time but also being allowed to use an on-site restroom facility.
What did the shipper expect the driver to do for 15 hours?
This is one reason why I never drove or rode in a commercial motor vehicle without a portable toilet.
3. According to an October 6, 2017, article about autonomous trucks:
"When it comes to drivers actually being able to take their eyes off the road while that active steering keeps the truck in its lane and other ADAS technologies keep the truck a safe distance from vehicles ahead of it, Volvo's Brandis said that there's much more research to be done."
…
"What happens when a vehicle cuts in front, or when snow obscures the sensors? 'All these are challenges we as engineers admit we haven't figured out, but that's OK,' Brandis said."
…
"However, Volvo officials emphasized that they 'do not see a world that does not have professional truck drivers.' As Göran Nyberg, head of VTNA, pointed out, aircraft have been using sophisticated autopilot systems for many years. But 'when an aircraft needs a pilot, it really needs a pilot, and that goes for the trucking industry as well.'"
…
"Even so, a lot of people will still feel more comfortable with a human behind the wheel."
The article lists the results of 2 polls.
4. According to this article, the ELD is going to force drivers to run strictly by the clock.
"Your fourteen hours starts as soon as you start. You can't stop it, you can't do nothing," said Amy Funk, who has 7 trucks. "I may have to hire another driver just to have him sitting here to go pick trucks up, bring trucks in."
According to Funk, the trucker protest taking place around the country are "to show an example of how deliveries can't be made within the time constraints."
So, does this mean that drivers who are driving her trucks have been falsifying their log books all along to make deliveries on time?
5. According to an October 6, 2017, article, "The Federal Motor Carrier Safety Administration has a list of 30 approved ELDs on their website, but drivers buying from other self-certified companies could find out later their new software is not certified."
The self-certification issue is a big issue for some truckers and the trucking companies for whom they drive. Why? What if they pay hundreds or thousands of dollars on a self-certified system, only to find out later that it didn't work correctly?
According to an October 6, 2017, article, "The devices on FMCSA's registry have not been vetted for performance or compliance; manufacturers themselves submit the devices and claim that they are compliant."
And that is the reason why "Truckstop.com announced… it is teaming up with electronic logging device providers to build an online database of available ELDs … [that they have] carefully researched and vetted…"
CCJ has published "The Ultimate ELD Survival Guide" and "Successful ELD Rollout White Paper".
ccjdigital.com/14935874 (no longer online)
ccjdigital.com/14935871 (no longer online)
6. Praise is due!
I applaud every trucker who is able to make difficult turns look easy like the one captured in the video embedded in this October 6, 2017, article.(b)
Secondly, a drone captured aerial footage of the excellent parking job that one trucker did.(c)
That's great. But there are truckers all over the country — and possibly around the world — who can do just as good a job. And I applaud them all.
7. "The latest traffic crash data compiled by the National Highway Traffic Safety Administration shows that 37,461 lives were lost on U.S. roads in calendar year 2016 — marking a significant increase of 5.6% over the same period in 2015", according to an October 10, 2017, article.
"As to fatalities resulting from crashes involving large trucks, the agency recorded a 5.4% jump in those over 2015, the highest since 2007. Of those 4,317 fatalities, 16.7% (722 persons) were occupants of large trucks, 10.8% were 'non-occupants,' and 72.4% were occupants of other vehicles."
According to a related October 10, 2017, article, "An estimated 94% of serious crashes are linked to poor driver choices."(d)
8. "Truckers around the country — including in the nation's capital — gathered between Oct. 6-8 to protest the upcoming ELD mandate, which goes into effect Dec. 18", read an October 6, 2017, article.
"Some were participating in the ELD or Me protest in Washington, DC, while others took to the streets in Fresno, California, as part of Operation Black and Blue, to protest the implementation of the electronic logging device rule, which has proved controversial among small trucking companies and owner-operators."
An October 12, 2017, post on LandLineMag.com states that truckers are letting President Trump know "It's an #ELDorMe."(e)
Protests extended to local places, too, according to an October 11, 2017, article.
This October 7, 2017, article stated that ELDs will not improve safety, and I agree with that.(f)
As much as I empathize with the truckers who are being forced to accept and use ELDs — and support their right to protest in peaceful ways — I cannot support the protest when truckers stop their trucks on any roadway, impeding the flow of traffic, as this October 9, 2017, article states.
9. An October 9, 2017, article about how the state of Wisconsin is planning to put sensors at the "congested rest stop on eastbound I-4" for the 17 spaces there raises 2 points.
– Not having enough spaces "often forces tired drivers to either keep driving or park illegally"; and
– As one trucker said, "Expanding rest stops and having more spaces would help a lot more."
Why is a state investing in trying to make it easier for truckers to use a limited number of spaces instead of focusing on creating more spaces? This situation of not having enough parking spaces for big trucks has existed for years.
In my opinion, states need to expedite the process of creating more big truck parking spaces near existing industrial parks where trucks have to pick up and deliver loads anyway.
10. "A Kenosha truck driver died after a collision Thursday morning on Russell Road in Wadsworth that shut down the roadway to traffic for over five hours, according to the Lake County Sheriff's Office", stated an October 12, 2017, article.
trib.in/2kNkLm2 (no longer online)
Our condolences go to the trucker's family.
This accident happened when the truck was "struck by a Jeep Compass" that had "crossed the roadway's double yellow center line for an unknown reason and struck the tractor trailer, causing it to go off the road and into a ditch."
I wouldn't be a bit surprised if the woman driving the Jeep had become distracted while driving.
11. An October 8, 2017, article states that a trucker "lost control of the vehicle while trying to negotiate a right curve in the roadway" which led to the rig leaving the road, overturning multiple times and "ending up at the bottom of an embankment."
idahostatejournal.com/news/local/trucker-and-cows-die-when-tractor-trailer-full-of-cattle/article_3cb8e046-363a-5930-b18f-933f1d8fb8af.html (no longer online)
The trucker and his passenger were ejected from the vehicle (an indication that they were not wearing seat belts), the trucker died, and 20 cows on board also died. The passenger survived with "serious injuries".
When you're getting ready to make turns and take sharper curves like loop de loop highway exits, slow down ahead of time.
My husband Mike and I wish you — and all professional truck drivers — safe travels and lots of money saving opportunities on the road.
---
---
Return from TDMST Weekly Round-Up: 2017.10.14 to our TDMST Weekly Round-Up Trucking Commentary or our Truck Drivers Money Saving Tips home page.
---
Reference:
a. www.landlinemag.com/Story.aspx?StoryID=70508#.Wd__wnZrzcs (no longer online)
b. www.ccjdigital.com/successful-eld-rollout-white-paper/ (no longer online)
c. www.ccjdigital.com/the-ultimate-eld-survival-guide/ (no longer online)
d. sploid.gizmodo.com/badass-trucker-nails-the-gnarliest-right-hand-turn-you-1819223815 (no longer online)
e. sploid.gizmodo.com/aerial-footage-of-a-truckers-masterful-parking-skills-i-1819147095 (no longer online)
f. www.worktruckonline.com/channel/safety-accident-management/news/story/2017/10/u-s-road-deaths-up-5-6-in-2016.aspx (no longer online)
g. tandemthoughts.landlinemag.com/advocacy/eldorme/ (no longer online)
h. www.kfvs12.com/story/36543295/truckers-in-california-slow-down-traffic-in-rolling-protest (no longer online)