This is the TDMST Weekly Round-Up of news affecting professional truck drivers, written by Vicki Simons for the week ending February 29, 2020.
We welcome your comments, thoughts and feedback on the items of your choice below.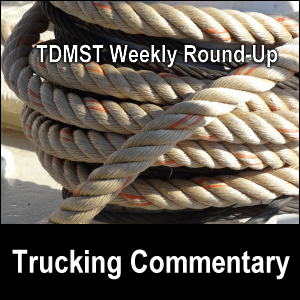 1. Regarding owner-operators earning… less:
According to a February 25, 2020, article:
Owner-operators' net income dropped 3.6% last year to $62,992, reports ATBS, a financial services provider that serves thousands of mostly leased owner-operators.
The article further stated that "Flatbedders suffered the worst from 2018 to 2019, seeing income fall by almost $10,000, or 12.5%", but that with an average 2019 income of $68,015, those earnings were above what "dry van, reefer and the three-segment average of independents" earned.
Let's take a look at the CPI Inflation Calculator for numbers from December 2018 to December 2019.
In just that one year's time frame, the buying power of the dollar fell by 2%.
So, in essence, that 3.6% drop in owner-operator income was more like a 5.6% drop because the buying power of the dollar decreased.
Also, if we divide $62,992:
by 12 months: $5,249.33 / month; and
by 52 weeks: $1,211.38 / week.
With numbers like these, is it even profitable to be an owner-operator any more — especially if one has truck payments?
2. Regarding trucking equipment and parts:
A February 26, 2020, article shares "4 ways to realize an ROI from truck upgrades," my favorite being: "Tackle the idling, but keep drivers comfortable".
A similar article is here.
---
Two technologies that are helping trucks realize fuel economy gains are:
diesel exhaust aftertreatment and
aerodynamics enhancements.
---
The "blame game" goes on.
According to a February 27, 2020, article, a "lawsuit claims that Navistar and Rush are liable for a crash with a motorcyclist" because "the companies were negligent by not including non-mandatory safety systems in the truck."
The article states that the truck driver "was unable to stop the truck soon enough after a vehicle in front of him stopped, causing a crash."
In years gone by, the truck driver would have been charged for either not driving according to conditions or following too closely.
However, the article states, "Strict liability claims allege that Rush and Navistar were responsible for designing, manufacturing, marketing, selling, leasing and supplying the truck" with the stated safety systems.
See Point #4 below about a vehicle manufacturer whose system "failed" a driver, who died in a collision.
3. Regarding politics:
Truckers need to be aware of a new incentive for locals in New York City to "tattle" on them if they idle their trucks there.
The ad campaign is meant to raise awareness about long standing anti-idling laws that forbid idling for longer than three minutes or more than one minute while adjacent to a school.

…environmental activist George Pakenham shows reporters exactly how he banked thousands of dollars by submitting evidence of idling commercial vehicles. … By February 2020, he says he's earned around $17,000.
After I posted this article on Facebook, I started receiving quite a bit of comment about it.
---
A February 26, 2020, article addresses how the Canadian Trucking Alliance is calling on their federal government to approach "carbon pricing" in a "fair and sensible" way.
According to Wikipedia's page on "carbon price", it is "the method widely agreed to be the most efficient way for nations to reduce global warming emissions [and] is a cost applied to carbon pollution to encourage polluters to reduce the amount of greenhouse gases they emit into the atmosphere".
Here's part of what Wikipedia says about "greenhouse gases":
The primary greenhouse gases in Earth's atmosphere are water vapor (H2O), carbon dioxide (CO2), methane (CH4), nitrous oxide (N2O), and ozone (O3). Without greenhouse gases, the average temperature of Earth's surface would be about -18 °C (0 °F), rather than the present average of 15 °C (59 °F).
OK, time out!
H2O is water and regarding CO2: "Plants require carbon dioxide to conduct photosynthesis" (link).
So, taxing people for water and something that plants must have is absolutely ridiculous.
In my opinion, the only "fair and sensible" thing for Canada to do is rescind this law.
Meanwhile, an Oregon cap-and-trade plan has met opposition.
---
According to a February 22, 2020, article, effective on Monday morning, February 24, weight restrictions will be imposed and enforced on the stated Michigan highways.
The article does not list the penalties for violating weight restrictions, so just prepare ahead of time.
---
The Owner-Operators Independent Drivers Association (OOIDA) wrote in a letter to Senate leaders regarding the promotion by American Road & Transportation Builders Association (ARTBA), that a "Truck-only VMT tax [is] a 'discriminatory funding ploy'."
Signed by OOIDA's President and CEO Todd Spencer, the letter says, in part, "ARTBA's promotion of a truck-only VMT insinuates truckers don't pay their fair share into the Highway Trust Fund, which is preposterous."
4. Regarding bad maneuvers:
With all due respect to Volvo, the 4-rig high tower in their ad to promote their new heavy-duty trucks — especially with someone perched on top of the stack in a storm — sends at least two bad messages:
Don't worry about height restrictions; and
Don't protect yourself in bad weather.
This ad was written about here, here and here.
---
When it comes to a truck straddling a railroad track and an oncoming train, the train will win — every time!
That happened in San Antonio, Texas.
Meanwhile in Cibolo, Texas, another truck that became "high centered on the railroad tracks" — or got stuck because it couldn't get over the tracks — got hit by a train.
These are totally preventable accidents.
---
A February 27, 2020, article — and the video embedded in it — detailed the trap that Dixmoor, Illinois, has set for truckers.
Having placed "no trucks zone" signs in the wrong places, the city has set up the zones for truckers to deliberately get tickets!
However, one trucker reported that instead of the stated $100 ticket (or $150 if paid late), his ticket was for a whopping $750!
Naturally, the trucker is furious.
I am interested to see how this matter is resolved.
---
Ohio-based Total Quality Logistics (TQL) experienced a "data breach," which means that "Data from as many as 85,000 carriers could have been exposed to hackers", according to a February 27, 2020, article.
Since payment theft "may have occurred," if you have done business with TQL, you may want to protect yourself and your accounts as best you can.
More on this data breach was written here, here, and here.
---
According to a February 26, 2020, article, "The National Transportation Safety Board has discovered that the man who was killed in a crash involving a Tesla SUV was playing a game on his phone at the time of the crash" — and that "the vehicle's autopilot system was engaged".
So, what does "auto-pilot" mean as it concerns vehicles?
To me, "auto-pilot" means that the vehicle can "pilot itself automatically" down the road with no human intervention.
If Tesla actually means "driver assisted," then they need to state that!
The article states that the person who was killed in this accident was an Apple engineer.
I mean, of all people, an engineer explicitly trusted in the technology and ended up dying because of it!
I am very grieved. 🙁
---
A February 26, 2020, article opened this way:
An Alabama truck driver has been sentenced to one year in prison and ordered to pay nearly $250,000 in restitution after being convicted on charges that he stole a load of laptop computers in 2017.
Interestingly, a lot of different pieces of data came together to nail this trucker for his theft:
weigh station records;
GPS information;
warehouse surveillance footage; and
records of the trucker gambling with over $11,000 in cash!
Naturally, the trucker will have to spend a year in prison and pay restitution.
Crime doesn't pay!
5. Regarding equipment maintenance and truck operations:
According to a February 25, 2020, article, Navistar's "Advanced Preventive Maintenance will help fleets make educated decisions about PM schedules and eliminate unnecessary work".
---
We read:
"A panel discussion at the American Trucking Associations' Technology & Maintenance Council's Annual Meeting in Atlanta Feb. 25 featured three fleets with different operations and varying sustainability and fuel economy tactics."
---
You may appreciate articles about:
---
An English lorry driver made a dangerous U-turn and ended up in jail for six months and "disqualified from driving for 15 months".
Ouch!
---
Remember that conducting pre-trip and post-trip inspections is part of your job responsibilities.
So, no trucker should ever knowingly drive for miles on his rims.
This violation netted the trucker a license suspension.
Ouch!
---
A February 24, 2020, article reported this from the Technology Maintenance Council (TMC)/FleetNet Vertical Benchmarking Program:
"The cost of an unscheduled mechanical repair continues to increase";
"closing out 2019 with its fourth consecutive quarterly jump";
The average cost of mechanical repair was $407 (exceeding $400 for the first time since the program began in 2017); and
The average cost of mechanical repair "was 24% higher than the same quarter [in] 2018."
6. Regarding driver issues:
An article about "driver retention and turnover" stated these interesting tidbits:
"Large carriers are self-insured, which allows them to hire and train inexperienced drivers";
"…many new drivers will not make it through their first year in trucking, and this can be for a number of reasons";
"The large carriers … have higher turnover rates"; and
"Insurance rates are cheaper once a driver has one full year of experience…."
Hmm…
---
Just because a trucking company no longer exists does not mean that the wheels of justice do not still turn.
According to a February 26, 2020, article:
A defunct trucking company and its co-owner have been ordered to pay a trucker nearly $155,000 for retaliating against him for expressing concerns over "faulty vehicle maintenance."
More was written about this here.
Obviously, this is a violation of the whistleblower protections of the Surface Transportation Assistance Act (STAA), but the article also states that the company "directed the driver to violate… [the federal Hours of Service regulations]."
Note that the trucker resigned in February 2017 and that this legal situation has just now (3 years later) been resolved.
If you have a legitimate legal case on your hands, file it quickly, but do not let the time frame for resolution discourage you!
---
Each situation stands on its own, but I am reading more and more of medical emergencies that truckers are experiencing (or say they are experiencing) while driving.
Such was the case when a trucker claimed that he "blacked out" just before causing a head-on crash which resulted in a triple fatality.
Interestingly, the article says that the trucker has diabetes, but took NyQuil on the morning of the night of his crash.
While I am in favor of truckers getting good sleep, I believe there are much better ways to do it than with drugs.
---
A couple of interesting articles have been released by Lytx recently:
7. Regarding truck tires:
A February 27, 2020, article states: "Snider Fleet Solutions is now offering a drive-over system that measures tire pressure, tread depth, vehicle weight, sidewall damage and tire temperature, flagging problems before the vehicle leaves the lot."
That sure sounds handy.
I wonder how accurate it is and how the technology will keep from being hacked.
Hmm…
---
A couple of articles here and here reported on Bridgestone's announcement at the TMC annual meeting of their "air-free, commercial-truck tire concept."
One article stated that this tire:
is "designed to be used in high-speed, long-haul applications,"
"leverages a proprietary design where tire tread is placed on a unique structure of high-strength, flexible spokes," and
"eliminates the need for a tire to be filled and maintained with air."
I am reminded of a non-pneumatic commercial truck tire concept that was released by Michelin some time back, but to my knowledge never went to production.
Hmm…
Meanwhile, as a bit of perspective, "airless" doesn't mean indestructible!
The tread on all tires eventually run down and the tires will need to be replaced.
Just saying…
8. Regarding autonomous vehicles:
A February 24, 2020, article states that "Remote controlled self-driving truck startup, Starsky Robotics, is winding down operations after a mass layoff".
Hmm…
9. Regarding truck sales:
According to a February 25, 2020, article:
According to a report from ACT Research, used truck sales declined by 15% in 2019 compared to 2018. Average prices declined too, by 7%, according to the same report. …

While lower used truck prices may be attractive to smaller trucking businesses, including independent contractors, there's a catch. In an effort to reduce emissions and increase fuel efficiency, the rules keep changing.
The article listed these factors in equipment pricing —
fuel economy;
anticipated maintenance costs; and
expected freight rates;
— and said that a "newer, more expensive model" may be the "advantageous choice".
10. Regarding trucking company issues:
A February 25, 2020, article opens with this: "Walmart's court-ordered $55 million payout to drivers a sobering reminder for fleets: Check your employee manuals."
Truckers, check your trucking company's employee manual periodically, too.
You may read about how a trucker's wife thought her man's vacation pay was stolen, but it was not (because of the new company's policy).
---
Meanwhile, we read:
…C.R. England (CRE) has agreed to an $18.6 million settlement of a class action lawsuit alleging it made false promises to its California truck drivers and violated California labor and wage laws.
---
According to a February 21, 2020, article: "P.A.M. Transportation (PAM) has agreed to settle a class action lawsuit for $16.5 million" following the alleged violation of both:
the Fair Labor Standards Act (FLSA) and
Arkansas Minimum Wage Law (AMWL)
"by not paying minimum wage for 'all hours worked.'"
Would that all truckers would be paid for all of the hours they work!
11. Regarding drug busts:
A "mixed bag of drugs valued at more than $18 million" was found by U.S. Customs and Border Protection agents at a Pharr, Texas cargo facility in a load of fresh broccoli.
The drugs and the tractor-trailer were seized.
Another article about this was written here.
---
Don't haul illegal drugs — ever!
We read in a number of articles that nearly 600 pounds of methamphetamine — that had been hidden in a secret tractor-trailer compartment — was found and seized by Texas authorities.
---
Separately, we read, "Two truck drivers are facing multiple drug trafficking charges after more than $12 million worth of hard narcotics were discovered in their tractor-trailer."
This was also reported here.
12. Regarding tool idea:
This sounds like a great idea, but I wonder how long-lasting it would be:
AIRman showcased its newest solution to the trucking industry… its Automated Landing Gear Deployment and Retraction Technology.
If you have this landing gear deployment system installed on your trailer, will you please write a truck parts review?
Thanks in advance.
My husband Mike and I wish you — and all professional truck drivers — safe travels and lots of money saving opportunities on the road.
---
---
Return from TDMST Weekly Round-Up: 2020.02.29 to our TDMST Weekly Round-Up Trucking Commentary or our Truck Drivers Money Saving Tips home page.
---