This is the TDMST Weekly Round-Up of news affecting professional truck drivers, written by Vicki Simons for the week ending October 28, 2017.
We welcome your comments, thoughts and feedback on the items of your choice below.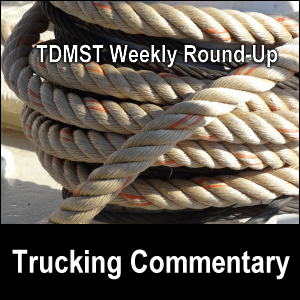 1. An October 26, 2017, article stated, "A year-long USA TODAY Network investigation found that port trucking companies like Fargo have successfully used legal loopholes, shell companies and bankruptcy protection to dodge the punishment labor court judges have handed down. … The Network examined California labor commissioner and court cases filed by more than 1,100 port truck drivers and traced the outcomes for almost 60 companies found by the courts to have violated the law."
Among the shenanigans that these trucking companies have played are:
– moving assets into new business names;
– delaying payments for years;
– filing for bankruptcy; or
– pressuring drivers to accept small settlements.
If you're a driver who has been cheated, you may want to contact the Wage Justice Center.
2. According to an October 26, 2017, article, there are "loopholes and shortfalls in federal rules meant to keep other drivers safe" that allow truckers who are arrested for using drugs while driving commercially to keep driving.
This isn't right, especially since the rules for obtaining a CDL means that a driver can have only one license.
The article has a list of "the top 10 states for fatal crashes involving a large truck in 2015".
3. Speaking of driver's licenses, an October 25, 2017, article stated, "The driver of a concrete bucket truck that crashed into an SUV, killing a Hamilton woman, did not have a valid operator's license".
Our condolences go to the family.
However, I want to know why the concrete company did not know that the driver had suspended driver's license. Aren't truckers required to report this information to their trucking companies?
4. An October 24, 2017, article stated that a trucker rear-ended a disabled truck on the shoulder of I-80, killing both the driver of the disabled truck and the driver who had come to assist with a replacement tractor.
The driver of the third rig "was cited for improper lane usage and failure to reduce speed to avoid an accident".
A 3-count lawsuit against the trucking company seeks "more than $150,000 in damages".
My question, which is not answered in the article, was why the driver of the third truck did not know that the trucks on the shoulder were parked out of the lanes of travel.
Is it possible that at the hour that the accident took place (before daylight), the driver may have been fatigued or inattentive?
Our condolences go to the families of both truckers who died.
5. Let me address the "trucker shortage" and ELD issues:
a. An October 24, 2017, article reports that the "annual 'Top 10 list' of trucking industry issues compiled by the American Transportation Research Institute (ATRI)" shows that the number one challenge in the trucking industry in 2017 is a driver shortage.
trucker.com/drivers/atri-top-10-list-2017-perfect-storm-trucking-issues (no longer online)
b. On October 22, 2017, Bob Costello, chief economist of American Trucking Associations (ATA), was quoted as saying that the "shortage of qualified truck drivers is projected to hit an all-time high of 50,000 by the end of 2017".
c. An October 20, 2017 article stated: "According to an article from "The Hill", a poll found 71% of independent drivers were tempted to quit if electronic logging devices became mandatory. … 52% of company drivers said they would quit too."(a)
d. The "ELD or me" protest has been going on for a while, yet according to an October 26, 2017, article, "Little evidence exists that truckers are leaving the industry ahead of the Dec. 18 deadline for adopting electronic logging devices, according to a just-released comprehensive survey of carriers and owner-operators."
There's a good bit more time before the deadline. I'll be watching to see what happens.
e. Meanwhile, the "era of paper driver logs is over," stated an October 16, 2017, article. "Technology is available that will automatically record drivers Hours of Service and better ensure compliance with legislation."
Is that "all" there is to this issue? Will ELDs actually improve safety? Can't ELDs be manipulated? Is there any kind of invasion of privacy associated with ELD use?
f. An October 22, 2017, article stated, "The trucking industry is increasingly turning to minorities such as Mexican immigrants to meet a critical need for drivers, even as President Donald Trump and others deem them unsafe and a threat to American jobs."
g. Another October 22, 2017, article says that the driver shortage could cause trucker wages to increase!
The phrase used in the article was "strong income growth". How strong?
"Driver wages could climb 30 to 40 percent over the next two years, said Eric Fuller, chief executive of US Xpress, a 7,400-truck motor carrier."
I'll be very interested to see what happens.
6. An October 24, 2017, article stated, "Electronic logging device can cost from $500 to $700 and require a monthly service fee."
How much did your ELD cost and how much are ongoing expenses for your unit?
7. An October 20, 2017, article states that a "trucker has been sentenced to 125 years in prison for sexually assaulting five children and possessing child pornography."
8. An October 25, 2017, article said that saving makes people happier.
Yet an October 20, 2017, article cited a couple who retired in their 30s as saying that it isn't saving that makes people rich, but rather "investing, and making your money work for you."
9. An October 20, 2017 article stated, "A truck driver's vaping device exploded in his shirt pocket … while he was driving".(b) The trucker "suffered burns as his shirt caught on fire, but [he] managed to pull the truck to the side of the interstate. He put out the flames with a fire extinguisher."
Ouch! We strongly recommend that truckers stop both smoking and vaping.
10. An October 19, 2017, article said that felony manslaughter charges have been filed against a semi-truck driver who "stopped for traffic in the far-right lane of Interstate 10" and fell asleep.
Although traffic started to move, "his vehicle continued to block the westbound lane" and his truck was rear-ended by a tour bus traveling "at a speed of 76 mph". Thirteen people died as a result of the collision.
Had this been a truck rear-ending another truck, the one in the rear position would most likely have been charged. However, in this case, the trucker faces multiple counts of "felony vehicular manslaughter with gross negligence" and "felony reckless driving with injury and 18 counts of misdemeanor reckless driving with injury". Why?
The trucker:
– "violated federal regulations for truck drivers and falsified his drivers log";
– "In the 24 hours preceding the collision, [the trucker] had only 7 hours of sleep opportunity" but may not have actually slept during that time; and
– he falsified his work logs, which included having "failed to take the mandated 34-hour rest period before making another cross-country trip".
By violating the Hours of Service regulation and failing to sleep as he was supposed to, his having fallen asleep in his truck in the lane of travel led to a horrific accident. Our condolences go to the families of those who died.
11. An October 27, 2017, article opened with this statement: "Boyd Bros. Transportation has announced $14,000 in sign-on bonuses for experienced flatbed CDL-A holders who join the Alabama-based carrier as company drivers before the end of the year."
Can you spell "desperate"?
12. Bestpass will soon be providing toll discounts for "central Florida expressways around Orlando", according to an October 25, 2017, article.
13. Congratulations to Tom Camp, who has "driven more than 1 million miles for UPS without an accident and achieved a feat no other company driver has achieved — a spotless 55-year safety record", according to an October 25, 2017, article.(c)
14. What pros and cons will arise from truckers being able to use "mobile device-based ELDs (those run on a phone or tablet) to change [their] duty status outside of and away from their vehicle", as an October 20, 2017, article described?
My husband Mike and I wish you — and all professional truck drivers — safe travels and lots of money saving opportunities on the road.
---
---
Return from TDMST Weekly Round-Up: 2017.10.28 to our TDMST Weekly Round-Up Trucking Commentary or our Truck Drivers Money Saving Tips home page.
---
Reference:
a. kcwy13.com/content/news/Truckers-Required-to-Have-New-Logging-Devices-451742773.html (no longer online)
b. thecourier.com/breaking-news/2017/10/20/vaping-device-explodes-injures-truck-driver-in-wood-county/ (no longer online)
c. worktruckonline.com/channel/safety-accident-management/news/story/2017/10/ups-driver-goes-55-years-without-accident.aspx (no longer online)