This is the TDMST Weekly Round-Up of news affecting professional truck drivers, written by Vicki Simons for the week ending November 4, 2017.
We welcome your comments, thoughts and feedback on the items of your choice below.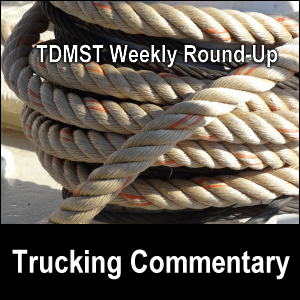 1. According to an October 31, 2017, article, "At least eight people were killed and nearly a dozen more were injured when a truck driver deliberately mowed down people and targeted a school bus in lower Manhattan Tuesday in what authorities called a 'cowardly act of terror.'"(a)
Our condolences go to the families.
Truckers, no matter whom you work for or how irritated you are, never ever use your truck to harm others.
2. A November 2, 2017, article stated that a "Romanian lorry driver has been jailed for five years and three months after killing a 52-year-old and causing a six-vehicle crash – while on his mobile phone."
Let this be a lesson: Prevent distractions while you're driving!
3. Truckers, would you wear a "SafeCap, a hat that senses head movements associated with sleepiness and wakes … up [wearers] with sound, light and vibration", according to a November 3, 2017, article?
4. The title of a November 1, 2017, article revealed the difference between wearing and not wearing a seat belt while driving:
"Trucker dies in 2-semi crash; driver wearing seat belt unhurt".
To folks who claim that wearing a seat belt:
is "uncomfortable": How comfortable was dying in a crash?
is "restraining" or "confining": Of course! It keeps you in the seat instead of flinging you headlong through your windshield in a crash.
"cramps my style": How long will you have a "style" after an accident?
5. The subtitle of an October 31, 2017, article has drawn both skepticism and criticism:
"Researchers say Tesla's electric 18-wheeler will only make sense in autonomous convoys of seven driving bumper-to-bumper."
My question and comment are:
– How often do multiple trailers full of merchandise leave a shipper and travel to the exact same destination at the same time?
– It sounds like they want a train on the road. Hmm…
6. In response to an October 31, 2017 article about a man getting a 70 year prison sentence for randomly murdering a truck driver at 1:30 a.m., I feel compelled to ask:
What could the trucker have done to help prevent this? He was only doing his job.
Our condolences go to his family.
7. The president of the Arkansas Trucking Association needs some serious education. She was quoted in an October 31, 2017, article as saying, "Driver fatigue comes from drivers exceeding the allowable hours of service".(b)
No, Shannon, driver fatigue can happen for a lot of reasons! What's stupid is that the inflexibility of the current Hours of Service regulations do not permit a trucker to park and rest without penalty whenever he or she needs a break.
The article about electronic logging devices (ELDs) quoted one independent owner operator, who feels that the ELD mandate "could force him out of the industry" because he stated, "I will never drive with an electronic log."
Furthermore, he feels that "the added costs of the device, plus monthly fees, will likely push out small business owners like himself".
A November 2, 2017, article, states that one 27-year trucking veteran said that "the new regulation is more about control, than about safety."
An article states, "according to the federal motor carrier safety administration, the ELD mandate is estimated to save 26 lives and prevent 562 injuries each year from crashes involving large motor vehicles."(c)
When the FMCSA changed the Hours of Service regulation back in 2013 (claiming that it would save lives), I predicted that it wouldn't — and I was right (see point #7). Now I predict that this ELD mandate will not improve safety to any significant degree either (if at all).
If there are more accidents and fatalities after the ELD mandate goes into effect, will the FMCSA reverse their decision? Hmm…
8. An October 30, 2017, article, stated, "The ATRI survey also found that 53% of drivers treated for OSA had some out-of-pocket costs, averaging about $1,220 per patient."
Ouch!
9. According to a November 3, 2017, article, "The American Trucking Associations announced that USA Truck Inc. has joined the industry group as its latest member."
Hmm…
If the ATA is on the side of shippers and receivers, why did a trucking company join them? What does this move say about USA Truck's commitment to their drivers?
10. One sentence in a November 3, 2017, article about blockchain technology in the trucking industry raised a red flag to me:
For example, a state DOT could access a blockchain and see everything it needs to know about a truck approaching a weigh station: What its cargo is, information from the ELD, the truck's emissions history, how much it weighs, and so on. And if everything is good, a message could flash on the driver information screen letting him know he doesn't have to pull in to the scales. He can keep on rolling.
I want to know how these systems are going to be kept hack-proof from would-be thieves. If the thieves can tap into a blockchain, won't truckers then be "sitting ducks" for cargo theft?
Yet according to an October 30, 2017, article,
Of the many benefits blockchain technology is supposed to deliver to trucking – faster freight payments, more contract transparency, and fewer "middlemen" in the transport process – improved security is perhaps one of the biggest, according to Craig Fuller, CEO of futures and financial market data provider TransRisk.

"Cargo security is one fantastic application for blockchain; it could help prevent identity theft and 'fictitious pickups' when it comes to cargo theft," he explained during a conference call organized by Stifel Capital Markets.
We'll just have to wait and see.
11. A November 2, 2017, article indicates that trucks outfitted with "advanced collision mitigation technology" has the feature of "adaptive cruise control, which helps the driver maintain a constant distance behind the vehicle in front of [it]".
So, what happens in the event that the machine and the driver have a "difference of opinion" regarding how to handle an impending collision on the road?
Who would really be "in control" of the truck and how would anyone be able to prove that the trucker wasn't at fault if the truck truly "took over" and crashed anyway?
12. A November 3, 2017, article stated, "An aging and shrinking labor pool coupled with rising demand for capacity is going to force fleets to push up pay, bonuses, and other benefits in order to recruit and retain enough drivers."
13. Take a look at the photo of the autonomous truck and particularly what the "driver" is doing in the "driver's seat" in this October 31, 2017, article.
Notice anything interesting?
The driver isn't keeping his eyes on the road and in fact, the seat isn't even angled straightforward so that the driver can "respond" if anything happens.
This "total reliance" on technology to pilot the truck is a dangerous move, in my opinion.
And in such a scenario, why would anyone want to pay someone to sit in a truck and play on a laptop or tablet?
Then again, isn't that the goal of autonomous trucks: to get rid of truckers?
14. The author of an October 31, 2017, article stated, "Now that we know that 10 MPG is possible with real trucks driving real routes delivering real freight we need to spread the word to the rest of the industry about what it takes to consistently achieve double-digit fuel efficiency."
15. There's a contradiction in an October 31, 2017, article.
Either what is emitted from an "electronic cigarette" contains "only water vapor" or it contains the emission from "nicotine and flavorings" that are heated.
It can't be both simultaneously.
Truckers would be better off to neither smoke nor vape.
16. Truckers, if you use a "Senzit" to track engine hours, provide air filter condition, and give updates on filter life and GPS locations — all of which Donald Chilton, director of product management for WIX, claimed in an October 31, 2017, article it could do — would you please submit a product review and let us know if it also:
– predicts maintenance in a better way;
– reduces unplanned downtime; and
– reduces engine rebuild costs?
My husband Mike and I wish you — and all professional truck drivers — safe travels and lots of money saving opportunities on the road.
---
---
Return from TDMST Weekly Round-Up: 2017.11.04 to our TDMST Weekly Round-Up Trucking Commentary or our Truck Drivers Money Saving Tips home page.
---
Reference:
a. www.nbcchicago.com/news/national-international/Gunshots-Fired-Lower-Manhattan-Tribeca-454316613/ (no longer online)
b. www.thv11.com/news/local/truckers-wary-of-new-mandate-requiring-electronic-logs/487431612 (no longer online)
c. www.thv11.com/news/local/truckers-wary-of-new-mandate-requiring-electronic-logs/487431612 (no longer online)