This is the TDMST Weekly Round-Up of news affecting professional truck drivers, written by Vicki Simons for the week ending May 25, 2019.
We welcome your comments, thoughts and feedback on the items of your choice below.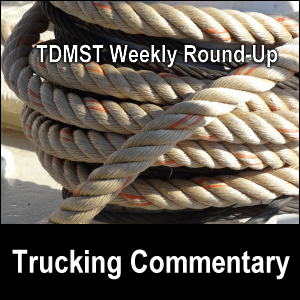 1. Regarding Memorial Day weekend safety:
A May 17, 2019, article stated that AAA forecasts that more than 37 million Americans will travel over the Memorial Day 2019 weekend, "the most on record for the holiday".
As a May 22, 2019, article says, "Holiday periods are known for increased risk of cargo theft because cargo thieves look to exploit an abundance of unattended trucks and closed warehouse facilities."
Be aware of locations where cargo theft is more likely to occur, freight that is more likely to be stolen, and park in secure, well-lit places.
Other articles about protecting your truck and freight over the Memorial Day weekend are here, here, here and here(a).
We also share our Tips on Memorial Day Weekend Driving in a Big Truck.
2. Regarding autonomous vehicles:
According to a May 22, 2019, article: "The Department of Transportation announced on May 22 that it is taking further steps toward removing 'unnecessary regulatory barriers to the safe introduction of automated driving systems' on vehicles operating in the U.S."
The article goes on to say, "The separate but related advance notices of proposed rulemaking (aka as pre-rules) issued by the National Highway Traffic Safety Administration and the Federal Motor Carrier Safety Administration are calls for public comment on matters related to rolling out autonomous-driving systems 'to ensure that all potential approaches are fully considered as the agencies move forward with these regulatory actions.'"
Other articles about the DOT's "pre-rules" were written here, here and here.
Remember that "NHTSA's [advance notices of proposed rulemaking] ANPRM seeks comment on identifying and addressing regulatory barriers to the deployment of ADS vehicles posed by certain existing Federal Motor Vehicle Safety Standards (FMVSS)."
Note: the article did not define "ADS vehicles", so I had to go look it up. I found in a May 22, 2019, news release from the FMCSA that "ADS" stands for "automated driving systems".
A May 23, 2019, article states that "the OOIDA Foundation offers brief instruction on how to submit comments online to the variety of notices, information collection requests, and final rules that are published in the Federal Register."(b)
We encourage all truckers to provide feedback on autonomous vehicles while this window of opportunity is open.
---
Speaking of autonomous trucks, we read that "TuSimple self-driving trucks will haul USPS trailers more than 1,000 miles between the Postal Service's Phoenix and Dallas distribution centers."
In a separate article, we read, "Autonomous truck company, TuSimple, believes they will meet their stated goal of beginning to replace America's truck drivers by the end of 2020…"
More about the TuSimple/USPS set-up has been written here, here, here and here
---
Autonomous vehicles are not flawless, which we learn from federal investigators following the fatal crash of a Tesla Model 3 which crashed into a semitrailer in Florida on March 1, and was found to be "operating on the company's semi-autonomous Autopilot system".
3. Regarding CVSA International Roadcheck:
A cargo securement webinar has been scheduled for May 28 to help stakeholders prepare for the CVSA International Roadcheck coming up in June.
Other articles about preparing for Roadcheck are here and here.
4. Regarding trucker pay and trucker jobs:
A May 20, 2019, article reveals how John Wilbur, CEO of Roadmaster Group, solved the "severe turnover" that they once had.
Instability of driver pay was suspected to be "a root cause of his turnover woes," so he "created a hybrid salary format for drivers that guarantees a minimum daily pay rate and includes mileage bonuses and other activity-related pay".
Although at first the drivers were skeptical, their pay became more consistent, which ultimately led them to be safer and stay with the company longer.
I was pleased to read that he said that the truckers had "the hardest job in the company" and is looking to pay them fairly and provide other measures of appreciation.
---
Meanwhile, Penske Logistics announced a lay off of some 80 employees, "'mostly' truck drivers" in Fort Wayne, Indiana (also written about here).
---
Meanwhile, the ATA reported "its advanced seasonally adjusted (SA) For-Hire Truck Tonnage Index surged 7.4% in April after decreasing 2% in March", which means that there is a current need for truck drivers.
5. Regarding fuel economy and cruise control:
A May 17, 2019, article stated, "Standard cruise control works best on level terrain, but predictive cruise control really shines in hilly, rolling terrain."
I had never before heard of the latter term, so I was glad that it was defined in the article:
"Predictive cruise control combines a GPS receiver on the vehicle with onboard maps, and then adjusts vehicle speed to deliver optimal fuel economy according to its read of the road ahead."
This technology — described as "electronic 'eyes' and 'brains'" — is another way in which automation is slowly taking over the trucking industry.
---
Separately, Jim Park reported his thoughts on achieving 11 miles per gallon on the road.
6. Regarding many truck accidents:
According to a May 20, 2019, article, "A truck driver is now facing numerous charges after police say he caused the deaths of four motorists in a fiery crash last Thursday along I-75 [in Henry County, Georgia]."
This is another case — also reported here, here and here — of a trucker failing to stop his truck for "slowing traffic" and causing a collision.
Viewer discretion is advised regarding a video of the accident.
---
The driver of a Ford F350 bucket truck was following a 4-wheeler too closely inside the Hampton Roads Bridge Tunnel in Virginia.
This led to his rear-ending the vehicle in front of him, striking a tanker transporting hot tar, jackknifing, and causing a chain reaction accident involving a total of 8 vehicles.
The bucket truck driver was handed a bill of $25,000, an estimate of the damages he caused.
---
The video recording is clear that a Utah trooper ran into a truck, but is trying to blame the trucker for the collision!
This is another excellent reason for having at least one forward-facing video recorder (truck cam) installed and working in your truck.
---
A May 17, 2019, article stated that "in the moments leading up to a fatal fiery crash last year… that killed a New Jersey couple on their way to be married", the truck driver was said to have been on his cellphone.
---
Meanwhile, "At least two people have died in a series of crashes involving multiple big rigs… along I-5" in San Joaquin County, California.
---
Our condolences go the families of all motorists who have lost their lives in these and other accidents.
Please drive safely, don't tailgate, and do not allow yourself to be distracted by anything while you're driving (such as by using your cell phone or looking at other electronics).
7. Regarding tolls and toll locations:
Prepare for truck travel to become more expensive through Rhode Island in July, thanks to a new gantry which will be added to the list of truck-only toll locations.
---
Separately, according to a May 17, 2019, article, "Florida Governor Ron DeSantis signed legislation that will bring new toll roads to Florida by no later than 2030."
More about this is written here.(c)
8. Regarding ELDs in Canada:
A May 17, 2019, article stated, "Canada will be mandating the use of Electronic Logging Devices (ELDs)… [and enforcement]… is expected to begin in the fourth quarter of 2019."
The article addresses "4 valuable lessons learned" about prepping for this mandate.
9. Regarding rear-end accidents:
A truck driver who had parked his flatbed on the right shoulder of I-66 and gone to sleep is being investigated following the death of a motorist who rear-ended his trailer.
I'm reading more and more about accidents where either four-wheeled vehicles or trucks are rear-ending vehicles parked along the shoulder.
One article reported that a trucker died after his rig "struck the rear of a disabled passenger vehicle parked along the shoulder of Interstate 95 in Henrico County", Virginia.
Please do not allow your vehicle to wander from the lanes of travel onto the shoulder of a highway unless you are purposely pulling over to park due to a breakdown.
If your rig experiences a breakdown, remember to turn on your 4-way flashers and put out your emergency triangles within 10 minutes of stopping.
10. Regarding truck recalls:
"A parking brake issue has prompted Paccar to recall more than 1,800 Kenworth tractors", states a May 22, 2019, article.
More was written about that here.
A May 20, 2019, article says that the recall also affects 5,000 Peterbilt 520 trucks.
11. Regarding fuel taxes:
A bill was introduced in the U.S. House that "would raise per-gallon fuel taxes on gasoline and diesel by five cents a year for five years — and then tie the fuel tax rate to inflation", according to articles here and here.
The purpose is supposedly to "raise revenue for surface transportation infrastructure."
12. Regarding the THUD bill
We learned that "several trucking-related provisions" have been proposed within the "draft appropriations bill for fiscal year 2020" by the Transportation, Housing and Urban Development (THUD) subcommittee.(d)
If the provisions concern you, please share your opinion with the right legislators.
13. Regarding weather related accidents:
A number of articles published this week lead me to ask:
What can be done to keep from having a truck accident due to a tornado if you're in the vicinity?
---
According to a May 23, 2019, article, "icy roads, slick conditions and speed all contributed to an 8-vehicle crash involving multiple big rigs along I-40" in Parks, Arizona, recently.
Even though high temperatures have been in the 90s in parts of South Carolina recently, some places are still experiencing freezing and below-freezing conditions.
So be prepared and drive based on weather and road conditions.
14. Regarding some good news:
We applaud all professional truck drivers who won awards in their class in this year's Delaware Truck Driving Championship.
Robert Benton of Walmart Transportation won two awards, one being named "Grand Champion" and one for "having the highest score on the pre-trip portion of the competition."
Way to go, everyone!
---
Separately, we learned that "Pilot Flying J is offering drivers a $5 discount on in-store purchases of $10 or more through Monday, May 27, as part of its National Road Trip Day offerings".
Enjoy the discount but don't spend the money if you don't have to or if you don't have the expense budgeted. 🙂
My husband Mike and I wish you — and all professional truck drivers — safe travels and lots of money saving opportunities on the road.
---
---
Return from TDMST Weekly Round-Up: 2019.05.25 to our TDMST Weekly Round-Up Trucking Commentary or our Truck Drivers Money Saving Tips home page.
---
Reference:
a. www.landlinemag.com/Story.aspx?StoryID=74277 (no longer online)
b. www.landlinemag.com/Story.aspx?StoryID=74279 (no longer online)
c. www.landlinemag.com/Story.aspx?StoryID=74262 (no longer online)
d. www.landlinemag.com/Story.aspx?StoryID=74281 (no longer online)