This is the TDMST Weekly Round-Up of news affecting professional truck drivers, written by Vicki Simons for the week ending May 29, 2021.
We welcome your comments, thoughts and feedback on the items of your choice below.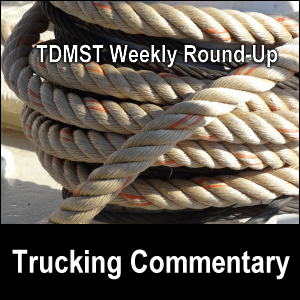 1. Regarding Memorial Day, theft, inspections, and insurance:
Memorial Day
Memorial Day weekend is the traditional start of the summer vacation season.
As things start to get "back to normal" in some respects, more people will likely be on the roads during this weekend — and have their minds on fun and not on driving.
Some people may be driving vehicles much larger than those they normally drive.
While you should always drive defensively, please be alert to drivers and haulers of recreational vehicles and those transporting boats.
Also, if you have an appointment to pick up or deliver a load on Monday, May 31 (Memorial Day), you may want to double-check your appointment.
Finally, if your company pays holiday pay over the Memorial Day weekend — and if you intend to earn it — make sure you know all of the terms involved.
Here are the most recent articles about the holiday, what to expect, and below, some articles about the potential for cargo theft this weekend.
---
Theft
---
Inspections
If you are always ready for a truck inspection, you'll never be caught off-guard.
---
Insurance
It is disturbing that insurance has become so politicized.
If you feel strongly about proposed changes to truck insurance, please contact your elected officials.
2. Regarding accidents, weather, bridges, and tunnels:
Accidents
Please learn what you can from these articles so that you are never involved in an accident like the one described.
I have provided appropriate quotes for some of them.
---
Weather
---
Bridges
---
Tunnels
3. Regarding drugs, smuggling, and clearinghouse:
Drugs
Never haul illegal drugs, no matter how much money you are promised.
---
Smuggling
---
Clearinghouse
Never consume an alcoholic beverage or take a drug that impairs your cognitive function before you drive a commercial motor vehicle.
4. Regarding technology, traffic alerts, chips, cameras, ELDs, and drones:
Technology
---
Traffic alerts
Are you in favor of in-cab traffic alerts systems like these?
Please comment through the form below.
---
Chips
---
Cameras
My husband Mike and I saw the Stoneridge MirrorEye system in person at an NACV trucking event, as described here and I was quite impressed with how much more visibility was achieved over using standard truck mirrors.
Do you agree or disagree? Please comment below.
---
ELDs
If you cross the border between the USA and Canada, please be aware of the following:
---
Drones
Please be aware of this technology and the advances that are being made.
5. Regarding trucker shortage, employment, trucker, and ATRI:
Trucker shortage
---
Employment
---
Trucker
---
ATRI
6. Regarding AB5 and waiver:
AB5
This California law impacts truckers and gig economy workers alike.
---
Waiver
7. Regarding economy and home improvement:
Economy
These are the most recent articles about the economy from the trucking industry perspective.
---
Home improvement
You may be aware that the increase in the U.S. money supply has led to a great deal of inflation — and some would call it hyperinflation.
8. Regarding electric vehicles, fuel, emissions, and autonomous vehicles:
Electric vehicles
There has been a huge push for electric vehicles within the last few years.
While there may be an upside to electric vehicles, there are also downsides to both people and the environment, the latter of which many federal elected officials claim to care about.
In VIDEO: Using the Environment to Strip Your Freedom, we hear:
From the Green New Deal to Agenda 2030, to the Great Reset, a radical environmental movement threatens the very lifestyle you choose to lead.

The issue of placing the environment before people is disturbing and that trend is growing.
In VIDEO: Will the Bill of Rights be Lost?, we hear:
Do you know how long it takes to recharge one of those [electric cars]? Can you imagine the lines that would ensue at charging stations once everyone has an electric car? Your freedom of movement would be greatly curtailed just because of the time it takes to recharge your car.
Unless there is some way of greatly decreasing the time it will take to charge a vehicle — or a reliable portable charging device is installed on vehicles — the time it takes to recharge one and recharging accessibility will be factors for electric trucks.
In Black Lives Matter? Leftists' Green Dreams Fueled With African Kids' Blood, Sweat and Tears, we read:
Now, though you won't hear it from mainstream media, it has long appeared that the electric-car movement is a scam. In 2013, I reported on former electric-auto engineer Ozzie Zehner, who once was a plug-in advocate but now says "I was wrong." His point is that contrary to the hype, electric vehicles pollute more than their gasoline counterparts.

Zehner also mentions, among other things, that electric-car batteries contain elements whose extraction from the earth imperils workers and surrounding communities. This brings us to the current story, which involves the claim that one of these elements, cobalt, comes from African slave labor.
If you ever thought that the lockdowns of 2020 were bad, consider what would happen if most of the vehicles on the road were electric and some bureaucrat decided to shut down the power.
Just remember what happened in Texas in February 2021.
Please carefully evaluate all of these things before investing in an electric truck.
---
Fuel
---
Emissions
---
Autonomous vehicles
I totally oppose autonomous, driverless, and self-driving Commercial Motor Vehicles, but share these articles as a courtesy to help you stay current with this news.
9. Regarding speed, operations, capacity, borders, ports, and containers:
Speed
If the idea of putting speed limiters on commercial motor vehicles in the USA disturbs you, please contact your elected officials.
---
Operations
---
Capacity
This is the first time I've seen this term used.
---
Borders
---
Ports
---
Containers
10. Regarding VMT, tolls, surcharges, taxes, and shipping:
VMT
This is one of those rare times when otherwise bitter enemies — the American Trucking Associations (ATA) and the Owner-Operator Independent Drivers Association (OOIDA) — agree on an issue.
If this issue is a concern to you, please contact your state and federal elected officials.
---
Tolls
---
Surcharges
Taxes
---
Shipping
Watch out for "free shipping" options that make truckers' work seem worthless.
11. Regarding repairs, tires, and self-defense:
Repairs
---
Tires
Have you noticed a difference between "low rolling resistance" tires and other tires on your truck?
If so, please write and submit a product review.
---
Self-defense
12. Congratulations!
We congratulate Don Cook for having achieved 4 Million Accident-Free Miles [While] Still Trucking at 79!
My husband Mike and I wish you — and all professional truck drivers — safe travels and lots of money saving opportunities on the road.
---
---
Return from TDMST Weekly Round-Up: 2021.05.29 to our TDMST Weekly Round-Up Trucking Commentary or our Truck Drivers Money Saving Tips home page.
---