This is the TDMST Weekly Round-Up of news affecting professional truck drivers, written by Vicki Simons for the week ending December 19, 2020.
We welcome your comments, thoughts and feedback on the items of your choice below.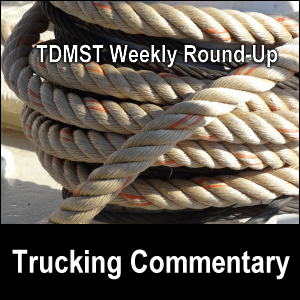 1. Regarding CDL testing, accidents, and staged accidents:
CDL testing
I see the issue of the FMCSA allowing third party examiners to test CDL skills sets as very problematic because no matter how poor a student driver's skills may be, a third party examiner may think, "I promised this kid a CDL and he's going to get one!"
Recall the incidents associated with CDL-fraud in the past.
If you're currently going through a truck driver training school or have been hoodwinked into getting a "free CDL" by a company that eventually wants to exploit you, be aware that you need to learn basic skills before you go out on the road.
To be passed into getting a CDL when you are under-prepared to drive professionally will lead to problems, possibly huge accidents!
---
Accidents
Is it that reporting is better than it used to be or are there actually more trucking accidents happening from truckers plunging off overpasses?
If the latter, what is causing these types of accidents?
Please learn from all of these accidents and actively work to prevent being in one.
---
Staged accidents
May the Lord let justice be done for all who were involved in this scam!
2. Regarding COVID-19:
I am totally against truckers getting a COVID-19 vaccination for many reasons — the primary reason being that there are natural means of staying healthy and well — but I am sharing these select COVID-19-related articles as a courtesy to keep you informed:
Regarding the article Trucking Seeks Liability Protections as Congress Debates New COVID-19 Aid, I feel compelled to ask:
If government officials had not taken unconstitutional actions earlier this year, would "trucking" even be seeking "liability protections?
Assuming the "liability protections" are given to "trucking," what strings will be attached to them — and are they worth it?
Regarding Uber, Others Jockey for Early COVID-19 Vaccine Access for Workers, please be on your guard regarding any company anywhere — including gig economy hustles — that requires you to receive any coronavirus injection as a condition of employment!
Informed consent and due diligence are absolutely essential!
3. Regarding operations, de-icing, delays, and winter:
Operations
---
De-icing
---
Delays
---
Winter
4. Regarding economy, employment, and turnover:
Economy
Flatbed market loses steam
www.dat.com/blog/post/flatbed-market-momentum-loses-steam (no longer online)
---
Employment
---
Turnover
5. Regarding drugs and legal:
Drugs
---
Legal
Indiana trucker busted in NY for carrying weapons and ammoYou have to read the article to see that the trucker was "taken into custody" for the guns/ammo issue, but the reason why he was arrested was because he was a convicted felon in another state.Furthermore, the article clearly states, "Upon interviewing the driver, probable cause to search the interior of the vehicle was established…"

So, it was probably what the trucker said that led to the search and the arrest.

Did he need to be arrested? Most likely.

But the bigger question is: If he was a convicted felon, how was he able to drive a CMV professionally?

Hmm…
6. Regarding ELDs, technology, and autonomous vehicles:
ELDs
---
Technology
---
Autonomous vehicles
I see this as a bad move:
Walmart Removes "Safety Pilot" From Now Fully Driverless Truck.
7. Regarding electric vehicles and fuel:
Electric vehicles
---
Fuel
Also, be aware of:
How Automated Transmissions Helped a Paving Fleet Improve Fuel Economy and Driver Health/
8. Regarding inspections and insurance:
Inspections
Please learn from these articles to keep your truck in inspection-passing, safe and compliant condition at all times!
---
Insurance
9. Regarding theft, phishing scam, taxes, tolls, and pay:
Theft
Also be aware of this projection: Expect to see about 25% fewer holiday travelers on the road.
---
Phishing scam
---
Taxes
---
Tolls
---
Pay
I saw the title of this article — C.R. England drivers could get a 25% pay increase and dug for details, examples of which include:
C.R. England: "Over-the-road solo drivers received an average 15.5% increase in base pay as of Dec. 1."
"Earlier this week, Covenant announced its largest pay increase in company history, boosting line-haul team drivers an average of 9 cents per mile, with the top rate for those with more than a year of experience seeing a 16 cents-per-mile increase."
"KLLM Transport Services also announced "one of the largest" pay increases in its history. The Jackson, Mississippi-based carrier said over-the-road and regional independent contractors would see more than a 9% increase in base pay."
"Stevens Transport boosted pay as much as 14% for its over-the-road drivers, with starting pay now as much as 54 cents per mile, based on experience."
I feel compelled to share these thoughts:
First, why are the companies offering pay raises in such large amounts?
Second, are the companies having trouble keeping drivers and if so, why?
Third, what "extra" work will their drivers have to do in order to keep earning the increased income?
Fourth, let's ask the same question as is documented on our Inflation Calculator page:
"If 25,000 women were earning $500 [per week] in trucking in [May] 1977, how much would their income have to be today to have kept up with inflation?"
According to the CPI Inflation calculator, $500 in May 1977 has the same buying power in November 2020 (the most recent month for which information is available as of this writing), of $2,157.79.
Figuring this in reverse, let's say that a trucker covers an average of 2,500 paid miles in a week.
$2,157.79 / 2,500 miles = more than $0.86 per mile!
So, don't let these numbers fool you.
The raises still aren't keeping up with inflation.
10. Regarding safety:
My husband Mike and I wish you — and all professional truck drivers — safe travels and lots of money saving opportunities on the road.
---
---
Return from TDMST Weekly Round-Up: 2020.12.19 to our TDMST Weekly Round-Up Trucking Commentary or our Truck Drivers Money Saving Tips home page.
---