This is the TDMST Weekly Round-Up of news affecting professional truck drivers, written by Vicki Simons for the week ending July 10, 2021.
We welcome your comments, thoughts and feedback on the items of your choice below.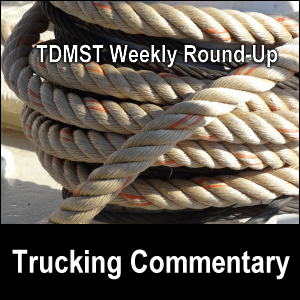 1. Regarding inspections, safety, and training:
Inspections
If you keep your truck in a perpetual state of good maintenance, you'll never fear a DOT inspection or safety check.
---
Safety
It is unfortunate that some trucking companies place a low priority on safety or truck maintenance.
One trucker's wife reported that his trucking company told him, "Go see what you can scrounge up" regarding the trucks they made available to drive.
There may be times when truckers simply have to be a whistle blower or put a truck out of service, refusing to drive until needed truck maintenance is done.
Truckers are the "captain of the ship" — meaning the trucks they drive — and as such must always abide by the regulations that govern their work and equipment.
Do not let a trucking company exploit you!
---
Training
2. Regarding accident and drugs:
Accident
Please learn from these articles what led up to the accident and actively seek to never repeat what led up to them.
---
Drugs
Never, ever agree to haul illegal drugs, no matter how much reward you are promised.
Not only can you be charged legally, but you may ruin your trucking career in the process.
3. Regarding economy, tolls, and tires:
Economy
These are some of the most recent articles about the economy from the trucking industry.
---
Tolls
A decrease and an increase.
---
Tires
4. Regarding bridges, roads, I-14, and routing:
Bridges
---
Roads
---
I-14
---
Routing
5. Regarding operations, lawsuit, recall, repair, and hazmat:
Operations
---
Lawsuit
Some professional truck drivers have a monthly legal services plan (link, link) to help protect them in cases such as this.
---
Recall
---
Repair
Sooner or later, all trucks need repair and maintenance.
Keep your truck well maintained and she'll reward you with good service.
Make sure that you keep up with when your truck needs maintenance, including oil changes.
---
Hazmat
6. Regarding electric vehicles, autonomous vehicles, emissions, fuel, and mudflaps:
Electric vehicles
While it may seem admirable to remove trucks' dependency on fuel, electric vehicles are dependent upon being charged at a suitable charging station.
Perhaps one day, technology will improve to the point where trucks can carry equipment to create fuel out of thin air.
---
Autonomous vehicles
I am absolutely opposed to autonomous, self-driving, or driverless trucks, but am sharing these articles to help you stay up-to-date with the topic.
---
Emissions
---
Fuel
If your truck runs on fuel, seek the best source that helps you optimize supply for the lowest, reasonable cost.
---
Mudflaps
7. Regarding capacity, rates, containers, ports, and shipping:
Capacity
---
Rates
---
Containers
---
Ports
---
Shipping
8. Regarding technology, solar power, and CSA:
Technology
---
Solar power
I had been under the impression that solar panels on the roofs of tractors and/or trailers could be a good thing.
I don't know if the kind of solar panels on vehicles are the same kind that are used on residential and industrial buildings or not.
Check out this article for some eye-opening info.
---
CSA
9. Regarding trucks, utilization, and delivery:
Trucks
---
Utilization
This is a very interesting article.
---
Delivery
10. Regarding visibility, PRO Act, and employment:
Visibility
I wondered what "visibility" was, so I did some research.
These are the best descriptions I've found:
Some restaurants that provide food delivery service — and major independent food delivery services — incorporate "visibility" of the food delivery from the store to the customer through their apps.
Here are the most recent articles about visibility in transportation:
---
PRO Act
---
Employment
11. Regarding parking, detention, and violence:
Parking
---
Detention
---
Violence
12. Regarding awards:
If you know of truckers deserving of these awards, please speak up!
I look forward to learning who wins the designations/awards.
My husband Mike and I wish you — and all professional truck drivers — safe travels and lots of money saving opportunities on the road.
---
---
Return from TDMST Weekly Round-Up: 2021.07.10 to our TDMST Weekly Round-Up Trucking Commentary or our Truck Drivers Money Saving Tips home page.
---