This is the TDMST Weekly Round-Up of news affecting professional truck drivers, written by Vicki Simons for the week ending August 25, 2018.
We welcome your comments, thoughts and feedback on the items of your choice below.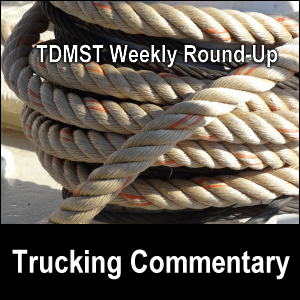 1. An August 20, 2018, article cites a couple of amazing statistics:
– "57% of newly hired drivers leave their carriers within the first 6 months"; and
– "The driver turnover problem costs the trucking industry approximately $2.8 billion a year."
This is why it behooves
– prospective truck drivers looking to hire on with their first company and
– experienced truck drivers looking to change companies
to determine if a trucking company is a suitable match.
One trucker we know once went to work for one of the "top fleets" in the country. The company had a terminal in his home area, which he figured would be great for his home time.
However, after he was hired on, he discovered that the company's business model was such that they kept him out on the road for 2 weeks at a time, but would not dispatch him for any loads on the weekends when he was away from home!
Realizing this mismatch, as well as other equipment problems he faced regularly — and that there was nothing that the company was willing to do to fix the problems — it wasn't long before he left.
It really was a shame.
An August 23, 2018, article addresses, "Supporting truck drivers by dealing with issues" and specifically "how drivers and the maintenance department work together to increase uptime."
And some trucking companies are using tools to attract and retain millennials (link).
Will it be enough?
2. The Federal Motor Carrier Safety Administration (FMCSA) is looking at potentially changing the Hours of Service (HOS) regulations.
You may read more about this in the articles linked here(a), here, here, here, and here.
Also, the "American Transportation Research Institute [ATRI] is asking trucking industry stakeholders, such as drivers and carriers, to rank the top issues of concern for the industry as part of its annual Top Industry Issues Survey", states an August 21, 2018, article.
3. A whole lot more about Electronic Logging Devices (ELDs) is available now than it was (in my opinion) before the mandate went into effect.
An undated article, stated, "This ELD data provides you with information to make important business decisions. … If your ELD service or equipment isn't keeping this data, then it's not the right one for you."
While a specific solution (which we do not necessarily endorse) was suggested in the article, the article is instructive about some factors to be aware of regarding one's choice of an ELD unit.
Although it could be expensive to replace an ELD, a forward-thinking truck driver might ask what potential savings could result from using a different one.
For example (and this is theoretical), if a trucker is used to driving a certain way in a certain area — and then tests a slightly different way of driving in that area — could that change literally save him/her money? The right ELD solution might shed some light on that.
An August 23, 2018, article shares "ELD Lessons Learned So Far, Part 1".
If you need info about what to prepare for regarding ELDs and roadside inspections, an August 23, 2018, article may be helpful.
4. "Daimler is recalling 45,667 Freightliner Cascadia trucks from the 2017-2019 model years … to address separate issues with the ignition control unit and steering assembly", says an August 20, 2018, article.
5. One trucking company for which my husband Mike used to work made the erroneous statement that every truck crash is preventable (meaning that the truck driver could have prevented it).
Let's look at some examples of why this is an erroneous statement:
– A trucker making a right turn had an impatient four-wheeler cut across the grass to the trucker's right to try to zoom ahead of the truck, but ran into the truck's trailer instead. (link);
– A collision between two four-wheelers set off "a chain of events that [caused] a head on crash with a semi truck" (link); and
– A pickup truck driver hauling a trailer who was driving too fast started to "fishtail" and lost control of his vehicle, leaving a nearby truck driver in a position of an "inevitable crash" (link).
That being said, some truckers have learned to anticipate the actions of others and do what is "reasonable" to try to avoid or lessen the damage from accidents.
And obviously, some accidents are preventable, like
– driving too fast for conditions and jackknifing in rainy conditions (link); and
– failing to apply one's parking brake before exiting the truck, trying to stop it (once it started to roll), and being run over and killed by it (link). (Our condolences go to his family.)
Seek to think ahead of the implications and ramifications of your actions.
Also, beware of areas that are at heightened risk for truck crashes, like the section of I-270 in Ohio described in an August 22, 2018, article, where 8 semi trucks have crashed since last April.
6. The city of Olathe, Kansas, has increased the fine for "illegal truck parking" from $30 to $500, according to an August 23, 2018, article.
Ouch!
7. We've learned about some new products for truckers.
– new RoadPro products, as revealed at GATS (link); and
– "a voice-controlled over-the-head headset" from Blue Parrott (link).
If you use any of these, would you please submit a product review?
8. Yikes! That road construction project took how long?
An August 22, 2018, article cited Bloomberg as saying that, "As of September 24, 2018, a section of I-95 between Pennsylvania and New Jersey will finally be completed more than six decades after then-President Dwight Eisenhower signed the Federal-Aid Highway Act of 1956."
9. Would you like to have your shot at winning $25,000?
"The Truckload Carriers Association is offering applications for its Driver of the Year Contests at the Great American Trucking Show in Dallas", says an August 23, 2018, article.
My husband Mike and I wish you — and all professional truck drivers — safe travels and lots of money saving opportunities on the road.
---
---
Return from TDMST Weekly Round-Up: 2018.08.25 to our TDMST Weekly Round-Up Trucking Commentary or our Truck Drivers Money Saving Tips home page.
---
Reference:
a. www.landlinemag.com/Story.aspx?StoryID=72814 (no longer online)