This is the TDMST Weekly Round-Up of news affecting professional truck drivers, written by Vicki Simons for the week ending August 4, 2018.
We welcome your comments, thoughts and feedback on the items of your choice below.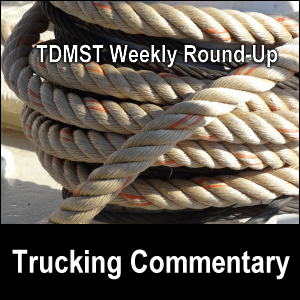 1. "The North American Council for Freight Efficiency believes solar panels mounted on tractors trailers can generate enough electricity to help power heating and air conditioning systems, liftgate operation, refrigeration and telematics systems," states a July 26, 2018, article.
If you have a solar panel system installed on your rig, I would like to hear from you about how long the charge lasts.
Particularly, I would like to know if the charge lasts throughout your 10-hour break with an air conditioning or heating system at maximum setting without affecting your tractor's cranking power.
2. Two recalls are in the news:
– Do you drive a 2018 – 2019 Freightliner Cascadia?
According to a July 23, 2018, article, a recall will go into effect on August 13, 2018, for "models with improperly tightened brake calipers".
– Do you drive a medium- or heavy-duty truck with a 2010 – 2015 Cummins engine?
According to a July 31, 2018, article, a voluntary recall will "address a 'faulty emissions control systems component that causes excess emissions of nitrogen oxides (NOx)'".
Please take care of recall issues as soon as possible.
3. I've been reading articles about adding additional "underride guards" on trailers.
On January 30, 2018, Land Line Magazine reported: "OOIDA sent a letter to [Sens. Kirsten Gillibrand, D-N.Y., and Marco Rubio, R-Fla.] opposing the Stop Underrides Act" and informed them "that such a mandate would force truckers to 'install costly [rear and side underride guards] that have no proven record of enhancing safety.'"(a)
And yet in a July 31, 2018, article, we read that from August 27-31, 2018, the Commercial Vehicle Safety Alliance (CVSA) will be "coordinating with state law enforcement agencies across the country for a rear underride guard check" with enforcement activity entitled "Rear Impact Guard Check".
I wonder when the emphasis from "rear and side underride guards" changed to just rear underride guards.
An August 1, 2018, article stated:
"(CVSA) is often asked to weigh in on policies related to safety and enforcement and to provide guidance to enforcement, industry and policy makers," the release states. "As a data-driven organization, any decisions to support or oppose an issue must be supported by data analysis and strategic planning."(b)
If it is determined that, say, a majority of collisions in which cars hit the backs of truck trailers were due to the car drivers being distracted, will that information be reported honestly? Hmm…
4. And speaking of distracted driving, an August 1, 2018, article reported that a California bill that was passed into law allows the state to "convert the state's signage definition from static signs to include digital billboards".(c)
I think that this is a horrible idea and will lead to more distracted driving accidents — like rear impact collisions.
Just saying…
5. An August 2, 2018, article listed the "Top 10 states with the most unsafe driving behaviors"
I wonder if there is any correlation between rear underride crashes and states with the most unsafe driving behavior.
Hmm…
6. According to a July 31, 2018, article, the American Transportation Research Institute (ATRI)
– "analyzed data from over 435,000 drivers over a two-year period to determine factors that can raise crash risk by 50 percent" and
– determined that "Truck drivers who are cited with violations for reckless driving or failure to yield the right of way are the most likely to be involved in a crash".
See the full report on ATRI's website for more info on "a strong indicator of future crash risk".
Just curious… I wonder if trucking companies are taking a proactive stance by training their drivers such things as:
– what constitutes "reckless driving";
– what constitutes "failure to yield the right of way"; and
– how to avoid both behaviors.
7. OK, I'm peeved.
In a July 30, 2018, article, I read:
More than four hundred current and former John Christner Trucking drivers have filed civil suit against the company, alleging because they were misclassified as independent contractors, they were often working as many as 100 hours a week and earning less than $500 per week.
Here are my questions:
– How is it possible for someone to be working for a trucking company and not realize how he/she has been "classified"?
– How in the world is it possible for more than 400 truckers to be regularly pushed to work in excess of the federal Hours of Service regulation and not stand up to the company?
Read these pages on our site here and here for more info on standing up for what's right as a trucker.
8. Please, please, please be careful when driving in wind!
A July 30, 2018, article stated that a truck driver and his passenger "were traveling south on the Chesapeake Bay Bridge-Tunnel when at mile marker 12, their truck collided with a van, sending the truck crashing into the bay below".
Both men consequently died.
Our condolences go to their families.
Although the article doesn't state the wind speed at the time of the crash, it does say that "wind advisories were in place at the time of the crash and that the maximum safe speed on the bridge was 35 m.p.h."
Drivers of high profile vehicles need to know when it is too risky to drive and sometimes wait out the wind.
9. The Commercial Vehicle Safety Alliance's annual Brake Safety Week will take place from September 16-22, 2018, according to an August 1, 2018, article.
However, don't wait until then to make sure that your truck's brakes are properly adjusted.
10. In case you thought that "vaping" was healthier than smoking cigarettes, check out the July 31, 2018, article which revealed a bombshell.
Even though "e-cigarette liquids vary in strength", "Many e-cigarettes deliver a high concentration of addictive nicotine in a liquid form, despite not having tobacco."
Furthermore, "A recent study published in the Journal of the American Heart Association found that mice exposed to e-cigarette vapors developed blood clots, which creates a higher risk for heart attack or stroke."
We know that there are vast differences between mice and men when it comes to inhalation hazards.
However, this news should make you seriously re-think vaping and e-cigarettes.
11. A whitepaper asserts that four fleets are incentivizing safe driving such that there has been (among other things) a "55% reduction in accident frequency and $2 million added to the bottom line."
I like positive reinforcement for good behavior a lot better than penalties for bad behavior.
In my opinion, the first part of any system of "incentivizing" safely driving a truck is when trucking companies clearly communicate to their drivers
– both the behaviors they want;
– and how to achieve them!
My husband Mike and I wish you — and all professional truck drivers — safe travels and lots of money saving opportunities on the road.
---
---
Return from TDMST Weekly Round-Up: 2018.08.04 to our TDMST Weekly Round-Up Trucking Commentary or our Truck Drivers Money Saving Tips home page.
---
Reference:
a. www.landlinemag.com/story.aspx?storyid=71663 (no longer online)
b. www.landlinemag.com/Story.aspx?StoryID=72739 (no longer online)
c. www.landlinemag.com/Story.aspx?StoryID=72737 (no longer online)