This is the TDMST Weekly Round-Up of news affecting professional truck drivers, written by Vicki Simons for the week ending September 15, 2018.
We welcome your comments, thoughts and feedback on the items of your choice below.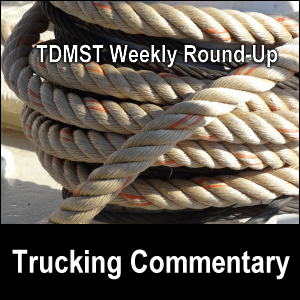 1. I am publishing this week's TDMST Weekly Round-Up early because of the anticipated landfall of Hurricane Florence perhaps on Thursday night.
According to a September 10, 2018, article, the governors of South Carolina, North Carolina and Virginia have issued emergency declarations suspending certain regulations regarding trucks in advance of Hurricane Florence.
According to one website, "Hurricane Florence is a storm threat unlike any other" because of her "power, size, forward speed and the longstanding vulnerability of the area it is forecast to hit."
axios.com/hurricane-florence-storm-threat-north-carolina-e81f5cef-8ffd-4a59-8df8-0c62bb54bf37/ (no longer online)
An article that continues to be updated states that Florence's "track will result in life-threatening and dangerous conditions for the entire eastern Carolinas and southeastern Virginia."
This applies to all truckers, especially for east coast drivers right now:
If you haven't already prepared, please make sure that you:
– assemble an emergency kit and an updated first aid kit;
– arrange to have an emergency fund in case using credit becomes unavailable;
– have enough food and drinking water to tide you over;
– get some kind of weather tracking device (such as a weather app on your Smartphone); and
– fill out medical emergency paperwork for yourself and your home support team members.
2. Don't drive through floods or fire.
– A September 10, 2018, article says that a "Tractor trailer was swept away by flood waters on Highway 55 by the Indian Creek…." in Uvalde, Texas.
– Also, a September 6, 2018, article stated, "…portions of Interstate 5 are shut down as the Delta Fire burns thousands of acres approximately 2 miles north of Lakehead, Calif."(a)
– A September 10, 2018, article states, "As of Monday morning, a 50-mile stretch of Interstate 5 in California remains closed in both directions due to a wildfire…" and "the ongoing natural disaster forced many truckers to remain stranded on the highway or, worse, to abandon their trucks and loads on the highway when the fire swept up to I-5 late last week."
Please monitor conditions in your area and take proper precautions.
3. A video embedded in a September 10, 2018, article shows a car driver merging onto a highway without looking.
Given the difference in speeds between the two vehicles — and the fact that the trucker's dash cam showed no one on the trucker's left side — a smooth move to the left lane may have prevented a collision.
4. Numerous other articles revealed driver inattention this week:
– "A dump truck fails to slow for a line of stopped traffic, causing a serious multi-vehicle crash" (link).
– Even though a "Low Ground Clearance" sign is posted near the steeply sloped railroad crossing at Curtis Street in Chester, Virginia, a trucker attempted to cross there anyway, got stuck, and consequently got struck by an oncoming train.(b)
– The driver of a Class 8 truck was texting on his phone when he plowed into the rear of an RV toter "on a busy four-lane" at a speed of between 30 and 40 miles per hour, resulting in the toter's total loss of both truck and trailer (link).
– The driver of a truck that was equipped with a raised bed "forgot to lower the dump bed" and ended up slamming into a "North Carolina bridge under construction along I-77", the serious damage of which forced the bridge to be "dismantled and removed" (link).
5. Don't forget that the "The American Transportation Research Institute has launched a survey for drivers about the impacts of detention time on productivity, safety and hours compliance." (link).
6. A September 7, 2018, article states, "The Commercial Vehicle Safety Alliance's Brake Safety Week is Sept. 16-22. At that time enforcement personnel will conduct roadside inspections, according to the organization, to identify and remove CMVs with brake violations."
7. "Propane's Benefits Go Beyond Going Green", states a September 6, 2018, article.
8. Consumers want to order goods and have them delivered promptly.
Read about how "Consumer-Friendly Last-Mile Delivery Comes to Heavy Goods".
I think that more and more of this will take place as autonomous trucks become prevalent in the marketplace.
9. And speaking of autonomous trucks, brace yourself.
A September 6, 2018, article opens by saying, "A new study from the U.C. Berkley Center for Labor Research and Education says autonomous trucking technology could eliminate nearly 300,000 driving jobs, with the greatest impact landing across segments that historically have offered drivers the best wages."
I hate to be pessimistic, but the boon of a $5K increase in owner-operator income that was described in a September 7, 2018, article may not last.
Is it time to start transitioning by looking at earning a second income from the cab of your truck?
10. Product reviews are requested from professional truck drivers who use an "Instant Pot" in their trucks to cook meals.
We want to know what food and recipes you used.
There are many different models of Instant Pot.
The following is a link from Amazon.com, with whom we have an affiliate relationship.

11. Hurray! Professional truck drivers recently received at least two official sets of "thank yous":
– one from The White House; and
– one from Volvo Trucks.
My husband Mike and I wish you — and all professional truck drivers — safe travels and lots of money saving opportunities on the road.
---
---
Return from TDMST Weekly Round-Up: 2018.09.15 to our TDMST Weekly Round-Up Trucking Commentary or our Truck Drivers Money Saving Tips home page.
---
References:
a. www.landlinemag.com/Story.aspx?StoryID=72932 (no longer online)
b. www.wric.com/news/local-news/chesterfield-county/video-train-collides-into-tractor-trailer-in-chesterfield/1423541409 (no longer online)