This is the TDMST Weekly Round-Up of news affecting professional truck drivers, written by Vicki Simons for the week ending March 16, 2019.
We welcome your comments, thoughts and feedback on the items of your choice below.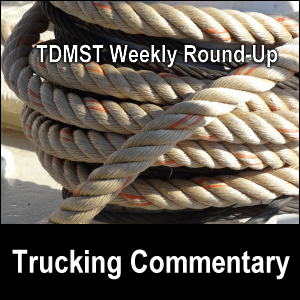 1. Regarding driving in high winds:
A number of articles this week reported winds gusting up to 80 miles per hour in the Amarillo, Texas, area:
There were numerous other articles this week about bad winter weather and the accidents that ensued, particularly a 100-vehicle pileup on I-25 in Colorado due to an icy highway.
Please check road and weather conditions before you travel.
If it is dangerous to drive, please stay parked in a safe and legal place until conditions improve.
No one can make you drive if it is not safe to do so.
2. Regarding class action lawsuit settlement:
A March 13, 2019, article reported:
Swift Transportation has entered into a class action settlement of up to $100 million with [about 19,000] current and former truck drivers to end a nearly 10-year legal fight over drivers claiming they were misclassified as independent contractors and should instead have been classified as company drivers.
Other articles about this topic are here, here, here and here.
3. Regarding driver turnover:
Three articles about driver turnover were published recently:
A March 14, 2019, article reported, "Stay Metrics, a provider of driver retention tools, announced the results of its first-year partnership with Brady Trucking included a decrease in driver turnover by 31 percent."Part of the "initial survey results" revealed pay rates expected by new drivers, a solution to which was devised.
Separately, we read the ATA's report, that "The annualized driver turnover rate at large truckload carriers sank by 9 percentage points in the fourth quarter of 2018", while "Smaller truckload fleets… saw driver turnover rates climb".You may read more about this driver turnover issue here, here, here and here.
Separately, we read from a March 12, 2019, article, that a "panel on driver retention and turnover" stated that "Compensation is key to reducing turnover".
4. Regarding mirrorless trucks:
"Representatives from J.B. Hunt, Schneider National and Maverick Transportation spoke on March 10 during the Truckload Carriers Association's annual conference in Las Vegas about their experiences using a mirrorless camera vision system", according to a March 12, 2019, article.
The article further states:
"The expanded view of the MirrorEye system all but eliminates blind spots on the right-hand side";
"MirrorEye has a wider field of view than conventional mirrors";
"the cameras outside the vehicle are heated and self-cleaning to prevent obstructions from rain, ice and other elements";
infrared technology improves nighttime vision; and
the cameras "are more aerodynamic than conventional mirrors".
If you drive a truck with a mirrorless camera system, please review it.
Speaking of mirrors, Mack is recalling "nearly 4,000 trucks" over a mirror issue.
5. Regarding trucker fines and citations:
It seems like truckers are in the cross-hairs when it comes to fines and citations:
According to a March 13, 2019, article, "Truck drivers in the Chicago area say that they are being unfairly issued thousands of dollars [as much as $14,000] worth of overweight fines — all because of poorly placed signs.
Meanwhile, "More than 2,000 truck drivers have been cited since the beginning of the year in Pennsylvania for violating commercial vehicle restrictions for winter weather, according to Pennsylvania State Police", according to a March 8, 2019, article.
And, according to a March 8, 2019, article, "The Washington State Patrol's (WSP) Commercial Vehicle Division says that they issued well over two hundred citations during a recent targeted patrol on a ten mile stretch" of I-5.
Be on your guard for situations like these.
We encourage all truckers to use their legal services plan to fight unfair tickets.
6. Regarding ELD exemption:
Rep. Collin Peterson "reintroduced [two pieces of] legislation that would exempt some truckers from Electronic Logging Device (ELD) regulations", according to a March 13, 2019, article:
to exempt carriers who operate 10 trucks or fewer, "the Small Carrier Electronic Logging Device Exemption Act"; and
to exempt drivers who are hauling agricultural products, the "Agricultural Business Electronic Logging Device Exemption Act".
Another article reveals that a third bill regarding ELD exemptions was introduced.(a)
OOIDA supports at least two of these bills.(b)
You may also read more about one of the ELD mandate exemption bills and this other article.
Meanwhile, according to a March 12, 2019, article, FMCSA's Chief, Ray Martinez, told "TCA members how the ongoing rollout of the ELD mandate is helping the agency formulate a proposal to change the HOS rule".
7. Regarding underride guards on trucks:
U.S. Senators Kirsten Gillibrand and Marco Rubio have "reintroduced legislation [S.665] that would force drivers to have both side and front underride guards on their trucks", stated a March 11, 2019, article.
This topic is also covered here.
OOIDA says that this legislation is "costly" and "impractical".(c)
Separately, a Pennsylvania state legislator wants underride guards on "some commercial trucks and trailers throughout the state".(d)
8. Regarding banning vehicle booting in Georgia:
"Many truck drivers have reported that they've had to pay $500 or more to have a boot removed from their vehicles in the state of Georgia in the past few years", stated a March 9, 2019, article.
But HB 469 would ban some of that.
9. Regarding excellent fuel economy:
In a March 1, 2019, article, we read that "Henry Albert describes how he's within a whisker of hitting the magic 10.0 mpg."(e)
You may read about his "tractor of choice" and other aerodynamic enhancements he has made.
10. Regarding truck accidents:
There was a low clearance accident at a well-marked 9-foot "very low bridge" in England.
A March 12, 2019, article reported, "A tractor-trailer loaded with 16 missiles for the U.S. military crashed at a rest stop on Interstate 90 in Idaho Friday, March 8. night."
Most likely following a tire blowout, "Three people have died after two semi-trucks collided in a head-on crash on Wednesday along SR-100 in Florida."Our condolences go to their families.
11. Regarding autonomous trucks:
According to a March 8, 2019, article:
Although stakeholders cannot agree on many aspects of the future of automated trucks, there was a consensus on at least two points: Fully self-driving trucks that completely eliminate drivers are unlikely in the foreseeable future, but long-haul truckers will take the biggest hit in the workforce.(f)
You can read more in the report published by the Government Accountability Office titled "Automated Trucking: Federal Agencies Should Take Additional Steps to Prepare for Potential Workforce Effects".
Meanwhile, "The U.S. DOT is forming an internal council intended to address emerging transportation advancements like self-driving vehicles, among other technologies", according to a March 14, 2019, article.
12. Regarding onboard scales:
Do you use any onboard scale device on your truck like the one described here?
If so, would you please write a truck part review?
13. Regarding rolling and other trucker protests:
"Slow roll" protests have been entered into in various places around the USA over the last few weeks.
Although details are lacking in the article, those that took place in Georgia, Ohio and the Carolinas were mentioned here.
Meanwhile, a poll asked: Are you planning to shut down on April 12?
14. Regarding truckers who have received or deserve awards and/or recognition:
A whole lot of recognition and rewards have been made in the trucking industry lately (or should be made) — and we congratulate them all:
The 2018 top drivers, announced at the Truckload Carriers Association's annual convention in Las Vegas:

"Danny Jewell, an owner-operator for Warren Transport"; and
"Ester Nemeth, a company driver for Bison Transport".

Steve Williams, who has been named Maryland's driver of the year.
3 drivers were honored with the 2018 Super Van Operator Awards.
"Werner Enterprises driver Timothy Dean is the Commercial Vehicle Safety Alliance's 2019 International Driver Excellence Award winner".
Although not an award, a March 14, 2019, article stated, "An American Transportation Research Institute analysis that examined a dozen behaviors found that women are safer truck drivers than men."Way to go, ladies!
My husband Mike and I wish you — and all professional truck drivers — safe travels and lots of money saving opportunities on the road.
---
---
Return from TDMST Weekly Round-Up: 2019.03.16 to our TDMST Weekly Round-Up Trucking Commentary or our Truck Drivers Money Saving Tips home page.
---
Reference:
a. www.landlinemag.com/Story.aspx?StoryID=73896 (no longer online)
b. www.landlinemag.com/Story.aspx?StoryID=73907 (no longer online)
c. www.landlinemag.com/Story.aspx?StoryID=73863 (no longer online)
d. www.landlinemag.com/Story.aspx?StoryID=73906 (no longer online)
e. www.landlinemag.com/Story.aspx?StoryID=73877 (no longer online)