This is the TDMST Weekly Round-Up of news affecting professional truck drivers, written by Vicki Simons for the week ending December 8, 2018.
We welcome your comments, thoughts and feedback on the items of your choice below.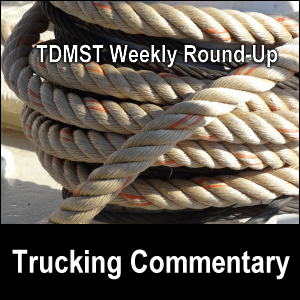 1. Regarding trucker pay:
A December 6, 2018, article quoted a federal judge as saying that truckers "should be paid for sleeper berth time".
A December 4, 2018, article covers
– a California ruling and labor law about trucking,
– how Illinois is adopting a "nearly identical" labor law, and
– how the states of Massachusetts and Montana have statutes similar to the one in California.
However, you need to be aware that in California, "fleets and single-truck owners have found at least one way to circumvent [an April 2018] ruling and attempt to continue business as usual".
2. Regarding fraud and greed:
According to a December 6, 2018, article, a trucking company owner, a truck driver and a "suspected broker" were arrested following a three-year "multi-million dollar recycling fraud scheme", in which the state of California was defrauded by over $16 million.
The article:
– indicates that the smuggling operation involved truckers purposely avoiding weigh stations and
– states that the collection yard contained recyclable materials with an estimated redemption value of over $41 million.
Fraud usually comes to light sooner or later.
Greed can could cost you your CDL, your trucking career, and even your freedom.
3. Regarding bad weather and travel conditions:
After snow and ice from Winter Storm Diego led to multiple accidents on California's "Grapevine" on I-5, CHP issued a closure known as "Operation Snowflake".
"Rain, sleet, freezing rain, and snow [are] in the forecast" and you may follow updates about this storm on Weather.com.
Separately, "slick roadways and limited visibility due to snow were reported at the time" of a "chain reaction crash" involving 7 semi trucks in Wyoming, according to a December 5, 2018, article.
Please pay attention when a weather forecast says that a "storm may make driving impossible."
When weather conditions become unsafe, choose to stay parked in a safe and legal place until conditions improve.
No load is worth your life.
4. Regarding recalls:
"Numerous recently discovered and potentially dangerous defects have forced transportation officials to issue several recalls affecting thousands of trucks", states a December 5, 2018, article.
5. Regarding ELDs:
After almost an entire year of the ELD mandate being in force, I find it somewhat comical that the FMCSA has just now "released visor cards to help officers and drivers that can't figure out ELDs".
Meanwhile, a December 6, 2018, article covered the "fringe benefit" of tracking provided by ELDs.
Addressing "freight visibility", let's just hope that this technology is hack-proof and will not lead to an increase in cargo theft!
The FMCSA denied or rejected "10 applications for exemption from the electronic logging device mandate, including one filed by the Owner-Operator Independent Drivers Association."(a)
6. Hurray!
According to an article published that day, "On Tuesday, December 4, officials in DeKalb County, Georgia, moved to severely cut down on the power of semi truck booting companies after complaints of predatory behavior and excessive fees" and 3 other counties in Georgia "have responded to complaints of predatory behavior and excessive fees by banning the booting of vehicles altogether".
Putting a "boot" device on a tire/wheel immobilizes the vehicle.
7. Regarding preventable truck accidents:
An oversized truck struck a bridge in Ohio.
This could have been avoided had the trucker:
– measured the height of his load and
– not attempted to take it under a bridge that was shorter than his load.
Meanwhile, a trucker died "when his truck struck another tractor-trailer stopped on the shoulder of I-35 near Wynnewood, Oklahoma."
This could have been avoided if the trucker had
– been paying attention to staying in his lane of travel,
– not veered over onto the shoulder, and
– been paying attention to his following distance.
Our condolences go to his family.
8. Regarding tolls:
In a good but surprising move, Indiana's governor stated that drivers will be "spared from new tolls because the state made enough on truck-only tolls".
Meanwhile, "OOIDA recently filed new exhibits in the toll lawsuit that include recent comments by [Pennsylvania's] Gov. Tom Wolf" and argued "that excessive tolls in Pennsylvania are unconstitutional."(b)
9. Regarding road rage:
According to a November 30, 2018, article, "A Montana man is facing serious charges for allegedly pointing a gun at a truck driver who didn't help him merge onto the interstate."
The trucker stated that he was "unable to change lanes".
In my opinion, if one sees traffic coming onto a highway and is able to change lanes, it is a matter of personal courtesy and not a necessity to do so.
Separately, a December 4, 2018, article said that a road rage incident in Nashville, Tennessee, led to a trucker being shot and killed.
Our condolences go to his family.
Keep your wits about you as you drive.
Don't encourage an escalation of anger on the road that can lead to loss of wellness or life!
10. Regarding routing:
A truck driver hauling an oversize load was following a pilot car that went "off route" and ended up illegally passing over an overpass, according to a November 30, 2018, article.
The trucker was cited.
A spokesman for the Arkansas DOT stated, "the transport driver is responsible for following the permit. He should have taken the exit regardless of what the lead escort was doing."
11. Regarding fuel taxes:
One article addressed reducing fuel taxes with IFTA software.
And fuel tax increases will be discussed in certain state legislatures when they convene.(c)
12. Regarding truck parking:
Truckers are encouraged to participate in a "federal truck parking survey".(d)
The Pennsylvania DOT is also seeking input from truckers and others about truck parking in the state.
13. Regarding a sweepstakes:
I look forward to reading who wins Oakley Transport Inc.'s "Safety's Super Sweepstakes".
The award for "outstanding safety and performance" is a brand new pickup truck!
My husband Mike and I wish you — and all professional truck drivers — safe travels and lots of money saving opportunities on the road.
---
---
Return from TDMST Weekly Round-Up: 2018.12.08 to our TDMST Weekly Round-Up Trucking Commentary or our Truck Drivers Money Saving Tips home page.
---
Reference:
a. www.landlinemag.com/Story.aspx?StoryID=73416 (no longer online)
b. www.landlinemag.com/Story.aspx?StoryID=73390 (no longer online)
c. www.landlinemag.com/Story.aspx?StoryID=73407 (no longer online)
d. www.landlinemag.com/Story.aspx?StoryID=73378 (no longer online)