This is the TDMST Weekly Round-Up of news affecting professional truck drivers, written by Vicki Simons for the week ending November 24, 2018.
We welcome your comments, thoughts and feedback on the items of your choice below.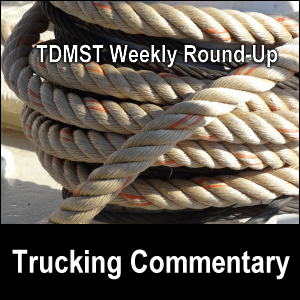 1. Did you know that "several tire manufacturers have been working on developing tires without air"?
According to a November 20, 2018, article:
– these devices are called "non-pneumatic tires (NPTs)" because they "eliminate the need for tires to be inflated with air to support vehicle weight";
– according to one spokesman, "the complete assembly [meets] application requirements, meaning the tire, web and the wheel are designed as one assembly";
– because "NPTs don't fluctuate in pressure, they could extend tread life simply by eliminating over and under-inflation"; and
– "extensive product and process development [will be required] to make a non-pneumatic tire/wheel a cost effective option for the [trucking] industry."
I've been fascinated with the idea of a "non-pneumatic tire" ever since I saw an advertisement for TyrFil Flatproof Polyurethane Tires, which are used only in certain applications.
The emergence of non-pneumatic tires (NPTs) in the marketplace will surely provide a great number of shifts, including:
– how tire inspections will be done by truckers;
– the need to monitor tread depth and traction in a different way;
– the number of tire repairs and replacements that will need to be done; and
– potentially the number of tires that need to be produced.
I wonder how many pieces — and what size — of road debris an NPT can take on before needing to be addressed.
Hmm…
2. A November 20, 2018, article says that some motor carriers are training drivers in customized ways that "identifies the specific needs of drivers and delivers… digital training content within an automated, closed-loop process."
Not only is this good for safety, but creates "incentives for drivers to improve their skills."
I am encouraged by these statements:
– "When coaching drivers, the best approach is to get the driver to agree on what behavior needs to change";
– Training involves "The use of video-based safety and telematics systems" (which I speculate will be consistent across all drivers);
– "Systems that monitor and assesses driver risk can be integrated with [online learning management system] LMS platforms to automatically assign training to drivers in a closed-loop process"; and
– One "system … [contains] more than 100 individual learning modules … that cover a variety of safety, compliance and orientation topics" (so that there is truly a customized approach to learning).
I wonder if any of these systems involve "gamification", which Wikipedia describes as "the application of game-design elements and game principles in non-game contexts."
What training incentive means the most to you, trucker?
3. Be careful where you park and how you might be a target.
– One November 22, 2018, article stated that "Chicago police are warning truckers to be aware of recent thefts taking place at Thorton's Fuel Station … while the drivers were sleeping".
– How would you protect yourself in such a situation?
– Would any of the home security measures that we've described help prevent thefts like this?
– As some Walmart locations have become very trucker un-friendly, look for signs like the one shown in this article and never park there.
– Also, be aware of what kinds of goods that thieves are targeting, like meat products.
4. I wish I knew on which highway a trucker lost his "too-tall [container] load".
Obviously, it was not a truck route.
Please, truckers:
– never take your rigs on non-truck routes;
– check your motor carrier atlas — or trucker's atlas — for approved routes before you ever leave a location;
– never use a GPS unit for truck navigation that is not specifically for Commercial Motor Vehicles;
– if your CMV-specific GPS unit led you to a low clearance, report it; and
– even if you believe a route is truck-friendly, do not proceed under a low clearance.
Oh, and if you drive a box truck, don't assume that you are immune from low clearance accidents.
5. A trucker's "two second reaction" that helped him avoid a collision — but led to vehicle damage — might have led to the trucker losing his job, according to a November 19, 2018, article.
But according to the manufacturer of the driver-facing dash cam that was installed in the tractor, "his supervisor was able to use the … video to determine that [the trucker] did the right thing."
Do you have a dash cam installed in your truck — and if so, does it face forward only or both forward and on you while you drive?
6. OK, so there has been a backlash against truck-only tolls in the state of Connecticut.
So what has the DOT there decided to do?(a)
Release "a report that proposes all-electronic tolls on all vehicle types"!
7. This is the first time that I recall having ever read that leaders from both the FMCSA and OOIDA are "[working] together to address trucking's top issues" and I truly hope there will be agreement based on real-world experiences by truckers.(b)
8. A November 20, 2018, article states that "Texas Department of Transportation reps have moved on efforts to assess a way forward on potentially taking steps to improve parking infrastructure for truckers hauling to, through and from the state."
If you are affected, please participate in the online survey.
9. On the autonomous or driverless vehicle front, two articles addressed how Volvo Trucks is testing six of these vehicles in a mining operation in Norway (here and here).
10. "The first trucking shipment using blockchain and a smart contract has been made", stated a November 21, 2018, article.
One trucking company CEO stated that the service "solves the issue of false documentation by making our transactions with shippers completely transparent, and so we can get paid for the service we provided".
Blockchain technology is going to be the wave of the future in trucking.
11. Even if the videos make me a bit nervous — as in, how did he/she do that? — I always appreciate seeing how a trucker pulls off a particularly difficult maneuver (like the one shown here).
12. Have you done something worthy of a "Highway Hero" award that matches the criteria listed in this November 20, 2018, article?
If so and if you are nominated for the award, you could be among the 3 finalists to receive an expense-paid trip to the "2019 Mid-America Trucking Show in Louisville, Kentucky".
We are grateful for the selfless acts of heroism that all professional truck drivers do that may never be recognized.
My husband Mike and I wish you — and all professional truck drivers — safe travels and lots of money saving opportunities on the road.
---
---
Return from TDMST Weekly Round-Up: 2018.11.24 to our TDMST Weekly Round-Up Trucking Commentary or our Truck Drivers Money Saving Tips home page.
---
Reference:
a. www.landlinemag.com/Story.aspx?StoryID=73324 (no longer online)
b. www.landlinemag.com/Story.aspx?StoryID=73317 (no longer online)