This is the TDMST Weekly Round-Up of news affecting professional truck drivers, written by Vicki Simons for the week ending December 29, 2018.
We welcome your comments, thoughts and feedback on the items of your choice below.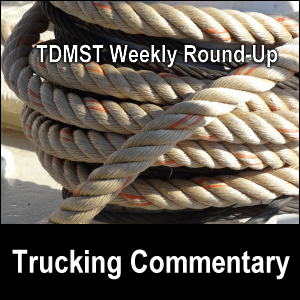 1. Regarding wrapping up 2018 and starting 2019:
A number of "top" trucking stories of the year have been published, including those from
A list of the "10 most watched" trucking videos was published (including one about the proposed Interstate 14 across the South).
These articles listed what to look for in trucking in 2019.
This is the last issue of TDMST Weekly Round-Up for 2018.I hope you've enjoyed reading these trucking commentary columns.
From where I stand, here are the top trucking topics of 2018:

ELD mandate compliance;
Hours of Service regulations;
Autonomous trucks development and deployment;
An Arkansas federal judge ruling on truckers' pay;
Trucking being affected by severe weather;
A record number of truckers dying on the job;
Truck tolls; and
The FMCSA pre-empting California's Meal and Rest Breaks.
2. Regarding autonomous vehicles and auctions:
Recently, my husband Mike and I had the opportunity to test drive a car with some "driver assist" or autonomous technologies.
Mike didn't try each and every new technology, but our understanding is that each one has to be activated — and can be overridden — by the driver.
For the sake of this column, the two big takeaways from our test drive time (and shortly thereafter) were these:
The driver assist technologies had their limitations but were not scary to use; and
The group that owns the dealership had ceased to buy cars through auctions because there were too many problems associated with them. (Recall the immense amount of flooding that has occurred as a result of hurricanes and other storms — and in our home state, especially from Hurricane Florence.)
Be that as it may, two year-end articles stated, "Equipment auctions shouldn't be intimidating" and "Trucking fleets turn to auctions in search of equipment"
Let the buyer beware.
Separately, one article indicated that autonomous trucking would likely take place in "four stages" and "With full autonomy, operating costs would decline by about 40 percent" (meaning without drivers).
3. Regarding severe weather affecting trucking:
Be prepared to shut down in the event of extreme weather.
Our suggestions involve food and meal prep items, drinking water, emergency kit, emergency fund, packing list items, and a first aid kit.
4. Regarding trucker productivity:
As I mentioned last week, it is ridiculous for the FMCSA to have pre-empted California's meal and rest break rules on the basis of so-called "loss in productivity" given the fact that they have their own built-in loss of productivity in the current Hours of Service regulations.
None of the articles addressing the pre-emption (here, here and here) addresses the real problems of this issue, which include that:
truckers weren't required to stop,
trucking companies were required to pay, and
trucker wages will continue to be hit.
The article by OOIDA comes close.(a)
And I'm glad that OOIDA says that this decision is going to prompt a lawsuit.
Good!
5. Regarding impending collisions:
If you are a company driver, I encourage you to ask your trucking company which action they would rather you take if a large animal like a cow, bull, deer, elk or moose is in the path of your truck and you are traveling at an otherwise safe speed:
hit the animal or
try to avoid it.
According to a December 26, 2018, article, a "semi truck driver… swerved to avoid a deer in the roadway", crashed, and one of the fuel tanks ruptured.
Truckers with a "big front grill" installed on their trucks may still need to be concerned about certain animal collisions because an antler poking through a radiator still spells trouble.
Additionally, I encourage truckers to have a forward-facing truck cam recording all events taking place in front of their trucks.
Another article addressed how dash cams [are] used in the trucking industry.
6. Regarding truck tolls:
The State of Rhode Island has experienced such a financial haul ($3.7 million in just the first 6 months) from "two truck tolling gantries" that they plan to add "10 more toll locations".
Toll rates will increase in the San Francisco Bay Area on January 1, 2019.(b)
7. Regarding truck-train collisions:
More and more news articles (and sometimes videos) are being broadcast about trucks becoming "high-centered" on railroad tracks and then being hit by an oncoming train.
The most recent one about which I've read happened on December 18.
Watch for "Low Ground Clearance Railroad Crossing" signs — or similar types of signs — warning of the potential for trucks not being able to clear the railroad tracks.
Never attempt to cross the tracks where one of these signs is posted unless you have specific authorized routing to do so — and make sure you get the name of the person who authorized it.
8. Regarding new laws in effect January 1, 2019:
Illinois state law has prohibited the City of Chicago from "ticket quotas".(c)
The State of California is deterring the "'rampant exploitation' of [about 25,000] truck drivers who haul cargo from the state's ports".(d)
9. In the head scratching department:
Nine states in the northeastern USA and the District of Columbia (D.C.) signed a "carbon emissions reduction agreement", saying that "emissions from transportation account for the largest portion of the region's carbon pollution".(e)
What is so ironic about this is that:
humans exhale carbon dioxide; and
the group that wants to reduce carbon emissions has yet to determine any "solutions" to this issue.
Any vehicle that uses a hydrocarbon fuel (including gasoline and diesel) is going to produce carbon dioxide and water.
earthguide.ucsd.edu/eoc/special_topics/teach/sp_climate_change/p_burning_gasoline/ (no longer online)
In my opinion, among the ways around this are for vehicles to be powered without hydrocarbon fuel (possibly fuel cells or by electricity) — or for vehicles to also have a means of using carbon dioxide as fuel.
10. Regarding ELDs with no fees:
In my December 2, 2017, issue of TDMST Weekly Round-Up, I wrote, "I wouldn't trust any company that doesn't charge a monthly fee for service, because there will be no motivation to keep the service compliant. Just saying…"
So it is no surprise that a "no-subscription fee ELD [is] going out of service" on January 31, 2019.
11. Regarding starting the new year:
Look ahead to determine:
12. I am planning to release an updated look and feel for Truck-Drivers-Money-Saving-Tips.com very soon.
My husband Mike and I wish you — and all professional truck drivers — safe travels and lots of money saving opportunities on the road.
And we wish you a prosperous New Year!
---
---
Return from TDMST Weekly Round-Up: 2018.12.29 to our TDMST Weekly Round-Up Trucking Commentary or our Truck Drivers Money Saving Tips home page.
---
Reference:
a. www.landlinemag.com/Story.aspx?StoryID=73518 (no longer online)
b. www.landlinemag.com/Story.aspx?StoryID=73498 (no longer online)
c. www.landlinemag.com/Story.aspx?StoryID=73508 (no longer online)
d. www.landlinemag.com/Story.aspx?StoryID=73516 (no longer online)
e. www.landlinemag.com/Story.aspx?StoryID=73497 (no longer online)