This is the TDMST Weekly Round-Up of news affecting professional truck drivers, written by Vicki Simons for the week ending February 16, 2019.
We welcome your comments, thoughts and feedback on the items of your choice below.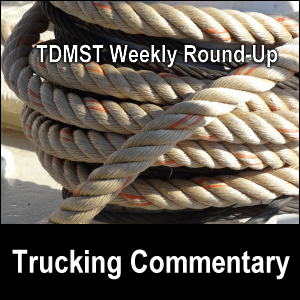 1. Regarding the worst trucking bottlenecks:
Many articles this week covered the report from the American Transportation Research Institute's 2019 report of the most congested interchanges in the USA.
These articles appear here, here(a), here, here, here and here.
The top 3 were:
Fort Lee: I-95 at SR 4 (the George Washington Bridge);
Atlanta: I-285 at I-85 (North); and
Atlanta: I-75 at I-285 (North).
2. Regarding challenges to the FMCSA's decision about California laws:
I was thrilled to read that "California Attorney General Xavier Becerra and the California Labor Commissioner's Office also filed suit against FMCSA last week, stating federal law does not pre-empt California labor laws."
In a February 8, 2019, article, we read the quote by California Attorney General Xavier Becerra: "It is well within a state's rights to establish standards for the welfare of our workers. Truck drivers, like every other person protected under California's labor laws across hundreds of different industries, deserve adequate meal and rest breaks."(b)
In that same article, we read that California Labor Secretary Julie A. Su stated, "California takes seriously the health and welfare of truck drivers, who have a right to basic worker protections that include meal and rest breaks. Under the George W. Bush administration, the FMCSA had determined that these very same worker rights were not pre-empted by federal law. In this reversal, the federal government would have drivers work up to 12 hours a day without breaks. We refuse to sit back and allow workers to be treated that way in California."
Of course, the Teamsters have challenged the FMCSA's decision to pre-empt California break laws.(c)
More on the Teamsters and the state of California suing the FMCSA is here.
Separately, a February 12, 2019, article states, "The California attorney general filed a motion in federal court to dismiss a trucking association's claims that a previous California Supreme Court decision is pre-empted by the Federal Aviation Administration Authorization Act and violates the Commerce Clause."(d)
3. Regarding ELDs:
Although I understand the need for exemptions to the ELD mandate for small carriers, agriculture and livestock haulers, and those who haul needed products during bad weather (home heating oil and the like), I was very surprised to read that the FMCSA has issued an exemption for "fireworks haulers during the Independence Day holiday period". (An additional article is here.)
The CEO of a data firm has not reached the same conclusion as the authors of a study regarding ELDs, saying that he's seen a dramatic drop in speeding violations "since the mandate took effect".
An "in-house ELD and Safety Expert" spoke to the compliance reviews regarding "six (6) inspection categories" in a February 12, 2019, article.
A mandate on ELDs in Canada is coming.
keeptruckin.com/blog/things-to-know-canadian-eld-mandate/ (no longer online)
4. Regarding statistics:
"Preliminary numbers from the National Safety Council indicate the number of highway fatalities in the U.S. dropped by 1 percent in 2018", reads a February 14, 2019, article.
However, "NSC's numbers do not include specific crash data, such as how many of the highway deaths were as a result of a truck-involved crash."
5. Regarding autonomous trucking:
A February 13, 2019, article stated, "TuSimple's autonomous system is a retrofit system designed to add autonomous capabilities to already existing trucks."
I further read that TuSimple has received $95 million in funding and plans to "grow its fleet of test units, which operate as Level 4 autonomous vehicles and are being used in test runs in partnerships with certain fleets and shippers in Arizona."
A related article states, "Since 2013, venture capital investment in trucking and logistics-related technologies has soared from just over $100 million to what looks to surpass $2 billion this year."
6. Regarding recalls:
"Nearly 15,000 trucks are being recalled by Daimler, Paccar and Autocar for various issues including seat belts, drive trains and clutches", states a February 11, 2019, article.
7. Regarding bad weather, travel bans and tickets:
8. Regarding ignoring clearly posted warning signs:
It never ends well for truckers who ignore signs like bridge weight limits, restricted routes, and low clearances.
This week, a trucker took a "no-truck route" in North Carolina and ended up overturning his truck and falling down an embankment in a creek.
9. Regarding freight theft:
Of all the stolen trailers and loads to offer a reward for the recovery of, why did the FBI choose to offer one for a trailer hauling $65,000 worth of "energy drinks"? Hmm…
A February 15, 2019, article stated, "Cargo thefts across the United States were down 19 percent in 2018 compared to 2017, along with a 2 percent decrease in theft values, according to a report from cargo theft recording firm SensiGuard."
Meanwhile, "Criminals pilfer small quantities from a truck's cargo to gather information for future thefts as well as to reduce the risk of selling the pilfered goods", according to a February 15, 2019, article.
10. Regarding downs and ups:
Surprising many, New England Motor Freight (NEMF) announced on February 11 "that they were abruptly filing for Chapter 11 bankruptcy and shutting down operations".According to the article, "NEMF ranked as the 17th-largest LTL carrier in the U.S. with revenue over $400 million".Reasons for the decision to shut down include the soaring costs of labor, benefits and equipment, as well as the driver shortage, "ever increasing regulations and tolls, technology investments and the overall risk environment of our business."More about NEMF's filing for bankruptcy is here and here.
Meanwhile, Worldwide Kenworth of South Carolina has "relocated its North Charleston operation to a larger, newly constructed full-service and leasing facility to meet the growing demand for Kenworth trucks and services", according to a February 12, 2019, article.
"New research from AAA finds that dramatic temperatures outside coupled with the use of an HVAC system to heat up or cool down the interior result in reduced driving range for electric vehicles", states a February 7, 2019, article.
Analysts at FTR have predicted that "spot market rates [are] expected to dip in 2019" and that five trucking trends will be shaping the industry this year.
"Saia LTL Freight has relocated its Mount Joy, Pennsylvania terminal to a larger, 40-acre location in Carlisle", states a February 8, 2019, article.
An oversized load broke the trailer on which it was being hauled.
In another move by Kenworth, their location in South Florida's Riviera Beach "has a new, $2.7 million facility now housing its parts and service dealership."
11. Regarding the longest wait times:
A February 10, 2019, article listed the "10 cities where truckers [had] the longest wait times" in 2018.
Topping the list was Fresno, California, with an average wait time of 331 minutes.
12. Regarding passenger vehicle-caused truck accidents:
A number of truck accidents that were caused by the drivers of passenger vehicles were reported recently, including these:
A pick up truck driver had low visibility because she "neglected to defrost her windshield" and consequently ran a stop sign and crashed into a semi.
The driver of a pick up truck is facing DUI charges following a crash with a semi in which "the Dodge Dakota [became] wedged under the trailer resulting in it being dragged for several hundred feet."
13. Regarding trucker resources:
OOIDA reminds truckers of their "list of priority issues for states" on its website.(e)
A new release of the "Road Hunter" application now includes "options for turn-by-turn, truck-height, -hazmat-type, and -weight-specific directions", according to Mikhail Dzarasov.The release is "100 percent free" and has been downloaded by "150,000-plus drivers" since the app launched.If you use this app, please write and submit a service review.
"Kenworth and the Owner-Operator Independent Drivers Association (OOIDA) have again teamed up for the 17th consecutive year to provide a $1,000 savings to OOIDA members on qualifying purchases of new Kenworth sleeper trucks during 2019", according to a February 11, 2019, article.
14. Regarding work trucks:
An article published on February 8, 2019, listed "10 Tips for Maintaining Work Trucks".
15. Regarding trucker heroes:
My husband Mike and I wish you — and all professional truck drivers — safe travels and lots of money saving opportunities on the road.
---
---
Return from TDMST Weekly Round-Up: 2019.02.16 to our TDMST Weekly Round-Up Trucking Commentary or our Truck Drivers Money Saving Tips home page.
---
Reference:
a. www.landlinemag.com/Story.aspx?StoryID=73752 (no longer online)
b. www.landlinemag.com/Story.aspx?StoryID=73728 (no longer online)
c. www.landlinemag.com/Story.aspx?StoryID=73721 (no longer online)
d. www.landlinemag.com/Story.aspx?StoryID=73744 (no longer online)
e. www.landlinemag.com/Story.aspx?StoryID=73722 (no longer online)