The kinds of salads being almost infinite, we offer to you salad recipes for many different palates and settings.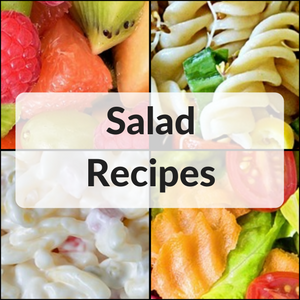 First, among the many types of salads are these:
greens-based (with a bed of various types of lettuce, spinach or other leafy greens);
non-greens vegetable-based (potato salad, salads featuring peas or beans, and other types of vegetables, etc.);
fruit salads (made of any of a variety of fresh, frozen, canned, or dehydrated/freeze-dried fruits);
gelatin salads or congealed salads (with or without other ingredients);
meat salads (including but not limited to poultry, pork and seafood); and
pasta salads.
We will highlight some of our favorites and also cover toppings and salad dressings.
Lettuce-Based Salads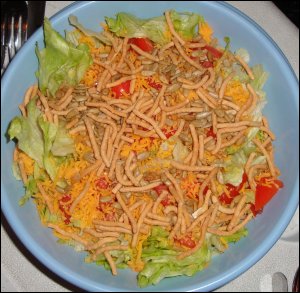 This salad has a base of iceberg lettuce with tomatoes, shredded cheddar cheese and chow mein noodles for crunch.
There are also some sunflower kernels sprinkled on it to provide protein.
In a large bowl, it is big enough for two people.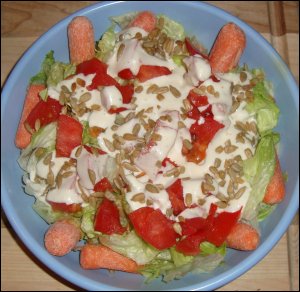 This salad boasts iceberg lettuce, tomatoes, baby carrots and ranch salad dressing with sunflower kernels sprinkled on top.
This salad is also enough for two.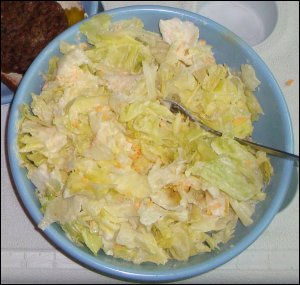 Although kind of hard to see, this iceberg lettuce salad has grated parmesan cheese sprinkled on top.
We had this when we had a head of lettuce but no other salad ingredients.
It is also large enough for two people.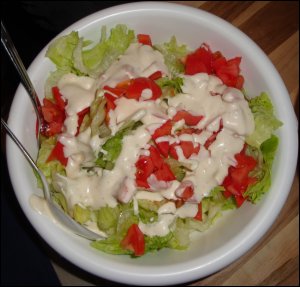 This salad is a portion for one, with iceberg lettuce, tomato and salad dressing.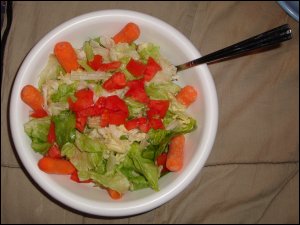 This salad for one contains lettuce, tomatoes and baby carrots.
It has no salad dressing other than a little salt.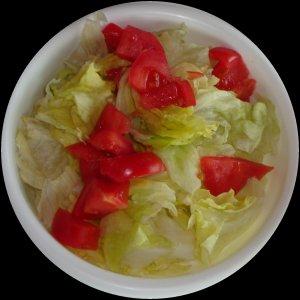 Here's a lettuce and tomato salad with no dressing.
Of course, there are different kinds of salad greens besides lettuce.
You may wish to see one resource that shows some of them.
Because of the nutrition content, Vicki has taken to eating raw baby spinach leaves on her lettuce-based salads.
Spinach is listed as a green leafy vegetable along with lettuce.
Salads With Meat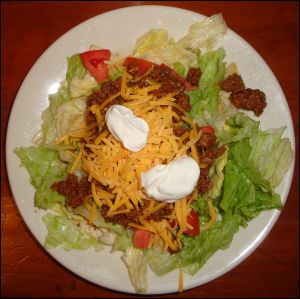 We made this taco salad on vacation.
It features lettuce, tomato, cooked ground beef flavored with taco seasoning, shredded cheddar cheese and sour cream.
The key to salad recipes using meat flavored with taco seasoning is the mix, which you can easily make yourself.
We have differing tastes when it comes to making tuna salad:
– Vicki's mom always made it with tuna, celery and mayonnaise (served with buttered toast). When Vicki fixes her tuna salad this way, all the stalks of a single celery plant make the dish go farther.
– Mike grew up having his tuna mixed with sweet pickle relish, diced hard boiled egg and mayonnaise. The relish gives it some sweetness and the egg provides more protein. Without as much to "fill out" the dish as the tuna salad recipe with celery that Vicki uses, some other side like bread or toast must be added.
One's choice of mayonnaise may also make a huge difference in taste in salad recipes.
We have already written about Mean Pea Salad with tuna, green peas, cucumber, dill pickles, cooked pasta, mayonnaise and prepared mustard. Yum!
When we go out to eat at a buffet-type restaurant that features a salad bar, we both like to look for imitation crab salad.
Unfortunately, most truck stop restaurants don't serve crab salad.
But it isn't hard to make your own.
Recipes for this dish vary widely, some with pasta or other ingredients.
There is a certain "tang" to the dish we prefer which we wish we could duplicate.
We wonder if it is lemon juice or a spice or both that makes that tang.
(Update: a reader supplied the secret.)
This is one of the simplest crab salad recipes available.
Three Bean Salad
Depending on where you look, there are different ingredients in three bean salad (a dish that Mike likes but Vicki does not).
Researching information for this page, Vicki found one recipe that actually had five different kinds of beans in it!(1)
For your convenience, we have provided the nutritional content of these five ingredients below.
(We were unable to find "wax" beans in the nutrition database, but there were yellow snap beans, which we substituted.)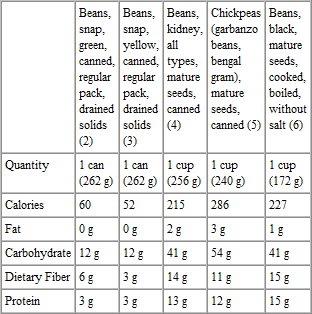 Mike likes his three bean salad to have a little "zip" in the flavor, probably caused by vinegar.
Salad recipes vary, but this recipe simulates the taste he likes.
Gelatin-Based Salads
Many people are familiar with Jell-O brand gelatin.
Vicki went to college with two young ladies who had a long-standing argument about whether gelatin constituted a salad or a dessert.
It is true that you can add many types of ingredients to gelatin for unique desserts.
Some ideas are listed on Kraft Foods' website.
Based on what we know, we must urge you to abstain from any kind of food that contains artificial sweeteners.
That includes all of the sugar-free gelatins.
(For your convenience, we are listing or linking to products from Amazon.com, with which we have an affiliate relationship.)
If you have a box of unflavored gelatin like this one, you can create many different kinds of foods, not just gelatin salads.

Here is a link to some of these recipes.
One of Vicki's favorite gelatin salad recipes is made by adding the drained contents of a can of fruit cocktail (containing chunks of fruits like peaches, pears, grapes and cherries) to the mix before it is gelled.
We understand that adding pineapple to gelatin somehow prevents it from gelling properly.
Your experience may be different.
We have previously written about making a fruit salad with some previously canned and some fresh ingredients.
Salads That Can Go Hot or Cold?
Believe it or not but there are some salad recipes that are good hot or warm, like German Potato Salad.
It's a different twist on the classic All-American Potato Salad that is served cold.
Conclusion
We're sure that you can probably think of lots of other salad recipes and ideas besides the ones we've listed here.
With a bit of imagination, you can concoct a most delicious salad.
In the movie To Sir, With Love, engineer-turned-teacher Mark Thackery demonstrated for his students how to make a salad with all kinds of interesting ingredients. He said something to the effect that you can eat well even though you're broke. That may have been fine in his time. But unless you have a home support team with a garden, we're here to tell you that some salad ingredients are a whole lot more expensive at retail grocery stores than others.
One resource stated, "Wholesale prices rose more than expected last month as food prices surged by the most in 26 years. … Consumers are facing smaller price increases, as many retailers are reluctant to pass on higher costs."
In a March 21, 2011, article, one of the "ten economic disasters which threaten to rip world financial markets to shreds" is food inflation (#6 on the list). This article also stated, "The price of food has also been going up rapidly inside the United States.  Last month the price of food in the United States rose at the fastest rate in 36 years."
You will need to evaluate for yourself which foods give you the well-balanced nutrition you need for the price you can afford.
Salad Toppings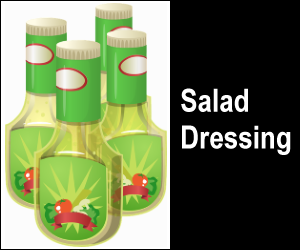 Also, evaluate for yourself the nutritional content of the toppings you incorporate in your salad recipes.
Many dressings are high in fat.
Perhaps less dressing (such as just dipping your fork in dressing instead of pouring it all over your salad) will help you consume less.
There are also other kinds of dressings that do not have a mayonnaise base which you may be able to use.
If this is your goal, look for salad toppings that add nutrition to your dish instead of just crunch.
We like to use sunflower kernels on our salads.
These are fairly high in protein.
Some folks like pine nuts.
Chow mein noodles provide crunch and taste good, but don't contribute much nutritionally.
---

Money saving tip: It may be hard for professional truck drivers to access local farmers markets, but you (or your home support team) can find good buys and value there for many of your salad recipes.
To find a farmers market near you, look up your state's Department of Agriculture and look for a link or list.
There may be quite a number of them scattered throughout your state.
For example, this page contains links to find certified farmers markets by county in California.
There may also be state farmers markets associations like this one in California.
Sometimes there comes a tipping point in deciding when to stop buying a certain type of produce for salad recipes.
Early in 2011, we stopped buying tomatoes (at least for awhile) until either the price goes back down or we can grow our own again.
Some of the salads listed above (such as those that are gelatin-based) may be considered more of a dessert than a salad or do not provide as much nutrition as others.
We have never seen fresh salad greens for sale in a truck stop, but we're hoping that as more and more truck stops start to focus on healthier eating habits for truckers, like this one, there will eventually be a small fresh produce section of the store that features more than just overpriced apples and bananas.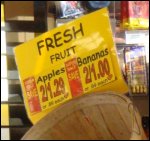 The photo here was taken at a truck stop where fresh apples were being sold 2 for $1.29 and bananas 2 for $1.00.
Focusing only on the bananas, at the time the photo was taken, we were able to buy this fruit locally for between $0.39/pound and $0.49/pound.
If the average weight of a banana is 4 ounces (1/4 pound), then that means that one could have bought four bananas for $0.49 or less — which means that the mark-up on truck stop bananas was about 100% at the time.
Why do truck stops do this, we wonder?
If the only place where you are able to buy fresh fruit is at a truckstop, it may be worthwhile to buy it there than eat junk food.
However, bear in mind the cost and endeavor to shop elsewhere at better prices.
Depending on your tastes, you may be able to fill out your salad recipes with lower priced ingredients.
Consider all of your options: You may be able to visit a local grocery store while your load is being loaded or unloaded.
Ask if it is ok to drop your trailer and bobtail out to go shopping.
If there is room to do so and you can park far enough away from the flow of traffic, you may also want to take advantage of shopping at roadside markets for fresh produce for use in your salad recipes.
---
Return from Our Favorite Salad Recipes for Hot and Cold Salads to our Food and Recipes page or our Truck Drivers Money Saving Tips home page.
---
References
1. allrecipes.com//Recipe/three-bean-salad-i/Detail.aspx
2. nutritiondata.self.com/facts/vegetables-and-vegetable-products/2344/2
3. nutritiondata.self.com/facts/vegetables-and-vegetable-products/3002/2 (no longer online)
4. nutritiondata.self.com/facts/legumes-and-legume-products/4298/2
5. nutritiondata.self.com/facts/legumes-and-legume-products/4327/2
6. nutritiondata.self.com/facts/legumes-and-legume-products/4419/2