This is the TDMST Weekly Round-Up of news affecting professional truck drivers, written by Vicki Simons for the week ending March 9, 2019.
We welcome your comments, thoughts and feedback on the items of your choice below.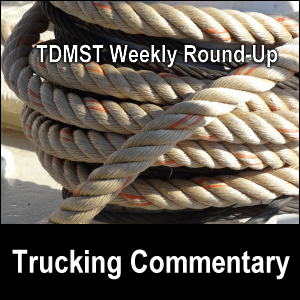 1. Regarding the impacts of congestion on fuel consumption and emissions:
We received the following from ATRI this week:
The American Transportation Research Institute today released a case study that quantifies how improvements to our nation's highway infrastructure can help conserve fuel and reduce emissions. Nationally, congestion is estimated to have increased the trucking industry's fuel consumption by 6.87 billion gallons in 2016; adding an additional $15.74 billion to its fuel bill.
To get the free copy of the full report, request it through this form.
Another article about an ATRI recommendation concerns increasing the speed at Atlanta's interchange at Interstate 285 and Interstate 85, which is known as "Spaghetti Junction".(a)
A third article said that ATRI found that "improving the nation's worst traffic bottlenecks would save millions in fuel [and] reduce emissions".
2. Regarding CBD oil use among truckers:
According to a March 4, 2019, article, "Cannabidiol (CBD) oil is becoming a commonly used natural alternative to pain medicine. But, commercial drivers should be cautioned that use of CBD oil — even if derived from hemp — may result in a positive DOT drug screen."
Truckers need to know that there are vast differences among oils used for health care.
3. Regarding capacity management and predictive freight-matching apps:
One transportation services company has started using a product that provides "shipment visibility, carrier capacity management and predictive freight-matching applications", according to a March 5, 2019, article.
If you use such an application, would you please write a service review to let us know:
the pros,
the cons, and
how much you've earned or saved as a result of using it?
Thanks.
4. Regarding trucker pay:
According to a March 4, 2019, article, a driver with ShipEX "is on salary and is hitting the fleet's maximum bonus every month."
The article further said that:
this driver "gets paid the same amount all 52 weeks of the year, despite taking time off or being stuck in traffic and delayed by weather"; and
Omnitracs found through a recent survey that:

30% of fleets already use such pay models; and
about 33% are "thinking about an hourly or salaried model for drivers."
This sounds really good to me.
But what about you?
What do you think about this model of being paid a steady paycheck and being paid for your time or on a salary?
Separately, a March 6, 2019, article stated, most "Owner-operators report mostly negative, if any, change in detention times since ELDs were mandated…."
Is that what you've found?
Thirdly, there's a sad, true account of one lease operator's experience of going "nearly six months without a paycheck" because he didn't realize that he would be "on the hook for the labor" associated with a repair covered under warranty.
5. Regarding truck recalls:
Two truck recalls are currently going on:
"The recalls from Paccar, Volvo and Mack all stem from issues on trucks equipped with automated manual transmissions", says a March 4, 2019, article (which is also reported here).
Separately, we read: "Volvo Trucks North America is recalling more than 1,000 Volvo VNL trucks over an issue with the clutch assembly."(b)
And although not a truck recall per se, Carrier has recalled nearly 4,000 APUs " as a result of a faulty power supply harness."(c)
6. Regarding drug screening:
According to a March 6, 2019, article, "Michigan State Police (MSP) have announced that they are planning on expanding a controversial saliva-based roadside drug testing pilot program statewide this year."
The article does not address:
"who" is being targeted for testing or
what happens to the saliva sample or results following testing.
One criminal defense attorney "opposes the roadside drug testing program because of the risks of false positive results."
Something about this set-up seems to point to a denial of being "innocent until proven guilty".
Do you agree?
7. Regarding the Pennsylvania Turnpike:
Several news outlets have reported that despite having "raised tolls by 200% over the past 10 years", the Pennsylvania Turnpike Commission:
is "$11 billion in debt";
"missed its last three quarterly payments to the state of Pennsylvania"; and
has had a lawsuit filed against them by "the Owner-Operator Independent Drivers Association (OOIDA) and the National Motorists Association" that say that the tolls:

are too high;
unreasonably burden truckers; and
are used for non-Turnpike-related projects.
While the article hints that bankruptcy is a possibility, of course, bankruptcy is not a solution to the problem.
I have many questions, including:
Is the Pennsylvania Turnpike Commission a state agency or independent agency?
What has the Commission been spending the toll money on: public or private expenses?
Who on the state level has been overseeing their operations and expenditures?
If it has been determined that they have been misusing toll money, what remedy is in the works to correct that?
How will truckers receive justice?
8. Regarding toll roads:
Isn't it a trucker's or trucking company's decision regarding whether or not to take a toll road?
So why have troopers from Delaware and Maryland started to crack down on truckers for "avoiding a new toll road" (U.S. 301)?
According to a March 7, 2019, article, "The U.S. 301 toll road runs 11.9 miles from the Delaware-Maryland state line to Delaware Highway 1. Tolls for five-axle trucks are $11 one-way with E-ZPass or $13 if the invoice is mailed to the license plate registrant."
While I understand the need to keep truckers off non-truck routes, what other options besides the toll road do truckers have in that area?
BTW, Land Line Magazine updated a report, saying now that officials in 12 statehouses are considering tolls.(d)
And we read that "The Motor Transport Association of Connecticut has released a video featuring various members of that state's trucking industry speaking out about how proposed tolls might negatively affect their businesses."
9. Regarding snow removal:
If you're faced with either getting up on top of your trailer to remove snow or not driving because there is snow up there, which are you going to choose?
I think there's something inherently unsafe about truckers getting on top of trailer roofs — and some have called the practice "reckless".
I don't believe that even law enforcement has the right to "force" truckers to do that.
This situation was also reported here.
In my opinion, all truck trailers need to be equipped with a "no snow roof".
10. Regarding load securement, load shifting, and safety:
In response to what was reported in this article, I posted this question on the TruckDriversMoneySavingTips Facebook page:
"Would a headache rack have prevented the steel beams from going through the back of the tractor cab and thus prevented the death of this trucker?"
Our deepest condolences go to the family of the trucker who was killed.
In answer to the headache rack question, as of this writing:
at least one driver has said no, it wouldn't have helped; and
at least one driver has said yes, it would have helped, but only if it was made of a specific material.
I cited a page on our website that documented — with photographs — what happened to a flatbed load after one of Mike's coworkers had slammed on the brakes while being cut off by a four-wheeler.
These situations underscore the dilemma that truckers face regarding
either doing a hard brake to avoid an accident
or letting an accident potentially happen.
What do you think?
11. Regarding truck parking:
The Vice President of ATRI stated that:
truck drivers are losing 56 minutes a day to "search for safe truck parking" and
that it "costs the average driver about $4,600 in direct lost compensation".
Ouch!
Again, I don't believe for one moment that the NATSO CEO knows what she's talking about — that "paid parking" is the answer — because every trucker knows that there just aren't enough safe places for truckers to park. Period!
Separately, a trucker who was almost out of hours parked on the shoulder of a California interstate and was rear-ended by an SUV that for unknown reasons veered to the right, the crash of which resulted in three people dying.
The article said, "The driver could have continued to the next exit and looked for parking near the Port of Oakland" but a local trucker said that "finding available truck parking is almost impossible at times".
This accident was also reported on here.
I'll be watching to see how this situation is resolved.
12. Regarding driving in dangerous situations:
If you ever needed visual evidence of how dangerous it can be for high-profile vehicles to drive in wind, watch the video of a truck being "manhandled" by winds on the Burlington Bay Skyway Bridge in Hamilton, Ontario.
Even the cars on the bridge were being buffeted by the wind.
When the winds whip up, see if it's possible to take an alternative route.
Separately, we read about how a winter storm lead to "deadly pileups" in Michigan.
When weather situations become treacherous, please park safely until conditions improve.
13. Regarding underride guards on trucks:
According to a March 6, 2019, article, "The Owner-Operator Independent Drivers Association is opposed to the mandate"(e) for underride guards — for the reasons stated in this article.(f)
Different organizations have different positions on this legislation.
Another article about this subject was published on March 7.
14. Regarding the price of truck tires:
Ouch!
According to a March 5, 2019, article, "Bridgestone Americas Tire Operations has announced a [20%] price increase on Dayton brand truck and bus radial tires sold in the U.S."
I did a little research and found that on November 8, 2018, two brands of truck tires had announced truck tire price increases:
Michelin by 8%; and
Bridgestone by 10%.
A November 1, 2018, article stated that the reason for truck tire price increases was "higher commodity costs".
What is your solution to this:
Absorb the cost yourself;
Pass the cost along to others;
Buy another brand of tire; or
Do something else?
15. Regarding trucker fraud:
The FMCSA says that trucker fraud is "on the rise" and that "owners of new trucking companies are often targeted".
Let the buyer beware.
16. Regarding excellence in trucking:
Congratulations to Timothy Dean for being named by CVSA its 2019 International Driver Excellence Award winner!
The article states, "The award recognizes drivers with exceptional careers and dedication to public safety."
Way to go!
My husband Mike and I wish you — and all professional truck drivers — safe travels and lots of money saving opportunities on the road.
---
---
Return from TDMST Weekly Round-Up: 2019.03.09 to our TDMST Weekly Round-Up Trucking Commentary or our Truck Drivers Money Saving Tips home page.
---
Reference:
a. www.landlinemag.com/Story.aspx?StoryID=73857 (no longer online)
b. www.landlinemag.com/Story.aspx?StoryID=73844 (no longer online)
c. www.landlinemag.com/Story.aspx?StoryID=73861 (no longer online)
d. www.landlinemag.com/Story.aspx?StoryID=73854 (no longer online)
e. www.landlinemag.com/Story.aspx?StoryID=73856 (no longer online)
f. www.landlinemag.com/Story.aspx?StoryID=73863 (no longer online)