This is the TDMST Weekly Round-Up of news affecting professional truck drivers, written by Vicki Simons for the week ending May 11, 2019.
We welcome your comments, thoughts and feedback on the items of your choice below.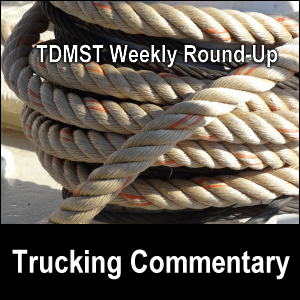 1. Regarding trucker pay and the "blue collar labor shortage":
According to a May 7, 2019, article, Gordon Klemp, head of the National Transportation Institute (NTI), recently spoke at the CCJ Symposium in Birmingham, Alabama.
He was quoted as saying that, "driving a truck isn't an attractive job by today's standards, with pay and a workday structure that often don't compare favorably with other vocations all vying for the same applicants."
Among the statistics cited in the article were:
truckload driver turnaround being nearly 100 percent;
"60 percent of all drivers are over the age of 45"; and
driver pay climbed 19 percent between 2007 and 2018.
What the article didn't say was that if we look at the Bureau of Labor Statistics' Inflation Calculator and
enter $100 in September 2007; and
select September 2018 to find the equivalent buying power ($121.08);
we find that inflation eroded 21.08 percent of the buying power during that time frame.
So even if drivers' pay increased 19 percent, they still lost money because of inflation!
Note: I chose the month of September at random, but you can adjust the Inflation Calculator to any other month during those years that you like.
Your results will likely be similar.
2. Regarding undercover Illinois State Police:
In one of the trucking groups I'm part of on Facebook, there were complaints about the "special undercover patrol" being disguised as construction workers in order to "catch drivers who are speeding or committing other traffic violations in construction zones."
I replied:
Folks, why don't we just face the reality that there are cameras and video recorders just about everywhere in public, whether
– wielded by a person,
– mounted on a pole, or
– running from someone's vehicle dashboard?
Feedback? Thanks.
The lives and well-being of construction workers are just as important as anyone else's and we need to demonstrate that by slowing down to at least the posted speed limit in construction zones.
No load is worth someone's life!
Don't risk getting a ticket in any construction zone, no matter which state or country you're in.
3. Regarding the "true cost of idle time":
A May 5, 2019, article addressed (among other things):
the main reasons why trucks idle; and
the running costs of idling.
Quotes from the article include:
"It is estimated that for a truck that consumes $70,000 worth of fuel on an annual basis, up to 8 percent ($5,600) of the fuel is wasted on idling."
"Argonne states that rest-period truck idling in the U.S. consumes up to 1 billion gallons of fuel annually and costs $3 billion."
Note: we address idling, idling costs and anti-idling on our site.
I want your feedback, especially if you're a company driver:
If the main reason why you idle your truck is for comfort, do you have any other means of:
staying cool in the summer or
staying warm in the winter?
What is your trucking company doing to help you stay comfortable when you sleep, such as in a hot truck?
Please comment through the form below or contact us.
Thanks.
4. Regarding truck parking getting worse:
According to a May 8, 2019, article, leaders in Orange County, Florida, receive hundreds of complaints "about tractor-trailers being [illegally] parked along the streets in some local neighborhoods."The article states, "Orange County regulations forbid big rig parking in residential areas."
According to another May 8, 2019, article, "Lee County Commissioners voted to ban large commercial vehicles from being parked in residential driveways."The Lee County, Florida, truck parking situation was also covered here.
Even though it may be extreme, perhaps the truckers who are not welcome to park their trucks at home in these counties need to move to truck-friendly locations.
Thanks in advance for sharing if you know of any truck-friendly neighborhoods.
5. Regarding connecting the right tanker hoses:
According to a May 7, 2019, article, "a truck driver … accidentally mixed the lines for diesel and unleaded fuel during a recent delivery" to a gas station in Colorado Springs, Colorado.
Let's hope that the company will "pay for the gas that was bought, any fees for towing, rental cars, and costs for repairs" for all of the vehicles that were adversely impacted.
Let's further hope that because this wasn't the first time that this problem has surfaced,
that drivers will be trained on how to make delivery of the right fuels into the right tanks; and
that, if needed, the tanks are better labeled so that there's no way to mess this up in the future.
6. Regarding potential restoration of per diem tax deductions:
According to a May 7, 2019, article, "A bill introduced in both the House and the Senate would restore the per diem tax deduction benefit for company drivers that was eliminated in the 2017 Tax Cuts and Jobs Act."
The act "would allow drivers to resume deducting 80 percent of the federal per diem allowance (currently $66 a day) from their annual tax bill", but "only if carriers do not provide per diem reimbursements."
7. Regarding log book falsification coercion:
A May 9, 2019, article states that the reason why a trucker did as he was instructed — to falsify his log and drive in violation of the federal Hours of Service regulations — was because he was "in fear for his job".
Because he was tired, he predictably fell asleep at the wheel and was involved in an accident that caused injuries and loss of income.
A Texas jury awarded him $80 million after finding that his employer had "coerced him into falsifying his log book and operate while fatigued resulting in his injury."
This event was also covered here(a) and here.
While I'm glad that the trucker was compensated, there are still some issues here:
No trucker should ever feel threatened or coerced into driving when he/she is tired;
It is the trucker's responsibility to uphold the Hours of Service regulation; and
Truckers (and trucking company employees) need to respect when a driver is tired and needs sleep.
FWIW, even though the Electronic Logging Device (ELD) mandate was supposed to prevent truckers from driving more hours than the HOS regulation allows, I have read it that it is possible for the constraints within an ELD to be overridden.
For example, the HOS regulation and ELD mandate are rendered irrelevant during some emergencies such as very bad weather events, when officials suspend the HOS regulation
in certain locations
for a defined period of time
to truckers hauling certain types of loads.
I've never read of a trucker who was driving during a suspended HOS regulation session being involved in an accident, but I wouldn't be surprised if I do one of these days.
Reminder: truckers, you are "captain of the ship" (driver of your truck) and you need to operate it safely at all times.
8. Regarding distracted driving with cell phone:
A 24-year old truck driver has been charged with
"homicide by vehicle,
careless driving resulting in death,
operating a hand-held mobile telephone and
related traffic counts"
following a crash along Interstate 78 in Pennsylvania that killed a couple who was "engaged to be married".
No matter what vehicle you're driving — but especially if you're driving a Commercial Motor Vehicle — remember proper cell phone use.
If you need to get a headset that will allow you to talk "hands-free", get and use one.(*)
9. Regarding free helps before Roadcheck:
Two companies are offering helps to truckers prior to Roadcheck, which will be held June 4-6, 2019:
"Pilot Flying J has announced that for the next month, they'll be giving away their 'mid-trip' inspection service normally valued at $50 for free" — through June 7 — according to articles here, here and here; and
"Goodyear Commercial Tire & Service Network are offering tire inspections and other tire management services," according to this article.
The last article linked above stated, "Tire and wheel issues accounted for 19.1% of all out-of-service violations identified during last year's Roadcheck event."
I thank these two companies for offering these services to help truckers throughout the USA to prepare for Roadcheck.
Truckers, because these two sets of free services are likely to be popular, I encourage you to contact the service provider ahead of time to schedule an appointment at the location of your choice along your route.
That way, you will hopefully get the inspection you need at the time that works best for you.
My husband Mike and I wish you — and all professional truck drivers — safe travels and lots of money saving opportunities on the road.
---
* For talking on one's phone hands-free, we suggest the following product through Amazon.com, with whom we have an affiliate relationship.
When Mike drove regionally, he often used a wireless BlueParrot headset very similar to the one shown here — and therefore highly recommends it.
---
---
Return from TDMST Weekly Round-Up: 2019.05.11 to our TDMST Weekly Round-Up Trucking Commentary or our Truck Drivers Money Saving Tips home page.
---
Reference:
a. www.landlinemag.com/Story.aspx?StoryID=74198 (no longer online)