This is the TDMST Weekly Round-Up of news affecting professional truck drivers, written by Vicki Simons for the week ending December 14, 2019.
We welcome your comments, thoughts and feedback on the items of your choice below.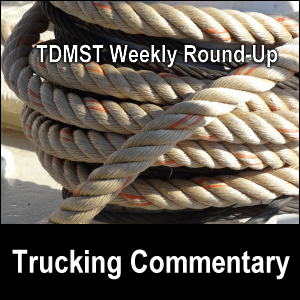 1. Regarding former mega carrier Celadon:
The biggest news this week has been the announcement that Celadon has filed for bankruptcy — and thousands of jobs will be lost.
This is the largest full truckload carrier bankruptcy, closure, and failure in history.
In its December 9, 2019, article — FIRST LOOK: Inside Celadon's Nearly $400 MILLION "Bloodbath" Bankruptcy — we read:
Transportation Nation Network (TNN) was the first and only news outlet in the world to accurately report the mega carrier would be filing for Chapter 11 protections 'as close to midnight as possible' on Sunday, December 8, and cease operations the following day.
The article lists not only their 25 affiliate entities but also their assets, debts, shares of common stock, and a list of creditors.
Many articles have been written, including these (not listed in any particular order):
This entire situation underscores the importance of truckers being prepared financially with an emergency fund for change at just about any time and regardless of which trucking company for which one drives.
Some truckers have lost more than others regarding Celadon's closure, one of whom expects that his investment of $130,000 into a lease-purchase agreement with the company is gone and he has no truck to show for it!
Ouch!
2. Regarding the downsizing of Roadrunner:
We read in a December 10, 2019, article:
Roadrunner Transportation System (No. 31 in the CCJ Top 250) announced Monday it has sold its flatbed business unit for $30 million cash, with proceeds from the sale going to pay down company debt.
The article addresses that it had announced in October that it would "downsize its dry van business due to a lack of profitability in the segment", so this came as no surprise.
More on Roadrunner's flatbed division sell-off was written here and here.
If you are an experienced flatbed hauler, look around for other driving opportunities.
3. Regarding the impact of driver orientation on retention:
I still recall some of the first words that my husband Mike and I heard at our first trucking company orientation, regarding how in 45 days, 3 of the 5 of us newbies would not be with the company.
Ouch! That stung!
I mean, here we were, having just finished many weeks of truck driver training school, only to be told that we very well might wash out!
Thanks a lot, Mr. S!
But, based upon the experience of previous trucking school students who had been through their orientation process, it was most likely reality, not just a negative viewpoint.
I made a comment on our website that one truck driver trainee I knew of supposedly didn't want to get his hands dirty — and was thought to have quit the training program not long thereafter for that and other reasons.
Pressing on, we learn from a December 10, 2019, article:
Recent results from driver surveys [by Stay Metrics, a provider of driver retention tools,] show that about 25% of drivers are not learning what they expected to from their carriers during orientation.
The article states that "new technology, consistent messaging, personalized training, and putting the right people in front of drivers produce better results in orientation that contribute to higher job satisfaction."
Other articles on this topic were written here and here.
This matter of trucker orientation is important not only for brand new truckers but also for experienced truckers who are making a change to a new trucking company.
It is expensive in numerous ways for drivers to go through a new company's orientation, only to be met with lackluster training.
As you prepare to make any kind of change within the trucking industry as a driver, look for these things to be addressed.
And if you don't get them, ask for them!
While you're at it, if you're not getting the kind of training from your trainer that you expected, speak up!
After all, your driver trainer is being paid to train you, not just sit back and do nothing.
4. Regarding bad winter weather:
According to a December 9, 2019, article, the Iowa State Patrol reported a pile-up of more than 50 vehicles "around 11 a.m. on December 9 on westbound I-80 at mile marker 139 near Altoona."
Please drive safely!
5. Regarding autonomous trucking:
To keep you in the loop, Walmart Inc. has partnered with robotics and driverless delivery company Nuro to undergo "a pilot program to use autonomous delivery vehicles for home grocery delivery" in the Houston, Texas, area, according to this article.
The vehicles that are scheduled to be used are:
Nuro's R2 custom-built delivery vehicles and
autonomous Toyota Priuses.
---
Meanwhile, it was reported here and here that a level-four (L4) self-driving truck completed a 2,800-mile, cross-country run from Tulare, California, to Quakertown, PA, to deliver a load of butter in three days.
Watch for more of these sorts of runs to be made in the future.
6. Regarding upcoming deadlines:
Remember that "For drivers still using an automatic on-board recording device to record their hours of service, the deadline for changing over to an electronic logging device is Monday, Dec. 16."
Another article listed "11 Things to Know to Stay Out of Trouble with Final ELD Deadline".
---
A December 10, 2019, article about the new CDL Drug & Alcohol Clearinghouse deadline on January 6, 2020, reported the lack of awareness among some owner-operators and also their frustration over trying to get registered through a system that one commenter said "isn't as simple as it sounds."
Then there is this ridiculous gem:
"Independent owner-operators won't need to register until they perform their own required annual query, in which they must check the database for their own CDL number."
In other words, independent truckers have to spend money to query the database in order to check on themselves!
---
Another wrinkle regarding the Clearinghouse came to light on December 12:
"The Federal Motor Carrier Safety Administration (FMCSA) is giving State Driver Licensing Agencies (SDLA) more time to comply with reporting requirements as part of the Commercial Driver's License (CDL) Drug and Alcohol Clearinghouse."
So if the states are getting 3 more years to comply, why aren't truckers given that same "grace period"?
Hmm…
7. Regarding truck driving restrictions in New Hampshire:
A December 9, 2019, article covers current law and proposed legislation regarding left lane use by commercial motor vehicles in the state of New Hampshire. C
urrently, N.H. law punishes violators who impede traffic in the left lane on multilane roadways with a $50 fine.
8. Regarding coercion or harassment complaints:
Coercion-related cases are complex, according to a December 9, 2019, article.
Specifically:
Filing a complaint can be done via the [National Consumer Complaint Database section of the FMCSA's website]. If you click through to the "Driver" section of the website's navigation, you will see the option for a "Truck Complaint" and, under that heading, "Coerced to commit a violation."
Please note that the Truck Complaint section states:
Is your complaint about some other violation of Federal Motor Carrier Safety Regulations, such as a truck being operated in an unsafe manner, or without the proper authority?

Truck Safety
Drug and Alcohol
Coerced to Commit a Violation
Electronic Logging Device
Cargo Tank Facility
Hazardous Materials
Termination for Refusal to Commit Violation
Deceptive Business Practice
Operating Authority and Financial Responsibility
Property Broker (Arranges Transportation)
Related articles cover these aspects:
9. Regarding electric trucks and zero emissions:
A December 10, 2019, article reported on a new report from the North American Council for Freight Efficiency (NACFE), which was described this way: "The 'elegant simplicity' of electric trucks are poised to usher in a new era of zero emissions freight movement".
More on the NACFE's report was written here.
---
Separately, a December 12, 2019, article states that advocates from environmental, health and community groups say that a California "zero-emissions vehicles" (aka electric trucks) standard is "ineffective" or too weak.
The eight states named in the article committed on December 11 to "to developing an agreement and action plan to put hundreds of thousands more zero-emission trucks and buses onto their roads and highways."
Here's another article about the group of 8 states who have agreed to "accelerate [the] transition to zero-emission trucks and buses".
Watch for the proliferation of electric trucks — that will not need to stop for fuel — to be one of the spokes in the hub of transitioning to autonomous or self-driving trucks.
---
When I spoke with a representative of an electric truck manufacturer at the NACV Show in late October 2019, he said that electric trucks — that need to be recharged — are only suitable for runs that let the trucks come back home every day/night.
In other words, using electric trucks for regional and long haul usage may be impractical unless the technology changes to let them "get charged" or somehow "charge themselves" out on the road.
10. Regarding tolls:
A December 12, 2019, article revealed how much more both passenger and commercial vehicles will be paying in tolls to drive on the Pennsylvania Turnpike starting on January 5, 2020.
As of its January 2020 toll increase of 6%, this will be "the twelfth year in a row that the Pennsylvania Turnpike Commission has raised tolls."
In response to a different news article about this topic, I commented on Facebook:
I haven't been on the PA Turnpike in quite some time.
Is it just as rough as it used to be?
In other words, what are truckers getting in exchange for paying the toll?
Is the PA Turnpike Commission diverting toll money to other projects?
11. Congratulations!
Our heartiest congratulations go to the winner of the 2019 Transition Trucking award:
Joseph H. Campbell Jr., a driver for the flatbed division of Roehl Transport based out of Marshfield, Wisconsin.
According to a December 10, 2019, article, "The goal [of the competition] was to find America's top rookie military veteran who made the successful transition from active duty to driving for a commercial fleet."
So it is no surprise when the keys to a new Kenworth T680 were accepted by Mr. Campbell, who is a 24-year veteran of the U.S. Marines and U.S. Army.
More on this award and the recipient was written here, here, and here.
---
Also, we wish to congratulate Gordon Lynal Price, who was honored as "this year's Canadian Trucking Alliance (CTA)/Volvo Trucks Canada Driver of the Year" for his stellar trucking career of "more than 32 years and over 4 million accident-free miles."
What an excellent accomplishment!
Great going, Gordon!
My husband Mike and I wish you — and all professional truck drivers — safe travels and lots of money saving opportunities on the road.
---
---
Return from TDMST Weekly Round-Up: 2019.12.14 to our TDMST Weekly Round-Up Trucking Commentary or our Truck Drivers Money Saving Tips home page.
---