This is the TDMST Weekly Round-Up of news affecting professional truck drivers, written by Vicki Simons for the week ending November 2, 2019.
We welcome your comments, thoughts and feedback on the items of your choice below.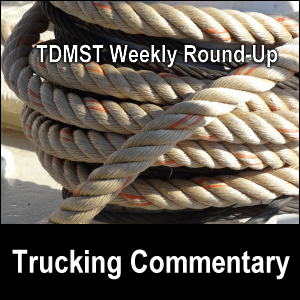 1. Regarding NACV Show and trucking products:
This week, the North American Commercial Vehicle (NACV) Show was held in Atlanta, Georgia.
My husband Mike and I were pleased to attend and I plan to share about some of the products that intrigued me from the standpoint of helping professional truck drivers save money or time or both.
For now, a couple of trucking publications gave their lists — link 1 and link 2 — of products that the they thought were noteworthy.
2. Regarding Driver Recruitment and Retention Month:
According to a November 1, 2019, article:
Driver Recruitment and Retention Month was created for the immediate and long-term benefit of both your business and your drivers. This month, we are focusing on solutions to the persistent driver shortage problem, by hiring and keeping drivers to meet the industry's mounting demands.
Now, Land Line Magazine stated that the U.S. DOT recognizes that there is no trucker shortage.
Even so, TruckingInfo.com has a number of articles this month about the various aspects of truck driver recruitment and retention, including:
Although it is probably geared toward trucking companies, there is also a webinar on increasing driver retention in the first 90 days.
If you attend the webinar and if the points covered don't cover what points regarding retention are important to you, speak up!
Changing jobs can be expensive for truckers!
3. Regarding video monitors instead of mirrors:
Although I had read about them in the past, I just had to see them to understand them: video cameras and monitors instead of mirrors.
I plan to write about this separately, but evidently the Stoneridge MirrorEye system was quite an attention-getter at the NACV Show this week.
An October 31, 2019, article describes the author's "test drive" with the system.
"Ray Kirkland, a research engineer and veteran driver who has been instrumental in developing the MirrorEye system," made the statement, "Drivers respond to MirrorEye the same way they do with automated manual transmissions. It takes a bit of coaxing to get the veterans to try it, but none of them want to go back to conventional mirrors after they try it."
The article further states:
"Stoneridge has done an admirable job of replicating the mirror experience and actually improving it in some ways – especially with the infrared night-driving setup."
How such systems perform will be a task for the NHTSA, FHWA, FMCSA, and others.
Separately, an October 30, 2019, article states: "The National Highway Traffic Safety Administration is seeking public comment about possibly permitting camera-based rear visibility systems to be used as an alternative to inside and outside rearview mirrors on heavy-duty vehicles."
You may read all the details of NHTSA's proposed rule and submit comments by December 9, 2019.
More was written about MirrorEye here.
blog.nexttruckonline.com/truck-news/press-release/stoneridge-to-showcase-mirroreye-cms-wireless-trailer-camera-system-and-preview-its-fleetarc-telematics-solution-at-the-nacv-show-2019/ (no longer online)
4. Regarding sleep apnea:
According to an article published on October 31, 2019:
What the study ["Employer-Mandated Obstructive Sleep Apnea Treatment and Healthcare Cost Savings among Truckers"] found was that drivers with sleep apnea who accepted treatment via [continuous] positive airway pressure (CPAP) saved an average of $441 in non-sleep apnea health costs per month compared to drivers who weren't treated.
Several other points were made in the article:
"Well-rested drivers also reduce the risk of a preventable crash."
"A previous study by the same research team found that untreated drivers with sleep apnea had a five-fold greater risk of a serious crash."
"Those with treatment had a crash risk that was identical to drivers without sleep apnea."
If you find that you can't get good sleep at night or have trouble concentrating through the day even though you supposedly sleep for many hours, I strongly suggest that you get tested for sleep apnea.
Based on feedback that I've received, truckers who have been outfitted with a CPAP machine sleep much better than they did before getting one.
The right sleep apnea treatment can literally be a lifesaver.
5. Regarding trailer end aerodynamic aid:
I've known about "boat tails" for years — and have commented that they do no good when they are not extended.
Well, it gets worse than that.
According to a representative with whom I spoke at the Rocketail booth at the NACV show, non-deployed boat tails actually act like a parachute to create additional air drag or wind resistance behind a trailer.
I plan to write more about Rocketail separately, but for now, you may appreciate reading one description here.
6. Regarding ELD data:
I was recently carrying on a conversation with a trucker through a Facebook group and he described (much to my shock) that ELD providers can sell the data that they collect!
It behooves all professional truck drivers — especially owner-operators — to know just exactly what their ELD providers are gathering and what they're doing with the data.
Are your contacts, freight lanes, stopping points, and other data being compromised or "spied on" without your knowledge?
Check your contracts to determine the privacy of your data.
If it is of interest to you, we read this:
"Heavy Duty Trucking magazine is hosting an upcoming free webinar covering the unexpected yet essential benefits of electronic logging devices (ELDs) and the data they provide."
Meanwhile, Canada is preparing for an ELD mandate of their own.
7. Regarding high winds:
High winds have hit these places lately:
Obviously, tractors hauling empty trailers are easier to overturn than full ones.
Other than avoiding (if possible) those places, what else can be done to keep trucks from flipping over in high winds?
Furthermore, if you are traveling in California, please be on your guard if you have to go into the area where there are "widespread wildfires".
Driving into smoke can be very dangerous and even deadly.
8. Regarding the first-ever CVSA hazmat blitz:
According to an October 30, 2019, article:
During a five-day enforcement blitz in August, officials in the U.S., Canada, and Mexico inspected more than 9,200 commercial motor vehicles carrying dangerous goods or hazardous materials and identified 683 violations serious enough to receive out-of-service orders.
The violations were classified as:
package integrity (leaking);
loading and securement;
packaging;
placarding;
shipping paper; and
markings.
Evidently, the week-long hazmat safety blitz has been held annually in Canada since 2012, but this was the first year that it was held in the USA and Mexico.
This blitz was also written about here, here and here.
You may read more on the CVSA's website.
Prepare beforehand if you are getting ready to haul hazardous materials or dangerous goods that fall under a "class" rating and require placarding.
Review with your trucking company everything you need to have in and on your truck — and make sure that everything in your trailer is packaged and marked correctly.
9. Regarding ELD suspension petition:
According to an October 28, 2019, article:
On Friday, October 25, James Lamb, president of the 15,000-member Small Business in Transportation Coalition (SBTC), created a petition on WhiteHouse.gov urging President Trump to "direct the USDOT to act on NHTSA findings and immediately suspend ELDs until unintended consequences can be studied to decide if the rule is ripe for repeal."
More was written about this petition here.
The petition is online here and the goal is 100,000 signatures.
While I oppose the ELD mandate, I think that ELDs revealed how unreasonable the 2013 Hours of Service regulations were.
10. Regarding hemp and CBD:
"The interstate transportation of industrial hemp is now legal following the publication of an interim final rule by the United States Department of Agriculture on Thursday", states an October 31, 2019, article.
More about hauling hemp was written here and here.
Meanwhile, a truck driver who in 10 years had never failed a drug test suddenly found himself failing an employment drug test — "because of the presence of THC in his system" — after having purchased and used a CBD product that was "labeled as not containing THC".
A class action lawsuit had been filed against the company regarding its labeling of no THC — the main psychoactive chemical found in marijuana — in their CBD product.
11. Regarding speed limits changed and truck parking update:
An October 30, 2019, article summarized some changes to speed limits across the USA.
Meanwhile, here is a round-up of some changes to truck parking in October 2019.
12. Regarding double-checking oversized load routes and clearances:
Do you remember in 2013 when the trucker hauling an oversized load hit the I-5 bridge over the Skagit River, causing it to collapse?
Well, we read that the Washington State Supreme Court ruled in a 5-4 split decision that the state "should not be held liable for a major bridge collapse" even though "the state had issued the permit to haul the oversized load on the route."
I have read nothing about the responsibility of the pilot car driver, whom the article said was driving in a distracted manner at the time.
Bottom line: truck operators, you are responsible for making sure that your truck can pass safely under or through structures, be they bridge supports, tunnels, or railroad trestles.
If you encounter a clearance too low for your truck to fit under, stop safely and don't risk an accident!
By the way, recall that I named November 8 "Low Clearance Awareness Day" and that I still have an unclaimed offer waiting.
13. Regarding truck accident cost statistics:
In an article designed to help folks understand the savings associated with their product, we read:
Per the Federal Motor Carrier Safety Administration (FMCSA):

The average cost of a collision involving a fatality is $3,600,000.
A collision with injuries is nearly $200,000.
The overall average cost of collisions is reportedly $91,000 per incident.
I know that it is harder and harder these days to keep from being involved in an accident, especially when four-wheelers perform some of the most preventable actions.
Remember that the Smith System instructs truckers to "leave yourself an out".
14. Congratulations!
Our congratulations go to those truckers named to be on the National Association of Small Trucking Companies' "America's Best Drivers" team for 2019:
with 30 years experience and 3.5 million miles accident-free, Art Riley; and
with 22 years experience and 2.8 million miles accident-free, Henry Kuperus.
Separately, we read that "OOIDA recently announced honorees in the Association's Safe Driving Award program. The following drivers have been recognized by the Association for truck driving excellence.".
You may read the entire list, but let me mention the three with the most trucking experience:
Don L. Peters, who has achieved 57 years of safe, crash-free driving;
Eddie L. Bryant, who has achieved 53 years of safe, crash-free driving; and
Eddie Gray, who has achieved 50 years of safe, crash-free driving.
You may read more in that article about the OOIDA Safe Driving Award Program for its members.
Congratulations, one and all!
My husband Mike and I wish you — and all professional truck drivers — safe travels and lots of money saving opportunities on the road.
---
---
Return from TDMST Weekly Round-Up: 2019.11.02 to our TDMST Weekly Round-Up Trucking Commentary or our Truck Drivers Money Saving Tips home page.
---