This is the TDMST Weekly Round-Up of news affecting professional truck drivers, written by Vicki Simons for the week ending January 11, 2020.
We welcome your comments, thoughts and feedback on the items of your choice below.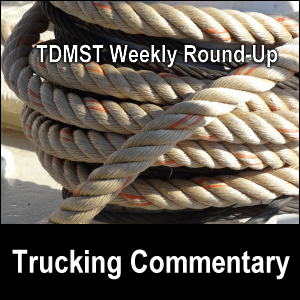 1. Regarding Drug and Alcohol Clearinghouse technical difficulties:
Registration in the FMCSA's Drug and Alcohol Clearinghouse was supposed to have been mandatory by January 6, 2020, but the site has had technical difficulties, described in the media as:
Other articles about the Clearinghouse problems were written here, here and here.
2. Regarding California Walmart truckers being paid for layover:
According to a recent article, "A federal appeals court panel has upheld a lower court ruling that Walmart Stores Inc. (NYSE:WMT) must abide by a $54.6 million jury award compensating a group of California-based drivers for 10-hour end-of-shift layovers, rest breaks and inspections."
Because of Walmart's "control over [their] employees," the panel dismissed the company's:
"claims that the drivers, who are already well paid by industry standards, should have the disputed wages effectively rolled into their salaries"; and
"argument that federal law preempts state jurisdiction over such matters".
More about this topic was written here.
So, the California meal and rest break pre-emption issue is not over.
3. Regarding chain reaction crashes:
A January 5, 2020, article stated:
At least five people died and 60 were injured on the Pennsylvania Turnpike on Sunday morning after three tractor-trailers hit a tour bus that had struck an embankment [at about 3:40 a.m.], authorities said.
This article states that the tour bus driver "was on a downhill curve when, for reasons not yet determined, … was unable to negotiate a turn and the bus struck an embankment before rolling onto its side."
However, a passenger on the bus stated afterwards that the bus driver passed a big truck and upon moving back into the right lane "overcorrected and lost control".
Other articles on this crash were written here, here, here, and here.
Two truck drivers were among the five people who died in this crash.
Our deepest condolences and sympathies go to the families of those who died.
---
Meanwhile, we read that on January 7: "Maine State Police [said] that dozens of vehicles [approximately 30] were involved in a serious pileup crash in Carmel…"
Many people were injured and "hundreds of vehicles [were] stranded behind the crash site".
Ouch!
The cause for the first crash that took place around 7:45 a.m. was said to be "blinding sun".
Having an extendable visor can do only so much to block the sun at low angles.
Although one should never, ever look directly into the sun, using polarized sunglasses can help to enhance the ability to see in certain circumstances.
4. Regarding AB5 ruling in California next week:
According to this article, a temporary injunction about AB5 will "determine if [the state law] can apply against the trucking industry or whether it is preempted by a federal law, the Federal Aviation Administration Authorization Act (FAAAA) of 1994."
Furthermore, we read that "probable victory on the FAAAA preemption argument makes it unnecessary to pursue other legal arguments."
The California Trucking Association (CTA) says that AB5 is illegal because of what FAAAA says here:
A state, political subdivision of a state or political authority of two or more states may not enact or enforce a law, regulation or other provision having the force and effect of law related to a price, route or service of any motor carrier.
If that is the case, then it seems that the same sort of situation would apply to a similar bill/law in New Jersey.
Please note that the injunction applies only to the trucking industry, not other freelance and gig workers in California.
More on this topic was written here.
I'll be interested to see how this plays out.
5. Regarding weather affecting supply chains:
Yes, weather can most definitely affect supply chains, including "hurricanes, blizzards, and historic flooding", high winds, and ice.
Remember that no load is worth your life!
6. Regarding insurance costs and higher shop labor rates:
A January 4, 2020, article stated that
"violations for unsafe driving are down 2% year-over-year through November";
but "insurance costs as a percentage of revenue reported by the Truckload Carrier's Association (TCA) members have risen almost 10%."
Ouch!
The article states that "the biggest reason for increasing insurance costs lies in the increasing amounts awarded against carriers who have severe incidents" — with several "nuclear" verdicts of settlements over $10 million.
Yet another article addresses "How to Rein in Rising Insurance Costs".
---
Separately, two January 7, 2020, articles provided the reason why shop labor rates have gone up:
Not that I'm in favor of replacing mechanics with machines, but this situation makes me wonder why it is the case that there isn't some kind of "autonomous mechanic" to diagnose and fix commercial motor vehicles.
After all, some manufacturers have already implemented diagnostic codes on their vehicles, haven't they?
7. Regarding saving fuel:
The 8th annual Fleet Fuel Study by the North American Council for Freight Efficiency (NACFE) reported:
Twenty-one major North American fleets saved more than $895 million in fuel costs in 2018 by increasing their adoption rate of [up to 85] fuel-saving technologies and practices.
Wow!
You may read more about the North American Council for Freight Efficiency.
Do you have a fuel saving tip or testimonial that you'd like to share?
If so, please comment through the form below.
Thanks!
8. Regarding EPA Truck NOx Pre-Rule:
According to a January 6, 2020, article, "An Environmental Protection Agency pre-rule issued Jan. 6 is the first formal step in an attempt by the agency to establish more stringent heavy-duty diesel truck emission standards for oxides of nitrogen (NOx) and other pollutants."
More on this topic was written here.
The EPA is also trying to "create a 50-state standard that helps manufacturers better develop and implement emissions control technologies."
I wonder how much more rules like this will
cost drivers (on either a one-time or ongoing basis); and
cost to implement on trucks.
9. Regarding defunding the FMCSA:
James Lamb of the Small Business in Transportation Coalition (SBTC) is calling for the defunding of the Federal Motor Carrier Safety Administration, about which you may read here.
After the FMCSA released its list of "accomplishments" during 2019 — and the crash of the Drug and Alcohol Clearinghouse — it is easy to see why.
I asked in a Facebook post right after the accomplishments list was published, "is 'fighting human trafficking' a function of the FMCSA?"
Makes you wonder, doesn't it?
10. Regarding very preventable distracted driving truck crashes:
A January 7, 2020, article reported:
"According to the Boone County Sheriff's Office (BCSO), [Mathew Lewis Small] was northbound along I-65 at approximately 11 a.m. on Sunday when the big rig he was driving for Dubuque, IA-based VL Trucking Inc. smashed into slowed traffic."
This article reported that there were 9 vehicles involved in the crash and that two women and a baby died as a result.
He had had a number of personal traffic violations.
Another article reported: "Small told police that he was setting a coffee mug down when he crashed into slowing traffic. Police say that his truck hit eight other vehicles."
Yet another article stated that this was a "triple fatal pileup" that involved "eight passenger vehicles and one semi truck", following which:
14 people were treated for injuries at an area hospital; and
"Small was charged with three felony counts of reckless homicide and booked into the Boone County Jail."
Another article about this was written here.
We have written about the high costs of eating and drinking while driving.
---
Speaking of distracted driving, we read:
… a driver reportedly reaching for a cigarette is being blamed for a collision Tuesday, Jan. 7, with a stopped school bus in North Carolina.
---
Obviously, neither the cup of coffee nor the cigarette were more important than the truckers safely navigating their trucks down the road.
Do everything in your power to reduce and eliminate sources of distraction in your truck.
11. Regarding legal battles:
Owner operator Clinton Kirker had been at a food distribution center in Mississippi when "more than a half dozen security guards [were video recorded as] violently detaining Kirker and his wife, Shannon."
On behalf of truckers everywhere, Kirker appealed the charge of "Disorderly Conduct – Interfering with a Business" — and won through the judge's dismissal of the charge.
He was quoted as saying, "This proves security guards are not above us. We as truck drivers do have rights. We just have to fight … to keep those rights."
However, this issue is not closed, as the couple "filed a multi-million dollar civil suit" against the shipper and security contractor on the basis of numerous allegations.
---
According to a January 6, 2020, article, "On Friday, Jan. 3, a federal district court judge in Illinois granted final approval of the proposed $135 million class action settlement against Navistar. Carriers and truckers who owned a 2010-13 Navistar with a defective MaxxForce engine may be eligible for compensation."
---
If you ever wondered if you should have some kind of legal plan in place — even to just ask a competent attorney questions — you may want to read:
12. Regarding elog failure:
For the second time in a very short timeframe, another Electronic Logging Device (ELD) system failed, this time from PeopleNet.
When systems like this fail, truckers must revert to using paper logs.
One article addresses "What to do when your ELD goes down".
13. Regarding autonomous trucks:
Just to keep you aware, the following articles cover various aspects of autonomous trucks:
14. Congratulations!
Our heartiest congratulations go to Phil Fortin, a J.B. Hunt driver who was recently awarded $50,000 for reaching an unprecedented five million safe miles.
More on this award was written here.
Phil drove for J.B. Hunt for 35 years.
Just doing the math, let's see what J.B. Hunt's investment looks like:
$50,000 / 35 years = $1,428.57 / year

$1.428.57/year / 12 months/year = $119.05 per month (rounded up)

Assuming Phil drove 20 days per month:

$119.05 / month / 20 days / month = $5.95 per day
Of course, inflation is steadily eroding the buying power of the dollar such that
Another way to calculate the value of Phil's cash prize is:
$50,000 / 5,000,000 miles = $0.01 per mile.
Phil, we feel that your impeccable record is worth much more than that!
Still, we are proud of you and your accomplishment — and we wish you well in the future!
My husband Mike and I wish you — and all professional truck drivers — safe travels and lots of money saving opportunities on the road.
---
---
Return from TDMST Weekly Round-Up: 2020.01.11 to our TDMST Weekly Round-Up Trucking Commentary or our Truck Drivers Money Saving Tips home page.
---