This is the TDMST Weekly Round-Up of news affecting professional truck drivers, written by Vicki Simons for the week ending July 4, 2020.
We welcome your comments, thoughts and feedback on the items of your choice below.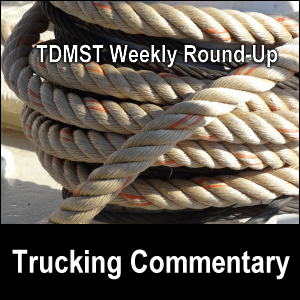 1. Regarding July 4th holiday:
Happy July 4th!
July 4, 2020, is the 244th anniversary of the day when the Declaration of Independence was signed and adopted.
Since this is the July 4th holiday weekend, there are some things you need to be aware of:
Be on your guard for motorists whose minds are not on driving; and
Protect your truck, trailer and cargo/freight everywhere you stop and/or park.
Here are some recent articles about the increased potential for cargo theft over this holiday weekend:
On a positive note, you may read about a Truck stop [that plans] to serve free meals to military members on July 4.
2. Regarding trucking insurance:
There have been many articles in the news about the proposed trucker insurance increase to $2 million.
Recent articles on this topic and insurance in general (not necessarily in chronological order) include:
If this concerns you, please get in touch with your two U.S. Senators.
3. Regarding Hours of Service:
The most recent Hours of Service regulations proposal — that is scheduled to go into effect in September — is controversial.
Here are the most recent articles about this topic:
I wonder if the people and groups who now oppose the proposed Hours of Service regulations spoke up during the time that comments were being taken.
4. Regarding police, protesters and self-defense:
There have been many articles written and videos made about the protests taking place across the country and how those have been affecting truckers.
In these complex situations, truckers may be faced — either on the roads or while stopped — with mobs or individuals who want to:
harm them personally,
cause damage to their rigs,
steal cargo, or
do a combination of those actions.
For those who want some background on why these protests are taking place, I encourage you to:
---
Some people are calling for defunding police.
While I certainly disagree with police brutality and the problems associated with the emerging police state, we must:
understand where police officers have been trained,
fix the training, and
deal appropriately with those who have acted in a brutal manner.
Defunding the police is NOT the way to go.
In fact, some groups of police have sensed the animosity toward them and have refused to report for work!
Example: Blue Flu Reportedly Hitting NYC on July 4 After $1 BILLION Cut From NYPD Budget
We need to support our local police, not defund them or abolish them!
---
Here are some of the most recent articles about protests and protesters that affect truckers:
---
You may wish to follow this concentric circle method of protection, working from the outside in:
Get official instructions from your trucking company's Safety Director about what to do in the event of trouble;
Keep your tractor and trailer locked at all times;
Avoid going to places where there is trouble;
Do not depend on anyone to show up to rescue you from protesters;
As long as you are not stopped by law enforcement, keep rolling slowly through a protest but do not stop so as to let protesters climb up on your rig or any open door(s); and
Protect yourself with appropriate self-defense devices.
Speaking of self-defense devices, you may appreciate this article:
Trucker Lives Matter Founder Pleas With President For Action on Truckers' Right to Carry
5. Regarding USMCA:
Some in the trucking industry are in favor of the USMCA (United States Mexico Canada Agreement), but I am not in favor of it for the reasons cited here and here.
That being said, here are some of the most recent articles about this topic:
6. Regarding autonomous trucks, AI and robots:
There's a difference between "machine learning" and turning over multi-faceted operations like driving a truck to a machine.
One recent article addressed "How machine learning improves the efficiency of freight operations."
Then there's this revelation (which made me smile):
Self-Driving Truck Engineer Makes Revealing Admission as Company Ramps up Testing.
---
Bearing in mind that 5G is dangerous, here are some of the most recent articles about autonomous trucks and AI (artificial intelligence):
I hate to say it, but it is only a matter of time before someone has an accident with a driverless, self-driving or autonomous truck — and there will be a major lawsuit.
---
On another AI front, robots are being used in warehouses:
7. Regarding trucking numbers:
I'm going to separate some of these facets of trucking numbers.
Economy
---
Fatalities
Could this be because many people were stuck at home under quarantine, shut down, lock down, shelter-in-place, etc.?
Traffic fatalities down in first quarter of 2020
If so, will traffic-related fatalities rise again when those orders are lifted?
---
Coin shortage
I read two articles this week (here and here) about a "coin shortage" (and the problems associated with that).
Then I read about how this is being addressed by one entity in the trucking industry that wants customers to donate to a group by "rounding up" their purchases.
Spare change: Pilot Co. helps vets while easing coin shortage
Please note that there are "round-up savings apps" that one can install on one's Smartphone.
If you have and use a round-up savings app on your Smartphone, would you please review the service?
Thanks.
---
Employment
Bear in mind that due to the panic over the coronavirus, many were laid off from their jobs in the trucking industry.
Still, here are some most recent articles about employment in the trucking industry:
I will believe that trucking is truly on the mend across the board when it recovers to — or zooms past — the place where it was "pre-COVID-19."
---
UCR
UCR enforcement scheduled to start July 1
8. Regarding things illegal:
A record "drug bust" happened at the Peace Bridge Port of Entry (the Canada-U.S. border), news articles of which include:
I have asked this question in the past and never received an answer:
Is it possible for a trucker to have illegal drugs on board his/her truck/trailer without knowing?
I could see that potentially happening if a trucker picked up a sealed trailer.
What other circumstances exist?
Please comment through the form below.
---
Other illegal moves made by truckers recently include:
Don't steal!
Don't endanger people's lives.
Keep your doors locked!
9. Regarding COVID-19, masks and discrimination:
Here are some recent articles about COVID-19:
---
Masks
I am very much opposed to wearing face masks because they do not work to prevent becoming infected with coronavirus/COVID-19 and they endanger the wearers' health.
Still, here are a few recent articles on this topic:
---
Discrimination
Truck Drivers Facing Covid Discrimination – Refused Service at Restaurants
10. Regarding various aspects of truck operations:
I'm going to break these up into sections, too.
Operations
---
Tires
TIA Offers Free Tire Safety Webinars
---
Brokers
Trucking Group Slams FMCSA's Handling of Broker Investigation as "Dog and Pony Show"
---
CSA
Accountability factor: Program removes not preventable crashes from CSA
---
Safety
Truck driver safety isn't just a data point for fleets
---
Nuclear Verdicts
---
Regulations
FMCSA Boss Says No "Major Changes" Coming Despite President Trump's Urging
---
Repairs
Costs of unscheduled roadside repairs climb but fleets can take steps to prevent breakdowns, study shows
---
Violations
Toughest states for moving violation enforcement
11. Regarding YRC:
What impact will this have on the trucking company — and their competitors?
12. Regarding DEF giveaway:
10 fleets will win year's supply of diesel exhaust fluid in BlueDEF 'small business stimulus' contest
If you won a year's supply of DEF, how much money would that save you?
Please answer through the form below.
Thanks.
My husband Mike and I wish you — and all professional truck drivers — safe travels and lots of money saving opportunities on the road.
---
---
Return from TDMST Weekly Round-Up: 2020.07.04 to our TDMST Weekly Round-Up Trucking Commentary or our Truck Drivers Money Saving Tips home page.
---