Professional truck drivers can use Verizon Wireless Mobile Broadband service to surf the Internet, send and receive email, conduct business, and do just about anything that someone with a dial-up or DSL Internet service can do.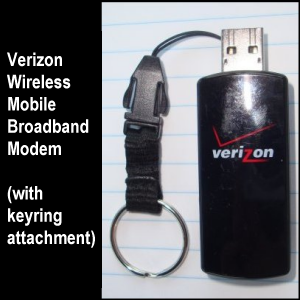 This is our review of the coverage and service in early 2010.
This page also contains a link to Amazon.com, with whom we have an affiliate relationship.
Background
Between the time that Mike came off the road in 2001 and Vicki started riding with him full-time in 2009, we had grown used to having Internet access for both personal and business needs at home.
While Mike had gotten a laptop computer for use in the truck, he was not connecting to Internet on the road.
We knew that numerous truck stops provided proprietary Internet service, but to our knowledge, they are only accessible on the premises, not nationwide.
We wanted and needed something that would work just about anywhere he drove.
When we knew we were going to become homeless (live in a truck full-time), one of the trucker transition arrangements we had to make was for reliable Internet coverage.
At the time, we were aware of only two "nationwide" mobile broadband service providers:
AT&T and
Verizon Wireless.
We put "nationwide" in quotes because coverage is not the same in every location, as we will show.
Of course, these two contenders had different coverage areas. What initially tipped us in the direction of Verizon Wireless Mobile Broadband was the fact that we already had cell phone service from Verizon Wireless.
Researching for Information
Having already tried to find as much information as possible from their website Vicki went down to our local Verizon Wireless store, researched information via one of the in-store kiosks (which have since disappeared), wrote down as many questions as she could think of, and then peppered the technician with the questions to learn more.
Up until trying to use our laptop computer in the truck, Vicki had only ever used a desktop computer. She could not quite fathom how using a little self-contained USB flash drive modem would do the same work as the DSL service she'd used previously. Still, she took the info back to Mike and we decided to give it a try.
Note: We were looking for monthly service, not prepaid service or service for some shorter period of time.
The USB Modem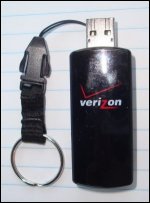 This photo shows our Verizon Wireless Mobile Broadband flash drive modem.
After we bought it and the technician pulled it out of the box, Vicki asked, "That's it?"
He said that it was.
Nothing else was needed to get Internet service from them.
This small device with the service behind it — plugged into a computer with the right hardware and software installed — is all that is required for Internet access, up to the terms of the service.
The technician further stated that one way to keep the flash drive from accidentally being bent in a computer's USB port was to plug it into a USB extension cable.
One such USB extension cable is listed here from Amazon.com, with which we have an affiliate relationship.
We have written about damaged flash drives separately.
Upon plugging the modem into a USB port for the first time, the software downloads onto the computer and provides a VZ Access Manager pop-up box or dashboard through which the consumer can
connect or disconnect from the service,
see the signal strength, and
see what type of connection is available.
Types of Connections
As of early 2010, we experienced one of three levels of connection depending on where we traveled:
Global Access;
National Access; or
Mobile Broadband.
Within each of these access levels or connection types (according to the VZ Access Manager pop-up box) you can see four bars indicating the signal strength at any given time.
Where no bars are highlighted, there is none or practically no connectivity.
Users may desire to stay connected when 3 or 4 bars are highlighted, indicating the highest signal strength.
Coverage Varies
Verizon Wireless continually updates its coverage area, yet there are just some places where the connection isn't available or will cost more than a monthly flat-rate bill.
If you Google "Verizon Wireless Mobile Broadband Coverage Map" one of the results will be to a page on their website where you can see the availability of coverage, for all of their services.
Here, you will see two screen captures of coverage maps of the USA.
The one on top is older, before Verizon Wireless had "4G."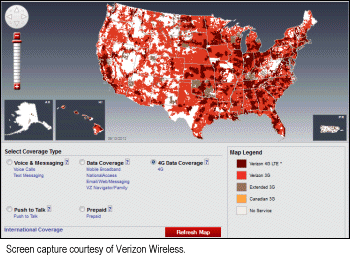 The one on the bottom shows 4G and various types of 3G coverage.
We had a pre-4G modem.
What VZ Access Manager Showed
As we traveled, we noticed that there were some places that had little or no Verizon mobile broadband coverage (as the coverage map showed) or where coverage would cost more than our base rate.
The following are screen captures from Vicki's laptop while Mike was driving. (Note in all the VZ Access Manager screenshots, we purposely blurred out our modem phone number.)
We have placed lime green boxes around fields to show
how to find one's usage;
what the signal strength is;
what type of connection was available; and
whether or not the computer was connected to the Internet.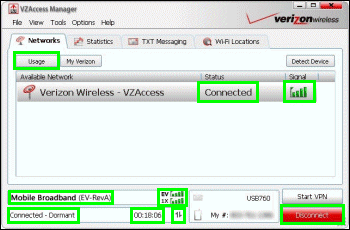 This screen capture shows full (4-bar) signal strength, that Mobile Broadband service was available, and that we were connected to the Internet via Verizon Wireless Mobile Broadband.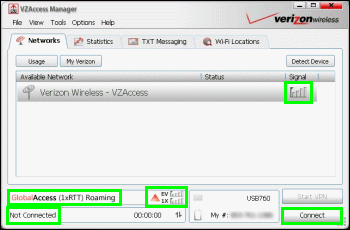 This screen capture shows no (0-bar) signal strength, that GlobalAccess service was in the area, and we were not connected to the Internet.
Sometimes when we were in a GlobalAccess zone, we would see this dialog box pop up.
It reads, in part: "The charge for data transmitted and received while using this service (VZGlobal) can be as high as $20.48 per MB."
Obviously, we did not want to pay for this above and beyond our monthly Verizon wireless broadband service rate, so we always clicked "Cancel".
Where Is Service Low or Non-Existent?
At the time we used this service, we noticed low or no signal strength for connecting to the Internet via Verizon Wireless Mobile Broadband in the following areas.
As of early 2010, the area in and around Bowling Green, Kentucky, had poor service.
Sometimes at night, Vicki found that if she already had a mobile broadband connection on either the north or south side of the area (where there was a signal), she was able to maintain it all the way through the area without being disconnected or having to pay a higher rate.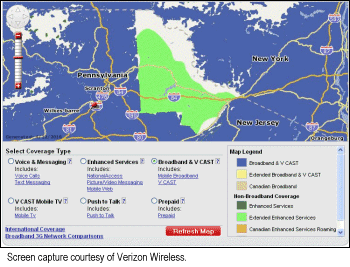 Also as of early 2010, in eastern Pennsylvania into western New York State, we encountered a "wall" where we had no coverage.
The screen capture of the coverage map for the area shows why.
This is a 2012 screen capture of the Verizon Wireless Mobile Broadband coverage map showing availability of service in West Virginia in 2012.
Note decent coverage in Charleston and Beckley with nothing in the mountains between.
Coverage Limits and Data Caps
When we began our Verizon Wireless Mobile Broadband service in the summer of 2009, we signed up for the highest data level they had at the time which was 5 GB (gigabytes) of data transfer (sending and receiving).
If we exceeded that amount, we would have to pay overage charges.
Since that time, Verizon Wireless has added at least two higher levels of usage: 10 GB and 20 GB.
(Unfortunately, it is difficult to find this information on their site.)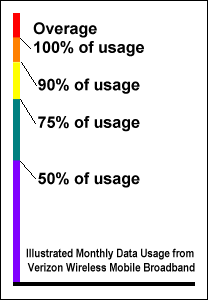 We ran into a dead end when desiring to have our plan increased to a higher data cap: we would be required to buy a new "4G" modem and enter a new 2-year contract.
We didn't want to do that, so we made do with our "3G" modem and our 5 GB data cap until we moved into our dream come true and cable Internet service became available in our area.
As long as we were online, we could always check our data usage through the VZ Access Manager.
One nice thing about using this service is that we always received a message — both through the VZ Access Manager and by email — when we had reached
50% of our data usage for the month,
then 75%,
then 90%,
then 100%.
So, there were never any surprises when the bill came.
Storms and Interference
We have noticed that when we traveled through a storm or a storm passed over us, our connection to the Internet over Verizon Wireless Mobile Broadband service could be negatively affected.
Usually, interference from the weather didn't last long.
Conclusion
We used Verizon Wireless Mobile Broadband service — paid on a monthly basis — for longer than our 2-year contract period, from the summer of 2009 until the spring of 2012.
Once we completed our 2-year contract, we continued to use the service on a month-to-month basis.
As should be expected, the speed of data transfer via mobile broadband modem is slower than one can get with land line DSL or cable Internet service.
However, other than in places where there was low or no signal strength, we found the connectivity reliable.
We never had to worry about finding parking in a truck stop (or other location) with proprietary Internet service or WiFi because we took the tools with which to connect to the Internet with us.
(Mobile broadband truly is mobile!)
Verizon Wireless kept us informed about our data usage, so there were never any billing surprises.
Overall, on a scale of A+ to F-, we as "power users" would give Verizon Wireless Mobile Broadband service an "A" and would recommend it for use by professional truck drivers.
When we travel to Kansas City for the second annual Truck Driver Social Media Convention in October 2012, we're going to need some kind of Internet service.
If we're reading the information on their website correctly, we can use the modem we have to get prepaid Verizon Wireless Mobile Broadband service for a limited amount of time.
We may make additional comments about the service after we return.
---
Return from Verizon Wireless Mobile Broadband: A Trucker's Review to our Service Reviews page or our Truck Drivers Money Saving Tips home page.
---