This is the TDMST Weekly Round-Up of news affecting professional truck drivers, written by Vicki Simons for the week ending August 1, 2020.
We welcome your comments, thoughts and feedback on the items of your choice below.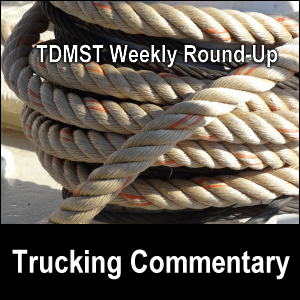 1. Regarding hurricanes and warnings:
Hurricane Douglas that was threatening Hawaii and Hurricane Hanna that hit Texas have made their mark.
Meanwhile, Florida is bracing for Tropical Storm Isaias [pronounced (ees-ah-EE-has)], which they expect to make landfall at hurricane speed.
If you are a regional or OTR trucker and are driving in the southeastern USA, please make sure that you have provisions in your truck, particularly:
Now is also a good time for you and your home support team members to check or update your medical emergency contact info.
Recent articles about Tropical Storm or Hurricane Isaias are:
Weather.com reported this on August 1.
Please also note that this article — Tropical storm prompts freight warning — states:
"Cargo theft recording firm SensiGuard issued a notice Thursday warning shippers and carriers that may be sending or hauling loads into the path of Hurricane Isaias."
2. Regarding insurance:
Numerous articles this week cover the topic of insurance:
3. Regarding operations, safety, inspections, and online spending:
This information may be helpful to those looking to lower deadhead miles:
How to drive out empty miles
---
Learn the lesson from the article and the photos embedded in it regarding:
This is why you don't stay in your truck while loading or unloading.
---
Always be ready for an inspection at any time!
---
The Daily Infographic: Delivery times amid COVID-19 states:
"The coronavirus pandemic and quarantines have resulted in online spending increases in many households — boosting demand for delivery giants like UPS and FedEx."
4. Regarding HVUT and excise tax:
Not one article that I read is in favor of the Heavy Vehicle Use Tax (HVUT) or federal excise tax continuing:
5. Regarding protests:
Articles on protests can be grouped as follows:
Boycott being called for:
Trucking Group Calls for Boycott of Deliveries to Portland As "Extreme Risk" Persists
---
Chicago area:
---
Colorado and I-225 related:
---
Lawsuit filed:
USDOT Sued For Failure to Enforce Federal Law and Prevent Highway Protests
---
Navigating through protest areas safely:
6. Regarding accidents, ramp back up, and low clearance "misjudgement":
When you're choosing a place to park, consider the implications of your choice from both the legal and life perspectives:
---
I sure would like to know more about why one trucker got caught going down a ramp in the wrong direction.
Was he tired?
Was he able to read English?
Hmm…
---
I couldn't help but laugh when I read how the author of a July 31, 2020, article described a low clearance accident:
"A trucker misjudged the height of a Massachusetts bridge … clearly marked as having a clearance of 10 feet 3 inches, according to local police."
"Misjudged," indeed!
A tweet embedded in the article stated:
"It's going to take hours to unload the roughly 15,000 pounds of used computer parts before the truck can be pried our from under the Bailey Bridge…"
Even though there was no mention of a GPS unit being used by the driver, I have to believe that the trucker was using one instead of first consulting a truckers atlas for all of the low clearances first.
Just saying.
7. Regarding theft and being armed:
Beware that a Cargo theft alert [has been] issued for truckers at Illinois rest areas.
---
Particularly since the riots and protests started, I've read numerous comments on Facebook from truckers in which they are saying that they're going to be armed with a gun to protect themselves.
Recently, one trucker fought back, opened fire, and fended off an attempted robbery at a truck stop:
We cover the topic of low cost self defense for truckers on our site.
8. Regarding brokers:
It was reported on July 29, 2020:
"As part of OOIDA's second episode of 'Live From Exit 24,' OOIDA President Todd Spencer spoke about the need for truckers to rally together in order to fix such issues as the lack of broker transparency and detention time."
9. Regarding economy:
The following articles describe various aspects of the economy in the USA and Canada:
10. Regarding drugs:
It is never worth it to try to haul illegal drugs in a truck, as the articles this week attest:
11. Regarding electric trucks and innovations:
A milestone was recently achieved regarding electric trucks:
---
I am very interested in knowing how durable this new road material will be compared to, say, just asphalt or concrete:
This California highway is being repaved using thousands of recycled plastic bottles.
The article states: "Crews are working to repave the road using recycled asphalt held together with thousands of melted plastic bottles."
I'm also interested in learning the impact on the environment in that area.
I would have figured that California — of all states — would not want to use plastic in their roads.
Hmm…
12. Regarding driving experience vs. age:
A July 31, 2020, article stated, "While the study showed that, while age is an important factor, experience has a greater impact on crash rates, crash involvement and moving violations."
13. Regarding speed limit in Oklahoma:
If you drive through Oklahoma, be aware that "On several segments of Oklahoma turnpikes, the maximum speed limit has been bumped up to 80 mph."
Other articles about this are:
14. Congratulations!
Our heartiest congratulations go to:
---
There is also the opportunity for one company driver to win an award:
If you're such a trucker and you're awesome, get someone to nominate you.
I look forward to reading who wins!
My husband Mike and I wish you — and all professional truck drivers — safe travels and lots of money saving opportunities on the road.
---
---
Return from TDMST Weekly Round-Up: 2020.08.01 to our TDMST Weekly Round-Up Trucking Commentary or our Truck Drivers Money Saving Tips home page.
---