This is the TDMST Weekly Round-Up of news affecting professional truck drivers, written by Vicki Simons for the week ending May 28, 2022.
We welcome your comments, thoughts and feedback on the items of your choice below.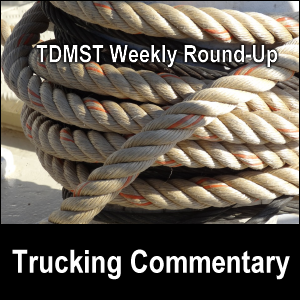 1. Regarding holiday, motorists, and theft:
Holiday
Please feel free to review the information regarding Memorial Day and double-checking your Memorial Day delivery appointment.
The articles below regard the Memorial Day weekend 2022:
---
Motorists
---
Theft
Please be aware of increasing opportunities to become the victim of theft.
2. Regarding limiters and technology:
Please be aware of the increase in automation and what effect this has on truckers and trucking jobs.
Limiters
If you feel that putting speed limiters on commercial motor vehicles is a bad idea, then please write and submit your comments here (noting that there are helpful tips in the Commenter's Checklist).
---
Technology
3. Regarding fuel, fuel economy, autonomous vehicles, electric vehicles, and emissions:
Fuel
Please feel free to use the form below to send us your thoughts and comments about the price and availability of fuel where you run.
---
Fuel economy
---
Autonomous vehicles
I completely disagree with using driverless, self-driving, or autonomous commercial motor vehicles on the public roads with the motoring public, but share these articles to help you stay informed on this topic.
---
Electric vehicles
Please be aware that the push to get folks on electric vehicles may not be as environmentally friendly as some folks tout — as well as the fact that they are completely dependent on being recharged in order to run.
---
Emissions
4. Regarding accidents, overpass plunges, fatalities, and wheel-offs:
Accidents
Please scan through these articles to see if there is anything you can do to prevent being involved in a similar accident.
---
Overpass plunges
This was a bad week for trucks plunging off overpasses — or winding up hanging off an overpass.
Is this a trend caused by something else — and if so, what?
Fatalities
Please be careful out there!
---
Wheel-offs
5. Regarding truckers, trucking, freebie, and drugs:
Truckers
---
Trucking
---
Freebie
---
Drugs
Never, ever haul illegal drugs, no matter how much you are promised.
6. Regarding AB5 and abandonment:
AB5
If you feel strongly about this, please let your federal elected officials know.
---
Abandonment
Never abandon a tractor, trailer, or freight.
7. Regarding pay, tolls and surcharge:
Pay
If you feel strongly about this, please let your federal elected officials know.
---
Tolls
---
Surcharge
8. Regarding trucks, inspections, maintenance, recalls, and extinction:
Trucks
---
Inspections
If you and your rig are perpetually ready for an inspection, you'll never have to fear one.
---
Maintenance
---
Recalls
---
Extinction
9. Regarding business, rates, ports, and baby formula:
Business
This section is particularly relevant to owner-operators and independent truckers.
---
Rates
---
Ports
Please bear in mind that trucking opportunities may vary seasonally or on the basis of consumer demand.
---
Baby formula
Another resource (1, 2, 3) indicates that the baby formula crisis may have been intentionally created.
10. Regarding economy and weather:
Economy
---
Weather
If you have the technology to warn you about impending harsh weather conditions, please use it so that you are not involved in a weather-related accident.
11. Regarding fraud, crime, and staged:
Fraud
---
Crime
---
Staged
12. Regarding awards:
We recognize those who help their fellow human beings in need and congratulate truckers who have made significant achievements.
My husband Mike and I wish you — and all professional truck drivers — safe travels and lots of money saving opportunities on the road.
---
---

Return from TDMST Weekly Round-Up: 2022.05.28 to our TDMST Weekly Round-Up Trucking Commentary or our Truck Drivers Money Saving Tips home page.
---