This is the TDMST Weekly Round-Up of news affecting professional truck drivers, written by Vicki Simons for the week ending June 12, 2021.
We welcome your comments, thoughts and feedback on the items of your choice below.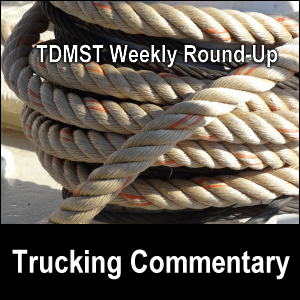 1. Regarding cyberattacks: Navistar, JBS, Colonial Pipeline, and future:
First, Colonial Pipeline supposedly underwent a cyberattack, which shut down a lot of gas stations on the East Coast.
Then, it was the JBS meat packing plants.
Most recently, it has been Navistar.
What's next? Check out the articles below.
Cyberattacks – Navistar
---
Cyberattacks – JBS
---
Cyberattacks – Colonial Pipeline
---
Cyberattacks – future
2. Regarding fuel, hydrogen, electric vehicles, emissions, green and energy:
Fuel
---
Hydrogen
---
Electric vehicles
---
Emissions
---
Green
---
Energy
3. Regarding bridge, roads, and pollution:
Bridge
---
Roads
---
Pollution
4. Regarding accidents and theft:
Accidents
Please learn from the articles listed below what preceded accidents so that you don't repeat the behavior and wind up in one yourself.
---
Theft
Please protect yourself, your truck, and the load in your trailer!
5. Regarding AB5, lawsuit and politics:
AB5
---
Lawsuit
---
Politics
6. Regarding employment, owner operators, operations, respect, issues, medical and capacity:
Employment
---
Owner operators
Before you look to becoming an owner-operator, please do all of your due diligence.
I highly recommend that you talk with other owner-operators first!
---
Operations
---
Respect
---
Issues
---
Medical
---
Capacity
7. Regarding rates, recall, delivery and ports:
Rates
---
Recall
---
Delivery
---
Ports
The ports are booming with imports.
If you're a trucker who can haul containers from the ports, make sure you have all of the paperwork and credentials you need.
8. Regarding drugs and smuggling:
Drugs
Never ever offer to haul drugs, no matter how much money you've been promised.
---
Smuggling
Never ever offer to haul humans like they are cattle, no matter how much money you've been offered.
9. Regarding technology, drones and autonomous vehicles:
Technology
---
Drones
---
Autonomous vehicles
I am absolutely opposed to driverless, self-driving and autonomous trucks, but keep you updated on this topic for your education.
10. Regarding economy, detention, taxes and insurance:
Economy
---
Detention
---
Taxes
---
Insurance
11. Regarding safety, regulations, securement and weather:
Safety
---
Regulations
---
Securement
---
Weather
All year long — but especially in summer — make sure that you keep plenty of drinking water on hand.
You may wish to review the hot truck page on our site.
12. Regarding award:
Congratulations to all who were awarded with a company award or were otherwise recognized!
My husband Mike and I wish you — and all professional truck drivers — safe travels and lots of money saving opportunities on the road.
---
---
Return from TDMST Weekly Round-Up: 2021.06.12 to our TDMST Weekly Round-Up Trucking Commentary or our Truck Drivers Money Saving Tips home page.
---