This is the TDMST Weekly Round-Up of news affecting professional truck drivers, written by Vicki Simons for the week ending March 12, 2022.
We welcome your comments, thoughts and feedback on the items of your choice below.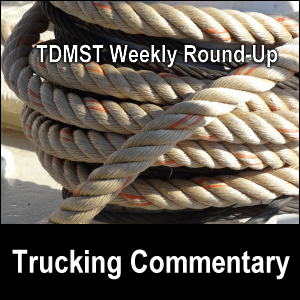 1. Regarding inflation, fuel, and energy:
Policies on the USA's national level have led to rampant inflation, skyrocketing fuel prices, and America's energy dependence.
If these issues concern you, please get in touch with your federal elected officials.
Inflation
---
Fuel
---
Energy
2. Regarding economy, employment, testing, and convoy:
Economy
---
Employment
---
Testing
---
Convoy
3. Regarding accidents, fatalities, and clearinghouse:
Accidents
Please read these articles to see if there is anything you can do to avoid being involved in these kinds of accidents.
---
Fatalities
Mike and I extend our condolences to the families of all who died in traffic accidents.
---
Clearinghouse
4. Regarding electric vehicles, emissions, and ports:
Electric vehicles
Please be aware that those who support electric vehicles may not be sharing the negatives associated with them.
Here are some of the most recent articles about electric vehicles and related topics.
---
Emissions
---
Ports
5. Regarding reporting and windshield:
Reporting
---
Windshield
6. Regarding business, taxes, and tolls:
Business
---
Taxes
---
Tolls
7. Regarding technology, drones, ELDs, efficiency, and automation:
Technology
---
Drones
---
ELDs
---
Efficiency
---
Automation
On March 9, 2022, I published this on our Facebook page and other trucking groups on Facebook:
The video linked below has the title "Take a look inside Alibaba's smart warehouse, where robots do 70% of the work, with 300% more efficiency".

No doubt, this is what some of the movers and shakers in the trucking industry want for the movement of big trucks:
complete automation.

However, there are some large differences between what's shown in the video and the realities of trucking.

Let's see if we can name them.

[I] will start:

All of these robots are working in a controlled environment where individual robot movements are precise and automated, whereas vehicles on the road operate where the environment is not controlled and individual movements are far from precise.

Your turn, please.
8. Regarding Daylight Saving Time:
I absolutely disagree with the USDOT's statement and provide these resources to provide more depth of understanding on this topic.
9. Regarding last mile, maintenance, repairs, and tires:
Last mile
---
Maintenance
---
Repairs
---
Tires
10. Regarding operations, parking, safety, and spill:
Operations
---
Parking
---
Safety
---
Spill
Truckers, if you haul anything liquid that can leak, please be sure that you following all sound operating practices so that you will never have a spill.
11. Regarding violations, theft, and pollution:
Violations
---
Theft
---
Pollution
Please be aware of positions and regulations put in place by organizations like CARB.
12. Regarding awards:
We congratulate truckers who have demonstrated great skill in the operation of their trucks and recognize truckers who have helped their fellow human beings in need.
Congratulations
Recognition
My husband Mike and I wish you — and all professional truck drivers — safe travels and lots of money saving opportunities on the road.
---
---
Return from TDMST Weekly Round-Up: 2022.03.12 to our TDMST Weekly Round-Up Trucking Commentary or our Truck Drivers Money Saving Tips home page.
---