This is the TDMST Weekly Round-Up of news affecting professional truck drivers, written by Vicki Simons for the week ending March 26, 2022.
We welcome your comments, thoughts and feedback on the items of your choice below.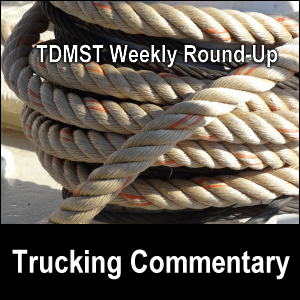 1. Regarding inflation, fuel, oil, oil reserves, and closure:
For sure, we have had some hard times in the past two years, but it looks like things are going to become much harder.
If you are a regional or long-haul trucker, please make preparations now for some non-perishable foods to pack in your truck, some drinking water, an emergency kit, and a first aid kit.
You will also want to be prepared to engage in self-defense and have a truck cam for video surveillance.
Inflation
---
Fuel
---
Oil
---
Oil reserves
---
Closure
This is sad, but I think it is just the beginning.
2. Regarding autonomous vehicles, electric vehicles, and batteries:
Autonomous vehicles
I very strongly oppose the operation of autonomous, self-driving, or driverless trucks on the roads with the motoring public, but provide this info to keep you up-to-date on the subject.
---
Electric vehicles
---
Batteries
3. Regarding economy, supply chain, ports, and Russia:
Economy
---
Supply chain
---
Ports
---
Russia
4. Regarding accidents, near miss, lawsuit, and insurance:
Accidents
Please familiarize yourself with what led up to these accidents and seek to avoid being in them yourself.
---
Near miss
---
Lawsuit
---
Insurance
5. Regarding operations, violations, inspections, safety, and weather:
Operations
---
Violations
---
Inspections
---
Safety
---
Weather
Some people may not like to hear this, but I wonder if some of the increasing number of and harsh weather events that have been happening in the USA are a form of what is referred to in Leviticus 18:28 and 20:22, where the land "vomited" out the inhabitants because of their behavior against God.
You may want to look at the information on our website regarding death and dying.
One resource that I found that may help you avoid wildfires is Fire.AirNow.gov.
6. Regarding employment, pay, rates, rule, pricing, and retention:
Employment
---
Pay
We do not recommend or endorse any of the companies mentioned here.
---
Rates
---
Rule
---
Pricing
---
Retention
7. Regarding comment, CHIPS Act, and climate:
Comment
---
CHIPS Act
Regarding semiconductor chips.
---
Climate
Be watching out for politicians to call for heavy and expensive measures for people to pay for protecting the planet — where "more" is never enough.
8. Regarding convoy, protest, equipment failure, onboarding, idling, and parking:
Convoy
---
Protest
---
Equipment failure
---
Onboarding
---
Idling
---
Parking
9. Regarding technology, parts, and recall:
Technology
---
Parts
---
Recall
10. Regarding border, drugs, smuggling, and violence:
Border
---
Drugs
---
Smuggling
---
Violence
11. Regarding MATS:
As I'm writing this, the Mid-America Trucking Show — a large trucking show — is going on.
12. Regarding awards and best fleets:
Awards
We congratulate every professional truck driver who has been awarded for his/her achievement and recognize those who helped out their fellow human beings in a time of need.
---
Best Fleets
We do not recommend or endorse any of the companies mentioned here.
Be sure to ask recruiters some crucial questions before you hire on with any trucking company.
My husband Mike and I wish you — and all professional truck drivers — safe travels and lots of money saving opportunities on the road.
---
---
Return from TDMST Weekly Round-Up: 2022.03.26 to our TDMST Weekly Round-Up Trucking Commentary or our Truck Drivers Money Saving Tips home page.
---